From Mae West's signature scent stored in a cigarette packet, bejewelled bottles from the 1800's to novelty perfumed powder puffs chaped like 1920's flapper girls… the Perfume Bottles Auction will delight and tempt every fragrance fiend…
The annual Perfume Bottles Auction really is a date in the diary of serious scent collectors – with the most stunning examples of artistic and rare fragrance flaçons you wever will see (outside of a museum, anyway).
Since 1979, organiser and founder of The Perfume Bottles Auction, Ken Leach, has been working 'to create public and corporate awareness of the artistry to be found in vintage perfume presentation.' His antique shop's show-stopping merchandise 'has served as a source of inspiration for glass companies, package designers, and celebrity perfumers, before ultimately entering the collections of perfume bottle enthusiasts around the globe.'
This year, because of the on-going global pandemic, it has presented something of a challenge to the organisers, but happily the entire catalogue is now online for you to view (and gasp outloud at!) with the auction to take place via live stream on Sat, Jul 11, 2020 8:00 PM BST.
What's more, in response to the global crisis, the LiveAuctioneers website is dontaing to COVID causes such as Meals on Wheels COVID Response Fund and global relief efforts, with over $50,000 already donated.
Here's just some of what we'd be bidding on (and would be gracing the dressing table of our dreams…) in this year's incredible collection of lots…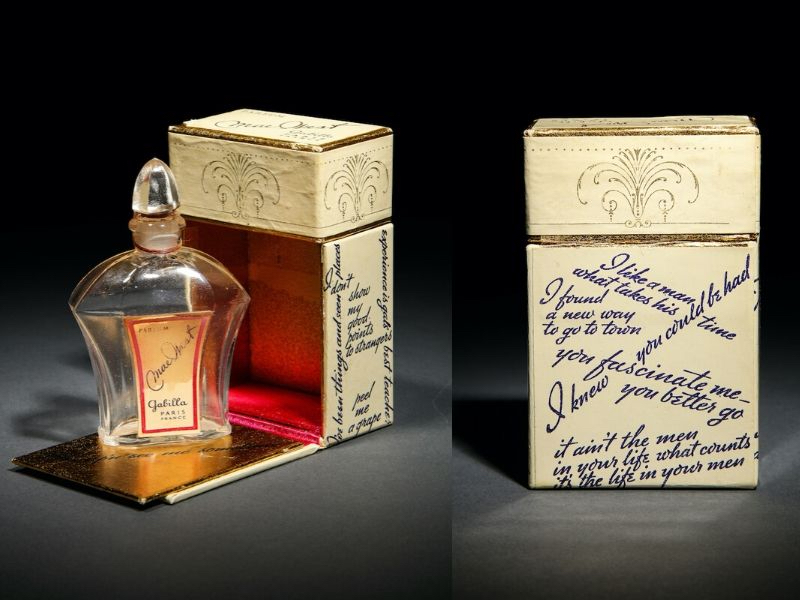 How completely wonderful is this novelty 'cigarette packet' style packaging for what was Mae West's signature scent? Made in 1933, the box is covered in iconic quotes from the bombshell movie star, and the lot includes five ad cards and a counter display. A case of 'come up and smell me sometime…?'
Estimated price: $2,000-3,000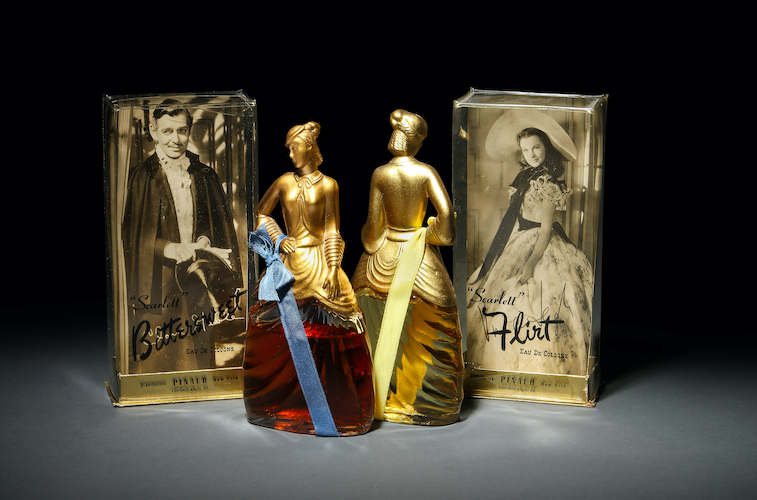 In 1937, Pinaud trademarked the name 'Scarlett', releasing the 'Flirt' perfume in 1939, with a matching Clark Gable 'Bittersweet' scent when the film premiered that year. The bottles were available with a choice of scents, including Apple Blossom, Maghnolia and Honeysuckle, and came with an autographed photo.
Estimated price: $1,000-$2,000
Lalique were instrumental in revolutionising perfume bottle design and production, and we love their contemporary fragrances (and the way they incorporate their heritage into bottle production today), but this 1929 bottle for Lucien Lelong in frosted glass with enamelled swags and silvered metal case is just exquisite!
Estimated price: $7,000-8,000
Our co-founder, Jo Fairley, loves Schiaparelli Shocking perfume so much she wore it on her wedding day – and did you know the pink for the box was designed by Schiaparelli herself, and gave name to what we still call 'shocking pink' to this day? Dating from the 1930s, the auction includes 3 figural soaps, a 1938 'Shock in the Box' perfume, a Salvador Dali-designed face powder and scented boy lotion bottle. Truly, our heart's desire!
Estimated prices from $200-600 per item
Fragranced dusting powders were all the rage once, and we don't think we've ever seen a more fabulous version than this 1920's Goebel glazed porcelain powder dish. Imagine being a movie starlet or ballet dancer and reaching for this to dust away shine with puffs of perfumed powder – it's enough to make us swoon with delight!
Estimated price: $600-$800
Written by Suzy Nightingale