At the turn of the century, violets would be carried as hand-tied posies by fashionable ladies about town, given as tokens of regard by prospective lovers and treasured for their elegant and discreet connotations of love. In the past few decades, we have perhaps come to think of violets as a bit stuffy, a little fuddy-duddy as fragrances to wear now. Get ready to change your opinion, however, for the house of
Berdoues
have come to waft a new wave of contemporary vivaciousness, with
Millésmme Fleur Violette
.
Far from the 'shrinking violets' we may think of, or perhaps the famous sugared sweeties that tasted of perfume, violet is beloved by perfumers, who will tell you that although the majority of the flowers aren't scented, just crumple those glossy green leaves and you'll be met by a juicy, tender scent they adore to use in modern re-tellings of the violet's story…
Paying homage to the delicacy of the plant, Berdoues Violette is part of their
Collection Grand Crus
– extra special ingredients celebrated in fragrant form. A raw material that's both delicate and fragile, violet has been inspiring the perfumers of this historic house since 1902.
Berdoues say:
'The fragrance is a bold, modern expression of the leaf of the French violet, magnified by blending Iris from China with Patchouli from Indonesia. In 2017,
Sophie Berdoes
, from the fourth generation of the family, wanted to bring Violette into the here nd now. She dreamt of a powdery, contemporary and chic violet, more lifelike than its fairytale forebear.'
Brilliant nose
Benoist Lapouza
was chosen to compose this 'here and now' violet, and can we just say that the ceramic bottle addorned with bold strokes of violet paint and topped with a vintage-style atomiser is just drop-dead dressing table worthy. Oh my!
Not that it's all about the bottle, for the fragrance itself is both softly cocooning and cut through with a citrus zest to lift the powder to a fizzy, almost sherbert like sensation when spritzed. Swirled throughout with supple, suede-like iris and warmed by a base of ultra-smooth patchouli and vetiver – think uber-cool Parisian chic but the kind of person who wears a Victorian style Alexander McQueen jacket with their favourite pair of jeans, or a suede jacket nochalantly thrown over a couture gown. Basically, the kind of gal we'd like to be. But dapper dandies must absolutely try this on their skin, too – we adore a gent who dares to wear a floral with style, and this is definitely shareable.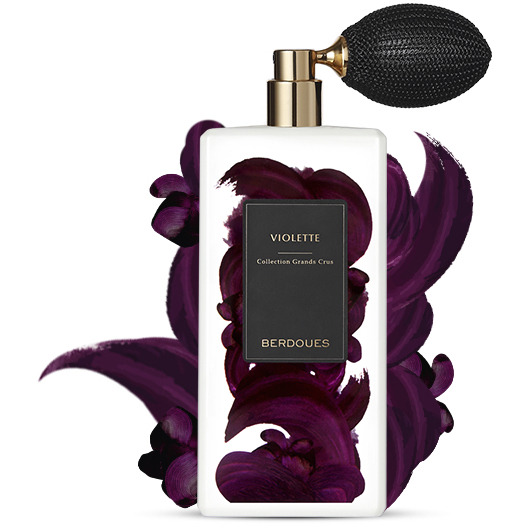 Berdoues Violette
£110 for 100ml eau de parfum
Buy it at
Harvey Nichols
Written by
Suzy Nightingale