The world is currently plastered in pink for the release of Barbie the Movie – name a product, and it's probably been Barbie-fied, with fully grown adults frothing with genuine enthusiasm for this feel good nostalgia fest. Obviously, my first thoughts were fragrance-led, with the question 'what would Barbie wear?' but instead of scenting the characters of the film, as I've done in previous blog series; I thought it would be more interesting to take a deep-dive on that nostalgia score, matching classic retro Barbies with scents I feel exude their personalities in perfumed form.
We all have a favourite Barbie. Even if you sneered at her all-American Girl-ness, preferring the far more grounded (and let's face it, grumpily British) Sindy, there will have been a particular Barbie you lusted after, or admired with a side-eye from afar. Just seeing the pictures of these dolls brings back waves of memories, each of them garnering fervent fans from the eras they were first released in. There are whole Instagram accounts dedicated to wallowing knee-deep in the pink reverence of remembering these Barbies, with millions of misty-eyed recollections and true joy abounding in each memory recounted.
This is one of the reasons The Barbie Movie went viral from the first peek at images from the sets, I think. After everything that's happened in the past few years – is still happening, today, with everyone exhausted at the 'oh God, what now?' news – we're heartily sick of reality and long to plunge into the comfort of a pink, plastic, Barbie-perfect world. Let us, for a moment then, recall the joy of smelling doll's heads, fresh out the box [you did this too, right?] and allow ourselves the pleasure of exploring the following fragrances, with each Barbie's character in mind.
Which Barbie would you like to be, today…?
Twirly Curls Barbie (1982/1983) / Parfums de Marly Oriana 
Shoutout to Matel for diversifying the so-white toy market way before many others allowed children to play with dolls that that had their skin colour. Another shoutout to all of those who, like me, tried the 'hair twirler' in their own locks, got it stuck, and had to have it cut out. Ah well. This Barbie deserves the va-va-voom velvety fruitiness that abounds in this fragrance (and to display the magnificent bottle on her dressing table) Passionate flowers unfurl frilly blooms to the skin-like scent of ambrette, which billows beguilingly for hours.
£130 for 30ml eau de parfum harrods.com
Crystal Barbie (1983) / Lancôme La Vie Est Belle Soleil Cristal
How we love seeing soleil in the name of a fragrance: a glimmer of sunlit hope and promises of outdoor living (enjoying a Barbie-perfect picnic, obvs). A solar brightness gives a twist to the bestseller, here, via radiant mandarin, extravagant white flowers and a trail of Madagascan vanilla and patchouli, from Bali. And oh, the bottle's spectacular, with a shimmering, almost holographic finish that echoes the luminosity of the scent inside (and Barbie's glamorous gown, of course).
From £73.60 for 50ml eau de parfum boots.co.uk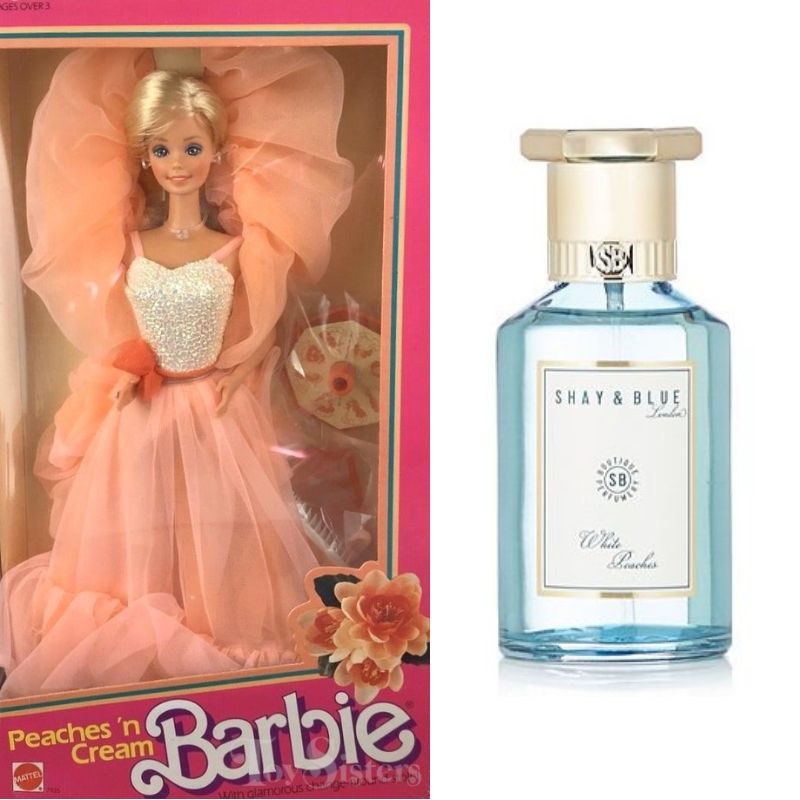 Peaches 'N Cream Barbie (1984) / Shay & Blue White Peaches
Forget overly sweet peach-smell scents, there's a floral delicacy that exudes from the flesh of white peaches, swirled through with an elderflower granita for a freshness that feels like sunshine and happiness, bottled. It swirls with the gauzy softness of the chiffon gown Barbie wears, here. Shay & Blue excel at unique combinations, this one unusually grounded with a soft wisp of silver birch for the woody base. It's a sorbet of a scent to quench your thirst for something delightful to wear.
From £25 for 10ml eau de parfum shayandblue.com
Day to Night Barbie (1985) / Mugler Angel Nova
This iteration ripples ripe raspberry and succulent lychee with damask rose atop a softly smouldering base of Akigalawood and resinous benzoin. Definitely one to try if you clutched your (plastic) pearls and backed away from the original. This is fresh with a hint of pink petals, but the real power lies in its steely backbone – the unique strength of Mugler's power femme world with a contemporary floral twist. Barbie broke through the glass ceiling in this 80s classic look, and this scent carries her from executive desk to dance floor.
From £60 for 30ml eau de parfum theperfumeshop.com
[P.S: Huge props to Margot Robbie and her stylists – she TOTALLY NAILS these looks in the film premieres she's been attending!]
Dream Glow Barbie (1985/1986) / Jimmy Choo Rose Passion
A gal who pops out  for an eve in a gown featuring glow in the dark stars with matching accessories is up for a party, so this could be her signature scent. Full of the Jimmy Choo strut, it simply glows with confidence from first spritz. Coconut water delivers thirst-quenching freshness, before more exotic notes rise to an opulent crescendo: orchid, jasmine, sweet vanilla, and creamy sandalwood. Tapping into into the renewed craving for dressed-up perfumes (and 'dopamine dressing' generally), we say: come on Barbie, let's go party!
From £50 for 40ml eau de parfum theperfumeshop.com
Written by Suzy Nightingale