When we think of the world's great perfume houses – and the noses behind them – for many years the image of Grasse or Paris was bound to be foremost in our minds. And with good reason, considering the staggering heritage and number of names forever linked with France.
While it would be foolish to pretend that Gallic pull at our heart-strings doesn't exist, it cannot be ignored that other countries have the right to be proud of their own fragrant heritage, with Spain having a greater claim than most. And it's not a matter of merely glimpsing into the past and revisiting 'Ye Olde Scents of Spain' that deserve wider recognition, either – they boast a number of brilliant perfumers currently exciting the passions of perfumistas the world over.
When one of our favourite fragrance specialists (who's always buzzing with news of the latest noses on the block) began veritably frothing with excitement about Spanish perfume, we knew it was time to sit up and take notice…
Fragrance expert Michael Donovan says: 'Spain has a rich and unique fragrance history and has produced some world class master perfumers. The Spanish people also have a very close relationship with perfume and wear fragrance from infancy!
The olfactory references in Spanish perfumes are broad and reflect many aspects of Spanish culture – perhaps the most arresting is the overwhelming joy and energy of these scents. The Spanish perfumers capture sunshine like no other – their use of citrus is second to none, distilling the vibrant, zesty life force of Spanish oranges and lemons and also, significantly, translating a longevity rarely seen in this fragrance family. Agua de Colonia from Alvarez Gómez for example, is over 100 years old and yet its iridescent sparkle lasts for hours on the skin with lemons layered across the dry-down. Florals too are a speciality of Spain, especially opulent notes like jasmine and tuberose – these perfumers are quite fearless with intense scents.
The Spanish are very passionate people – emotional, warm and spontaneous – and their perfumes reflect these characteristics. Vibrant woods and leathers, aromatic herbs and radiant blossoms are a captured with their natural vigour intact, and practically explode from the bottle with an irrepressible joie de vivre.'
We like a bit of warm-blooded passion at The Perfume Society (particularly when the British Summer is being unreliable!) and it should be noted that Roullier White have a large selection of Spanish fragrances to tempt you with in their treasure-trove boutique – and it's definitely worth the journey to sniff these in person if you can (or check out their website). In the meantime, if you fancy a dip in to some scented Spanish waters, we suggest you begin your journey with our edit of some of the very best houses your nose should get to know..

Alvarez Gomez
With a history dating back to 1889, Gómez are a much beloved perfumery founded by three cousins, and still made to this very day using the original recipes at their store in Madrid. Having attained iconic status in Spain, and widely regarded as a pinnacle of the Cologne fragrance family, this is a bottle of pure sunshine that's been keeping the Spanish cool all these years – it was first released in 1912 – and still shows no signs of waning in popularity.
Agua de Colonia Concentrada £26.95 for 220ml splash

Loewe
Once again, a Spanish house with its roots firmly embedded in history – this one dating back to Madrid in 1846 – yet consistently remaining modern; Loewe produce both fashions and perfumes with equal pizazz. 'Loewe moved into the world of perfumes as a logical continuation of its essence. In an almost inevitable expansion of its creative universe, in 1972 it poured its limitless creativity, expertise and high expectations into selecting raw materials to breathe life into a balanced range of luxury fragrances.'
Loewe Aura £54 for 40ml eau de parfum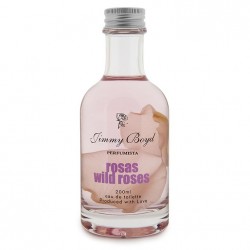 Jimmy Boyd
Despite having one of the least Spanish-sounding names ever, James Joseph Boyd was born in Barcelona to a Scottish father (that explains it) and Catalan mother. Training in Grasse under the watchful eye (and nose) of Marcel Carles – son of the renowned perfumer Jean Carles – Jimmy Boyd honed his craft with the very best, respecting the traditions of both French and Spanish perfumery skills, but going on to create fragrances that have made him the darling of the perfumistas worldwide and a modern-day icon in Spain.
Jimmy Boyd Wild Roses £39.95 for 200ml eau de toilette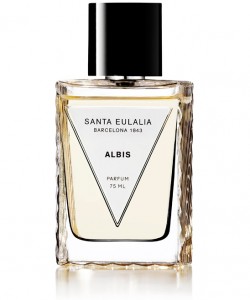 Santa Eulalia
Another fragrance house with a strong heritage – this one dating back to 1843 – Santa Eulalia is a luxury boutique selling their own fragrances, high end designer goods and cutting-edge designs, having first opened in the heart of Las Ramblas in Barcelona, and today being located in the Passeig de Gracia neighbourhood. The bottles are deliberately minimalist chic, and the fragrances themselves, timelessly beautiful.
Santa Eulalia Albis £98 for 75ml eau de parfum

Ramón Monegal
Born in Barcelona, Ramón (main picture) belongs to the most important family of perfumers in Spain. A fourth-generation of the founders of Myrurgia (official suppliers to the Spanish Royal House) Ramón was their most important and international representative. Having created fragrances with huge success for others, he is now following his dream of making fragrances without compromise, proudly bearing his own name.
Ramón Monegal Cherry Musk £130 for 50ml eau de parfum
Written by Suzy Nightingale