The BBC's new Marie Antoinette series is making lovers of historical costume dramas rejoice, and in a continuation of our character and scent-matching sessions, we're powdering our wigs, unfurling our fans and and wafting forth with the following fragrant suggestions…
'An innocent teenage queen drawn into a dark, manipulative court of Versailles. Her duty is to bear an heir. Her fate will set a country on fire.'
From the brilliant writer Deborah Davis (who also gave us the award-winning film, The Favourite), this is a drama that's not afraid to lean into the opulence – so of course it calls for some seriously fabulous olfactory counterparts to the characters. For more information on the show, do read The Guardian's review in full (which is suitably glowing), and give the trailer a watch before you begin your scent exploration of some of the main characters.
'…it is sometimes strange, funny, grotesque in places, with a gorgeous if occasionally oppressive score. Historians and purists in France, where the series launched at the end of October, have unsurprisingly called it "obscene" and full of "historical aberrations", including the supposed rebrand of Marie Antoinette as a feminist icon. But the trend for reappraising historical and maligned female figures with a contemporary viewpoint is unstoppable and, anyway, this is not the first revision of the last queen of France before the revolution.' – The Guardian
Marie Antoinette (played by Emilia Schüle) – Parfums de Marly Delina
Encased in its sugared-almond pink bottle as it is, the silk tassel befits such a regal scent, as does the beautifully powdery rose within; but this isn't as 'girly' as you'd imagine. Just as Antoinette blooms as her confidence grows, so too does Delina blossom on the skin. As it warms, the powder becomes more bare skin-like, a hint of pink thigh flashed above a white stocking, the sense of feminine power that comes with learning the art of flirtation.
£210 for 100ml eau de parfum selfridges.com
Louis XVI (Louis Cunningham) – Matiere Premiere Falcon Leather
Given his preference for birds of the feathered variety (at first meeting his bride-to-be, anyway) and generally wandering free among the grounds rather than the stilted, terrifying confines of polite society; Louis XVI should plump for this. Smoky as a distant bonfire on the breeze, redolent of the leather gloves falcon trainers use, it's got hint of that huntin' 'n fishin' outdoors-y attitude but it's scrubbed up and refined, far sexier than it realises. One to wonder at, then fall for. Hard.
£145 for 50ml eau de parfum selfridges.com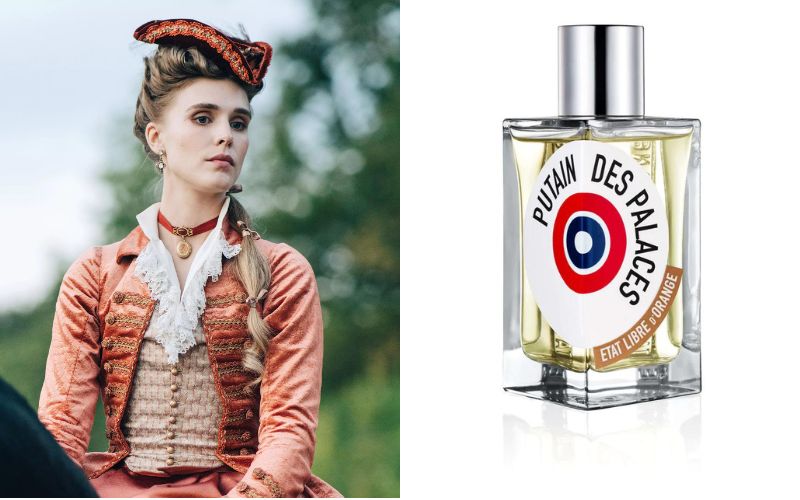 Madame du Barry (Gaia Weiss) – Etat Libre d'Orange Putain des Palaces
Prettily powdered she may be, but this is a fragrance that means business. Evoking passionate encounters and smudged lipstick, beneath the make-up strewn dressing table top notes there's a writhing of hot bodies entangled in sheets and an evocation of dirty linen very much being aired in the public gaze. Du Barry doesn't mean to allow her grasp on the throne to be weakened, and if you're not in her court, you're done for. Why not simply submit to the sensuality within?
£85 for 50ml eau de parfum bloomperfume.co.uk
King Louis XV (James Purefoy) – Etat Libre d'Orange Exit the King
Amidst the bitchy court of Versailles, King Louis ('Papa Roi' as Antoinette comes to call him) is a welcome friendly face (though do watch out for his wandering hands). This pleasingly soapy scent is classy all day long, with a hint of traditional Cologne among the French Savon and a dandyish air that isn't afraid to wear its more feminine side on its frilled white shirt cuff. Luminous musks beam forth from the foam, sunlit jasmine and lily of the valley resting on light woods. Lovely (but dangerous in the wrong hands).
£128 for 100ml eau de parfum lessenteurs.com
Princesse de Lamballe (Jasmine Backborow) – Lancôme Trésor
Beloved since its launch in 1990, this softly peachy hug swathes its wearer in an embrace of fluffy muskiness, pillowy sandalwood and vanilla encircling the lilac blossoms in the heart. Lamballe was (sometimes) Antoinette's closest confidant; known for her kindness and likability, she surely deserves to be as treasured as this scent. To be worn when you need to be kind to yourself, perhaps, this perfume should be sought out anew by those who once loved it and discovered afresh for those yet to be blessed.
£75 (was £83) for 50ml eau de parfum superdrug.com
Victoire (Caroline Piette) / Adelaïde (Crystal Shepherd-Cross) – Dior Pure Poison / Dior Poison 
Quite frankly 'a bit much' and just not giving a damn, these mesdames might be the unmarried daughters of the King, but they co-rule the court with iron fists inside their couture gloves. In the BBC series they are magnificently snarky, their plum lipsticks and bruise coloured gowns a fabulous contrast to pastel froth and youthful folly. Deep, bold and unapologetic, the original Poison still swaggers, while the Pure version is more translucent, and though not as powerful can deliver a slap to the unworthy. So: bow down.
£54 for 30ml eau de parfum / £63 for 30ml eau de parfum dior.com
Written by Suzy Nightingale