Prosody London believe that plants are more than just useful ingredients on which we rely, saying 'they are the basis of human wellbeing, the silent friends without which our planet would be bare and our lives unthinkable…' This stunning house work with the most incredible quality all-natural and organic materials in their scents, and we're thrilled to say they are now available in our shop!
Taking the beauty of plants – their stems, leaves, petals, and even the their cycle of growth and maturing beauty – as their guiding inspiration, Prosody London talk passionately about how 'some of the earliest cultures saw plants as a grammar, a code and a cosmology.' With a green ethos that flows through every fragrance, Prosody London take equal delight in their scents being so beautifully composed, so harmoniously sophisticated, that many people don't even realise they are – gloriously, unashamedly – all natural and organic…
Sustainability is a core tenet, harnessing the power and complexity of the finest natural materials they can find, all of them non-GMO, from producers around the world that are ethical and sustainable, certified by globally recognised authorities such as Ecocert and USDA. But they are still created with 'ingenuity and artistry to create fascinating, varied and well-structured fragrances – fragrances that can meet the expectations of modern consumers yet avoid the many synthetics and additives that undermine our shared sense of what nature can do.'
And this is where Prosody London differ from many other naturally inclined fragrances you may have previously encountered. They understand that we expect more than a merely pleasant scent – perfume lovers want a structured, elegant fragrance that expresses more that just their concern for the environment.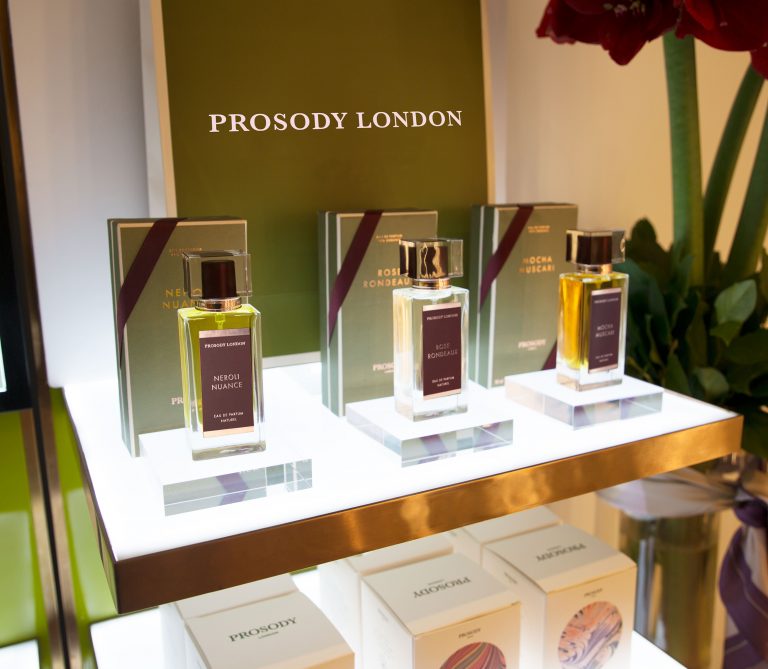 Perfumer and founder Kershen Teo has worked tirelessly to ensure his scents have this aesthetic quality as well as the ethical purity they strive for. As he explains: 'The intrinsic complexity of naturals means you have to work hard to keep things well structured and balanced,' because it's vital the fragrances are stunning on first sniff. 'I like the challenge of this,' he smiles, going on to admit: 'We know that sometimes people buy Prosody London without even realising they're organic and 100% natural. I'm perfectly happy with that!
It's a mark of their quality, of course, and the hard work Prosody London put in to the formulas for the six debut fragrances to ensure the chicness is front and centre. And for Keshen, this meant personally exploring the many differing types and qualities of natural materials available to perfumers, as their characters and performance can wildly differ. For example, he points out, 'I love jasmine, but only use CO2, not the absolute. I find jasmine absolute often has a petroleum overtone suggesting a trace of hexane from the production process. This spoils it. But if it's clean even a tiny amount of jasmine will lift a composition and transform it completely, making it sexy and beautiful.'
That jasmine can be found by the fragrant bundle in their voluptuously feminine Jacinth Jonquil, entwined with hyacinth and woven through with that mesmerising jonquil itself – think of a host of daffodils nodding in the sunshine, but fresher, greener, a crispness to the air like the first breath of spring, flecked with juniper berries and all nestled on a softly woody base. Those craving something fresher still should spritz Neroli Nuance with abandon – a flirtatiously summery blend of bitter orange, grapefruit and exquisite neroli with a captivating sandalwood trail: basically, sunshine, bottled. Rose lovers, meanwhile, must give themselves over to the buxom embrace of Rose Rondeaux, decadently laden with fresh raspberry and juicy blackcurrant, dusted with iris and warmed with patchouli for a romantically decadent treat.
More unusual tastes are catered for with the fabulously unique Mocha Muscari – the favourite of many a perfumista in the know – which blends the richness of coffee with a surprisingly seductive twist of mango, jasmine and lavender on a base of black agarwood and sandalwood.
Whichever fragrance you choose – and we urge you to explore them all, below – we're sure you'll be as captivated as we were at first sniff. And agree wholeheartedly, what a joyous celebration each Prosody London scent is…