Welcome to fragrant heaven. For a small city, Florence supports an extraordinarily large number of world-class independent perfumeries. Maybe it's not that surprising: Florence played an important role in the history of perfumery, a destination for traders – of spices, resins and other precious fragrance elements – and its sophisticated population was constantly seeking ways to outdo each other, status-wise. Scent played a part in that. (For more about Fragrance History, click here.)
Because the city centre's small, you could probably cover most of these in a single day. (And if you wear out your shoe leather in the process? There's surely nowhere better on the planet to buy a new pair.) You'll find extraordinary artisan perfume creators, interesting 'concepts', perfume shops housed in old palazzos – and much, much more to delight your sense of smell. Plenty of places, too, to stop for a recaffeination. (Our favourite pitstop: Rivoire, on Piazza della Signoria. (It's closed, like quite a bit of Florence, on Mondays. Do check ahead with all the following locations, to ensure they're open.)
One important fact about shopping for anything in Florence: the numbering of the buildings is the most fiendish we've found anywhere. (Except maybe Tokyo.) At some point, streets have been renumbered – so No. 32 may also now be No. 68, and so on. The old blue-and-white ceramic plaques have been left on the buildings, and new, smaller stone ones added. So if you get to the street number for a perfumery listed below and it appears not to be there, don't take it at face value: keep going, because you'll probably find that yes, there are actually two Number 88s. (Pass the cold flannel, please.)
And here goes… (NB If you follow the order these are listed in, it's like a mini-tour, rather than dashing hither and thither.)
Farmacia Santa Maria Novella

Even if you're not on a perfume quest, no visit to Florence is complete without popping into this gilded, mosaic-floored temple to fragrance. (See it in our main photo, too.)
Dominican monks opened a pharmacy to the public here in 1612; there's still a beautiful grey-painted working pharmacy here. So: you can buy the 'patented' herbal remedies – balms, lotions, tonics, tisanes, honeys – alongside more modern creations, including haircare, skincare and Santa Maria Novella's beautifully-bottled and packaged range of perfumes
Wander through the three high-ceilinged, fresco-ed rooms and drink it all in. Either explore the fragrances (there are now over 30) at your own pace at the glass cabinets, or tap into the experience of knowledgeable assistants, first checking out the upliftingly citrusy Santa Maria Novella perfume – the first the monks created – for none other than local noblewoman Catherine de Medici, who became Queen of France. It's based on the famous Queen of Hungary's Water (an early eau de Cologne).
Other famous bestsellers (showcased above on the uplit display unit) include Melograno (based on pomegranate), and Iris (Florence traditionally provides iris to the world's perfume trade), and earthily Patchouli. You may want to treat yourself, meanwhile, to a box of the Farmacia's signature, so-distinctive pot pourri: a mixture of leaves, buds and flowers harvested from the Florentine hills and left to macerate in terracotta jars for over 30 days. We've got dishes of SMN's pot pourri which are still pumping out their spiciness two years after we first put them out. (Just give a good shake, occasionally, to reinvigorate.) Fabulous hand-pressed soaps, too (see the 'press', here.)
PS We slightly wish they hadn't done the touristy thing of putting in large touch-screens that let you scroll through the history of the place, by the way: it feels very out of place somewhere you can look through the grilled gate and soak up the peace of the cloistered private garden. (There are other locations around Florence now – including at the train station, which dents the romance somewhat – but this is the one to head for.)
Dr. Vranjes

A teeny cupboard-like boutique just bursting with scents for the home, right in the heart of town. This line of scents is apparently created by a doctor on the outskirts of town; there are now three boutiques around the city but this is the only one we stumbled on. (Other locations are larger. Well, they couldn't be tinier than this!)
Dr. Vranjes is especially big on 'bastoncini' (scent sticks), with fragrances like fig and sage, lime and ginger, pomegranate and mint, rose petal, tuberose and lily and more. A bestseller is the warm and wonderful amber scent (and we're not surprised). There arealcohol-free car perfumes, too, designed to go with the leather, wood and textiles of car interiors – and they sure beat those dangly little Christmas trees.
L'Olfatorrio
The arched doorway here gives an idea of just why perfume-shopping in Florence is so exciting: the contrast of old and new is everywhere. So here you have a stunning Renaisssance entrance to a boutique selling completely contemporary creations, including The Different Company's scents (from Paris), which you sniff not from blotters or sprays but from wine glasses.
You could also find Annick Goutal, Diptyque, Honoré des Près, Les Parfums de Rosine, Penhaligon's and L'Artisan Parfumeur. Looks a bit scarily imposing, from the entrance – but it's really not.
Antica Erboristeria Inglese


Right, slap bang on Florence's spiffiest shopping street (the equivalent of Bond Street or Rodeo Drive) is 'The English Pharmacy', which somehow combines the holistic and medical side of a pharmacy with a fine fragrance destination.
It's a beautiful old building (like so many of Florence's perfume stores), with a vaulted ceiling, limestone fireplace, tapestry chairs: all a bit higgledy-piggledy but charming with it. And alongside home-made lavender products (using lavender grown on the owner's Mazzei vineyard, in Chianti), you'll find an extraordinary collection of fragrances from Frederic Malle, Penhaligon's, Floris, Serge Lutens and Terry de Gunzburg, along with pricy-but-gorgeous candles from the Castello di Ama, another of Chianti's renowned vineyards, infused with unusual scents like fennel and geranium. Quirky – but the manager we met spoke perfect English and was most welcoming.
Profumeria Aline


A fairly average, Continental-style perfumery on the outside – but a pretty spectacular range within. If you live somewhere blessed by a large department store this might not have you hyperventilating, but it's still extraordinary to us to find Annick Goutal, Robert Piguet, Comme des Garçons, Comptoire Sud Pacifique, Tom Ford, Houbigant, Monte Carlo's Perris fragrances, Serge Lutens, Etro, Acqua di Parma and more in one spot.
Check out the lovely, fresh Acqua dell'Elba, in particular: an aquatic-inspired collection of fragrances from the island of Elba – the first place we've seen these eminently splashable creations on sale.
Avery Perfume Gallery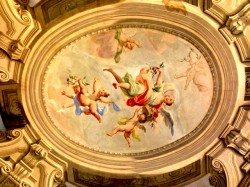 Yes, this photo is of the ceiling of this store: straight out of the Renaissance:  a stunning chequerboard floor, grey-painted cabinets, cherubs and doves… Scent-shopping at its most romantic, this. But if anything, the selection of fragrances is even more beguiling.
Think: Bond No. 9, Agonist, Blood Concept, By Kilian, SoOud, By Kilian, Andrée Puttman, Six Scents, Carthusia, Creed, Eight & Bob – oh, we could go on, but be sure to carve out an hour or two to dip and delve, here. And take advantage of the very pleasant service from the extremely knowledgeable and enthusiastic staff. (Well, who wouldn't spring out of bed to come and work in a boutique this gorgeous?)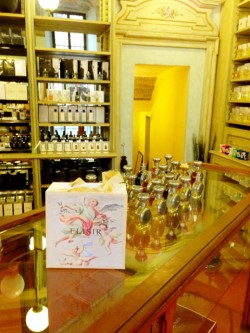 Of particular interest – since we are, after all, in Florence – is the Lorenzo Villoresi collection. Villoresi is an award-winning Florentine perfumer with a nearby atelier; it's not open to the public, but Avery Perfume Gallery showcases his 'ready-to-wear' line, including bath and body treats, and fragrances for the home (as well as people). Piper Nigrum, with its nose-tingling grind of black pepper, is one of the best-known (and bestselling), along with Teint de Neige (a talcum powder-y, rosy creation which is as feminine and flirty as Piper Nigrum is masculine and powerful. Having said that, Piper Nigrum's the one we sprung for; make of that what you will…)
I Profumi di Firenzi
Right next door to Aline, another decidedly quirky perfume destination. Allegedly, Florentine perfumer Dr. Giovanni di Massimo stumbled upon Catherine de Medici's 'secret perfume recipes' in a treasure trove of Medici fragrance formulas, back in 1966, after the famous Florentine flood, while sorting through the soggy mess in his basement. (The Medici Palace was just across the square.)
I Profumi di Firenzi is also (allegedly) all-natural, and there are almost 30 scents to try. It's far from the most glamorous fragrance-shopping destination in Florence (they're definitely Magic Marker-mad – see left), but the fragrances aren't luxe-priced at all so we'll definitely forgive them that. Fab bath salts, too. (Hard to resist buying Catherine de Medici's bath salts, we find, for a queenly bathing experience – with hints of lily or the valley and iris, if you're interested. Sniffing the bath salts themselves gives nothing away.)
Can we make a little recommendation, when you leave the perfumery? Turn right into the big square and treat yourself to a chocolate ice cream and/or a hot chocolate at Rivoire (just on the left), one of our favourite Florence pit-stop, offering spectacular people-watching.
Farmacia SS Annunziata dal 1561
Turns out – who knew? – that this wonderful (smaller) pharmacy has been in business even longer than the legendary Santa Maria Novella – since 1561, in fact (as the name trumpets). The building itself dates back to 1400.
Exquisite wooden cabinets garlanded with gilt display the range of medicinal preparations (now made using up-to-date materials and techniques, rather than the good old pestle and mortar), the soaps, the bodycare – and the fragrances themselves. There were 20 different scents, when we visited (some available as after-shaves, as well as colognes). Discover snuggly-soft Regina: rice powder, iris, rose, or (for patchouli nuts), Patchouly Indonesiano, which in its pyramid lists top notes: pathchouli, middle notes: patchouli, base notes: patchouli.
This place is Florentine perfume-shopping at its best: an extraordinary, historical interior, fragrances you've never smelled before – and everything wrapped beautifully, when you've flex-ed your credit card. (We sort of defy you not to.)
PS There's one more we didn't get to visit this time: Profumeria Antonella. It was slightly 'off the manor', but is said to have Montale, Juliette Has a Gun, État Libre d'Orange, Maitre Parfumeur et Gantier, Serge Lutens and Lalique. If you're staying to the north-west of the centre, it's at Piazza Dalmazia, Firenze 50141 (telephone +39 055 436 0971). Next time, we promise.