In 2005, Viktor & Rolf exploded onto the fragrance scene with Flowerbomb – truly putting this Dutch design duo on the map.
It took its name from their 'Flowerbomb' fashion collection show – and it marked the beginning of a remarkable partnership between these two 'lookalike' designers and L'Oréal, one of the world's biggest names in fragrance. (We're told that Viktor & Rolf approached L'Oréal because they could invest in their creativity – and had a scientific approach…)
It's safe to say that before that fragrant debut – which became an iconic bestseller, worldwide – Viktor & Rolf weren't on absolutely everyone's radar. Vogue describes them as 'part performance art group, part couture house'. Today, the design duo is synonymous with creation and surprise, fashion and perfume – bridging the worlds of luxury and art.
But just who are Viktor & Rolf…? They're formally known as Viktor Horsting & Rolf Snoeren. Fresh from Holland's prestigious Arnhem Academy of Art and Design, they took Paris by storm from the word 'go', with their first show in 1993. Their 'reconstructed' ball gowns won the top prizes at the Salon Européen des Jeunes Stylistes, where many of Europe's young designers have been talent-spotted. By 1997, they were showing during Paris couture week.
Their shows became hot tickets with fashion-watchers – and Viktor & Rolf crossed the Atlantic, making an even bigger splash in New York. They embodied modern glamour, for sure – but often with a surreal twist on convention, like the show in which models appeared with their hair across frilly pillows, recreating a beautiful bedtime fairytale.
'In fashion, everything is possible,' comment Viktor & Rolf. 'We love the idea of mixing the avant grade with Hollywood glamour.' We'd certainly love to have been there, to listen to singer/songwriter Tori Amos play a specially-written soundtrack on a grand piano, to add a melodic finish touch to the dreamy atmosphere.
Or to see the angel dressed head-to-toe in black which Viktor & Rolf sent down the runway – or the 'No' Collection, with the word richly embroidered onto evening gowns, and shouting out from tailored flannel suits.
With this combination of wit and style, it's perhaps no wonder that the pair attracted a stellar clientele: Gwyneth Paltrow, Uma Thurman and Nicole Kidman are among the beauties photographed in Viktor & Rolf – though their 'ultimate' muse has to be Tilda Swinton: for their 'One Woman Show' collection, all the models were styled to look like the actress.
Not content with turning the fashion world on its head, Viktor & Rolf have even done it in their own Milan store, with upside-down logos, chandeliers emerging topsy-turvily from the floor, and chairs hanging from the ceiling.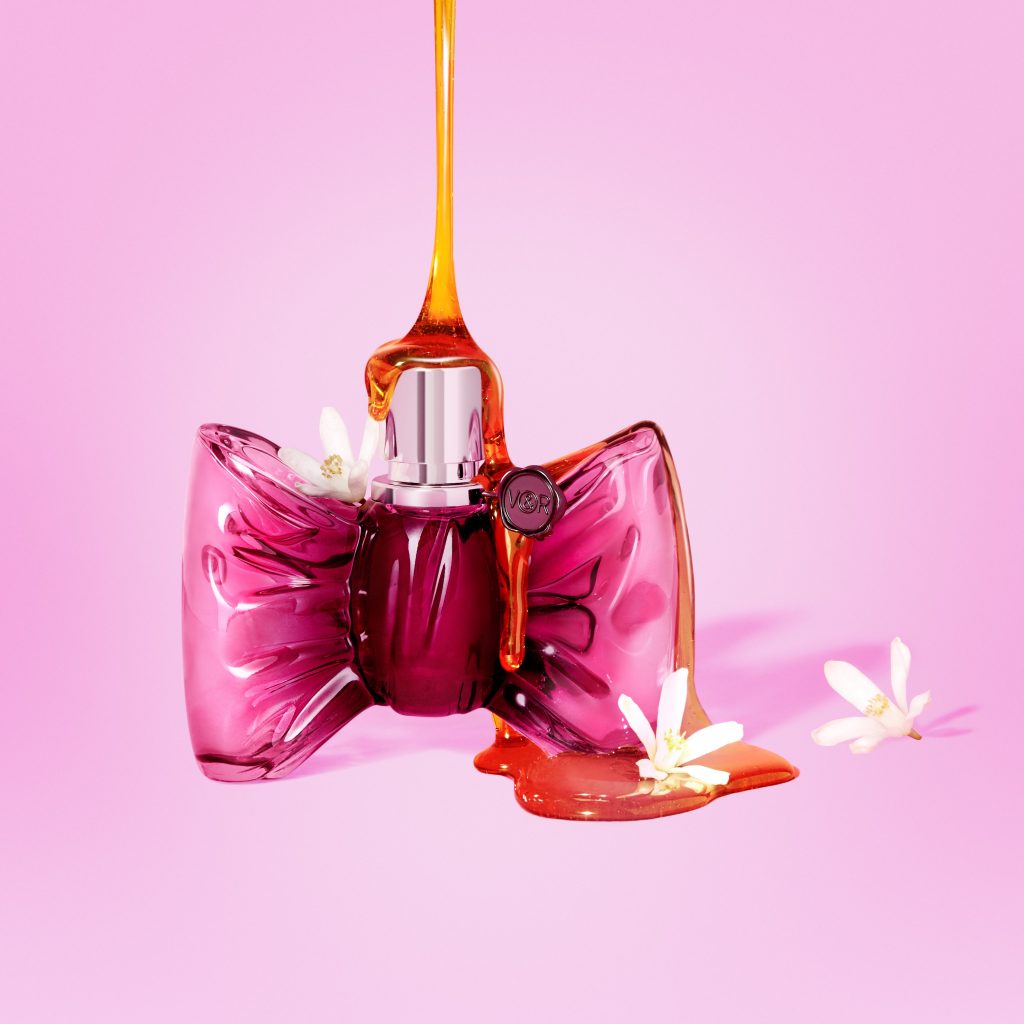 It's no surprise, then, that Flowerbomb turned the fragrance world on its head. Traditional top, heart and base notes…? Out of the window: it's a 'floral explosion', interacting with individual pheromones to deliver a different sensorial experience for every wearer – always soft, always sensual. And its 'grenade-style' bottle now graces dressing tables worldwide.
Bonbon launched in 2014 with another truly stunning bottle, as original as you'd expect from Viktor & Rolf. As the 'noses' behind the creation, Serge Majoullier and Cécile Matton, explain: 'Our challenge was to create a bonbon à la Viktor & Rolf: a couture bonbon – sophisticated, unconventional, sensual, glamorous, on the edge – for supreme pleasure.'
It's a luscious 'woody floriental', so they tell us: 'an addictive delicacy, an haute confiserie.' The name itself was the inspiration for the notes, the starting point a peach-flavoured caramel, which these well-known perfumers elegantly 'dressed' through a fruity overture, sparkling notes of peach and orange, and a base of creamy woods. The caramel, they explain, is evoked throughout: 'clear, translucent and crackling in the top note, it becomes more flexible and milky in the middle note and finally darkens to give depth to the base note.'
And then, of course, there is Viktor & Rolf's unashamedly masculine creation: the delicious explosion of notes that is Spicebomb. As Viktor Horsting said in an interview, at the time of launch in 2012, 'We were jealous of all the women who had Flowerbomb, and we wanted to have our own bomb.' Rolf Snoeren added: 'We felt that if flowers were a very typical scent, spices were the masculine opposite.'
It was created by Olivier Polge, then at fragrance house IFF, who explained: 'Viktor and Rolf wanted an extroverted, outspoken fragrance.' As it bursts from the unique and witty grenade bottle, you'll encounter bergamot, elemis, grapefruit, pink pepper, tobacco, chilli, saffron and leather. Its opening is citrusy, touched with pepper, before the spiciness emerges, as it's skin-warmed.
All the perfumers who've worked with them have variously observed that Viktor & Rolf themselves 'know what they want.' As you might perhaps expect, they're attentive, involved in the process of fragrance creation, with much collaboration and discussion. Indeed, as Bonbon's perfumers observed at the time of launch, 'They have a "nose" for fragrance and love to live with it. It is a real pleasure to work with them.'
And for the rest of us? It's a real pleasure to wear a Viktor & Rolf creation. Whether it's a sumptuous ballgown-with-a-twist, a super-sharp men's suit or a touch to the skin of an unexpected – and sense-delighting – fragrance.