Tommy Hilfiger is one of the Great American Success Stories – proof that anything really is possible, with hard work and talent.
The self-taught designer's global style empire began when he was just a high school student, with just $150 and 20 pairs of bell-bottom jeans to sell. His genius was understanding the styles of clothes customers wanted – but couldn't find elsewhere on the market.
In 1979, Tommy Hilfiger moved from New York State to Manhattan, the epicentre of cool. He was talent-spotted, and launched his first signature collection in 1985: button-down shirts, chinos and other American classics. The debut collection was for men, but womenswear soon followed – and the world fell in love with Hilfiger's 'preppy' style. The red, white and blue of the Tommy Hilfiger logo – inspired by the American flag – says it all about the spirit of Hilfiger style.
Today, his collections span a whole range of products designed to suit a contemporary lifestyle:  clothing, interiors – and of course, Tommy Hilfiger's so-desirable signature fragrances. 'The Real American Fragrance' was released in 1995:  clean, fresh and energetic, and inspired by the American landscape –Florida grapefruit, Midwestern spearmint, Cape Cod cranberry, Atlantic driftwood. And hints of Dutch apple pie, like Mom used to make. (Because what could be more American than that…?)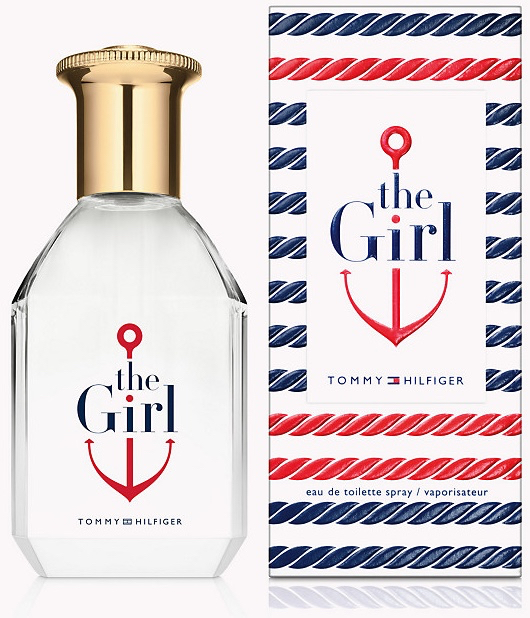 Another landmark fragrance was Tommy Girl – fresh and young;  this floral-fruity fragrance displayed the early talent of perfumer Calice Becker, and is still hugely popular today. With his finger still on the pulse of everything that's cool, Tommy Hilfiger collaborated with Beyoncé Knowles on a range of fragrances. (Hip-hop and rock musicians just love Tommy Hilfiger, with everyone from the late David Bowie to Britney Spears via Snoop Doggy Dogg wearing his clothes, off the catwalk.)
Fast0forward and 2016, Tommy Hilfiger unveiled The Girl – sashaying straight into a new era for the perfume house, with Gigi Hadid as its 'face' and one of the most watchable commercials we've seen in years. Its perfumer? Calice Becker, once again – alongside another fabled name, her Givaudan colleague Rodrigo Flores-Roux. It opens to sharp green elements – violet leaves, shiso leaves and fig leaves, alongside a pear note so crisp you can almost hear it crunching. The floral heart unfurls with jasmine and muguet – and as the skin warms The Girl, its amber and cedar warmth drift in.
Thus the American legacy lives on: today, the Tommy Hilfiger perfume house is known around the world for high-spirited fragrances for men and for women, delivering energetic kicks. And in recognition of the creativity behind this brand, Tommy Hilfiger has also won several FiFi Awards – the fragrance industry's most illustrious honour…