Translating as 'touch' in Italian, Tocca produce the most dressing table lust-worthy flacons of fragrance – think Cinderella's glass pumpkin coach but filled with fabulous smelling scents.
A much-beloved American house who transitioned from sportswear luxe to an effortless, contemporary chic you can spray every day, we are thrilled the entire, coveted Tocca collection of fragrances is finally available in the UK.
With their beautiful rounded glass flacons, floral etched brass-hued caps and romantically inspiring names, Tocca's fragrances look for all the world like something one dreams of finding while strolling through a flea market on a perfect spring day – perhaps while carrying a freshly baked baguette in a woven basket, your hair effortlessly twisted into an impossibly chic chignon. But wait, this house actually hails from the United States – all the fine fragrance collection are made there, in fact – and the Tocca brand began in 1994 with sportswear fashion, before diversifying into beauty and fragrance.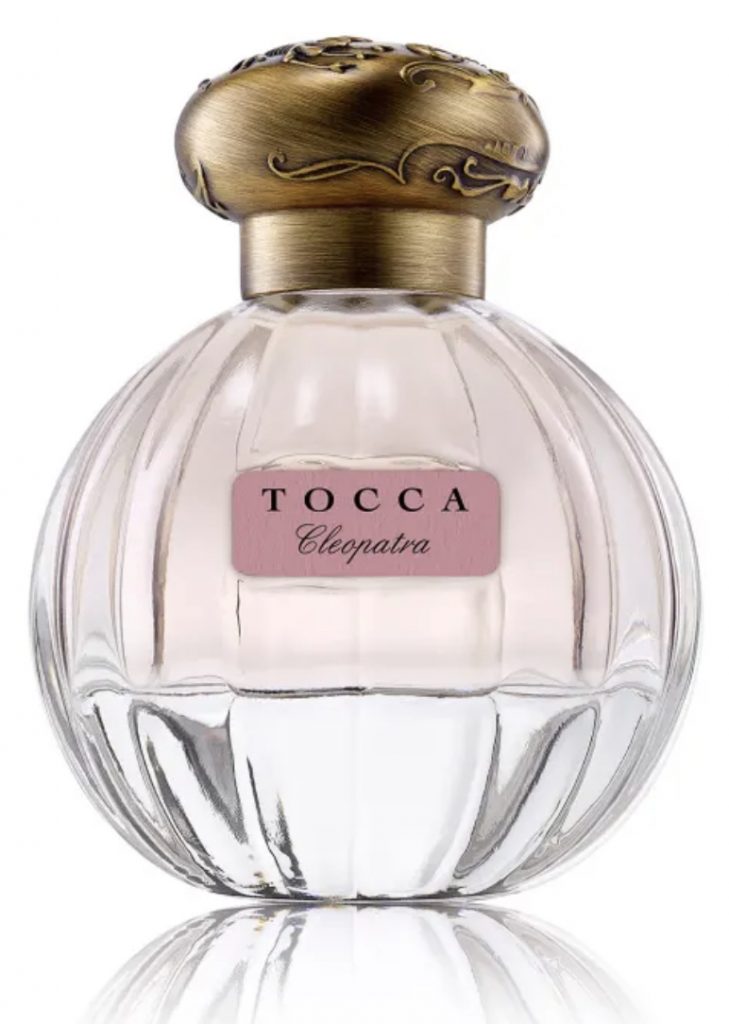 The so-glamorous bottles might not quite fit with what one immediately thinks of as 'sportswear', but when you realise the name Tocca means 'touch' in Italian, and that their clothing is renowned for exquisite embroidery and luxurious fabrics; it begins to sound like an idea of 'sport' we could get behind. Exuding a carefree spirit of joie de vivre that remains Tocca's ethos, each of the fragrances is given the name of a powerful woman, and the juices are just as characterful…
Three of their most-loved fragrances to date, Tocca tell us, are Stella, Cleopatra and Florence. Their very first fragrant launch dates back to 2006 – Stella, named for a tempestuous Italian beauty, and with a perfume personality to match. Lusciously juicy blood orange and bitter orange are dressed in ultra-feminine swags of freesia, lily and wild orchid, rippled through with a delicate freshness reminiscent of paddling in a babbling brook, a flurry of petals finally sighing into the smooth base of sandalwood and musk.
Taking a more Ambrée turn, Cleopatra is every bit as hypnotically engaging as you might expect, with ripe blackcurrant, grapefruit, peach and cassis creating an abundant banquet of fruitiness, all shot through with a sparkling greenness that highlights the luminescence of the white floral heart. Jasmine and tuberose slowly entwine with the warmth of an amber-rich, patchouli-trickled base, while delicious wafts of vanilla and soft white musk linger, invitingly on the skin.
Florence, meanwhile, almost invites the wearing of a gauzy gown, running barefoot through an orchard – it's armfuls of gardenia blossoms and pear trees, sun-warmed apples and cool, shady nooks of dew-speckled grass. A veritable summer's afternoon picnic of a perfume, enjoy drifts of violet leaf and a dusting of powdery iris throughout, making this a joyously charming perfume to wear at any time of the year.
How to figure out which of the Tocca girls is 'you'? On their website here you'll find a really fun quiz to find out which fragrance best describes you, allowing you to explore all of their fine fragrances.
Working with renowned noses from Givaudan, world-leading fragrance creators and innovators, Tocca have employed the talents of Sonia Constant (perfumer for Balmain and Oscar de la Renta, among many others); Ellen Mollner (Chief Executive Perfumer at Givaudan); and up-and-coming star James Bell (Diane von Furstenberg and Guess).
Seriously beautiful bottles with seriously great fragrances inside, then, the perfumes of Tocca are already a word-of-mouth hit with glossy magazine editors and industry insiders. And once you've smelled them, we suspect, will be taking place on your own dressing table any day now…