In an age where we hear a lot about conscious consumerism, Sana Jardin's dynamic American founder is looking to change the world – one bottle of perfume at a time…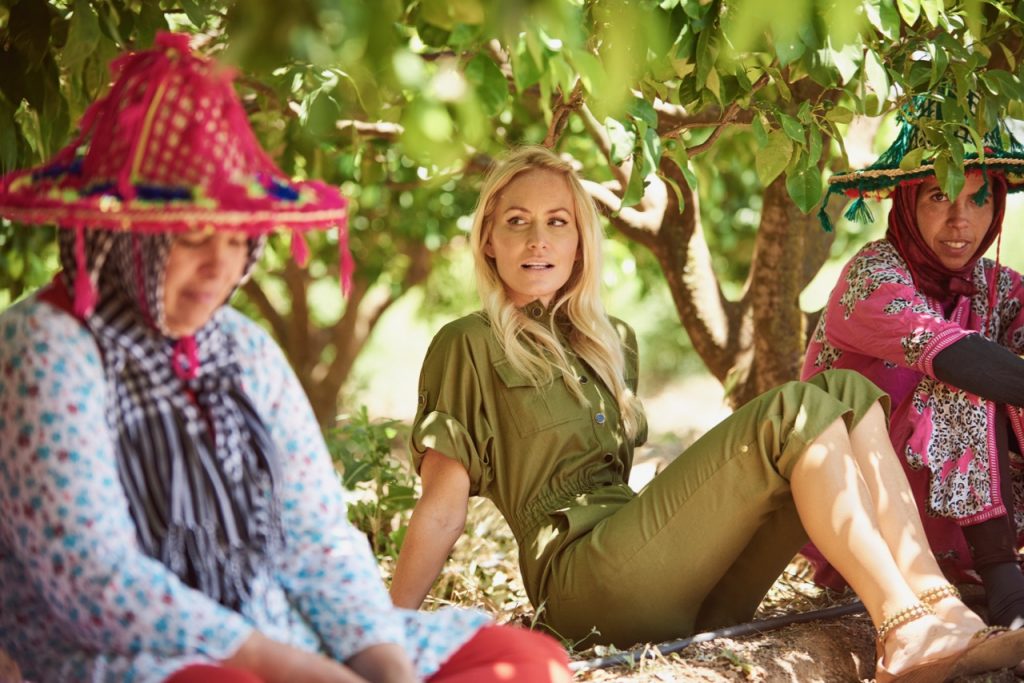 Take one (very glamorous) former social worker whose c.v. includes time with the Bill Clinton Foundation, the Robin Hood Foundation and the Cherie Blair Foundation. Mix with one of the world's leading perfumers – Carlos Benaïm (whose list of creations would stretch to page but includes Viktor & Rolf Flowerbomb, Bulgari Jasmin Noir, Calvin Klein Euphoria, Dunhill Icon, Éditions de Parfum Frédéric Malle Eau de Magnolia and so many more…)
Then infuse with neroli extract from Morocco, sourced via a women's co-operative. (Just one of the many opulent ingredients Carlos Benaïm has woven into his creations for Amy Christiansen Si-Ahmed, right) And what you have is Sana Jardin – truly the world's first eco-luxe fragrance house, whose fragrances have been raved about by Vogue, Harpers Bazaar, The Telegraph, WWD and The New York Times, and are now available in Harrods.
At The Perfume Society, we're beginning to hear much more about not only where perfume ingredients come from, but who grew them – and how sustainable that crop is. And Sana Jardin is right in the vanguard of the trend. Brilliantly, Amy has managed to create a portfolio scents that reflect her life-long love of fragrance – nurtured on travels through the Middle East with her inspirational grandmother – and tap into her two degrees in social work.
'The scents I'd encountered on my travels over the years were enchanting to me: the pure and golden shimmer of orange blossom, the mystical, enveloping depth of sandalwood, the seduction of jasmine blooming at night. I felt I could never find that captured anywhere on a department store shelf.' After her son was born, a friend gave Amy a copy of Celia Lyttleton's fascinating book The Scent Trail, in which the author embarks on a journey that takes her to the rose-growing region of Isparta in Turkey to the Tuscan hills (where iris grows wild) via Sri Lanka, to Yemen, and its frankincense trail. And via a serendipitous sequence of events, Amy found herself in a position to launch her own fragrance brand.
Beyond that, it's led to Amy founding the Beyond Sustainability Movement, to power tangible, measurable change for low-income women – starting with the Moroccan women who pick the orange blossoms for Sana Jardin's creations. To help them flourish independently, a small co-operative has been set up – with more than a dozen women now creating products repurposed from waste created during flower harvest and distillation. Locally, they market orange flower water, candles made from flower wax, and compost made from the waste flowers discarded by the factory.
But if that gladdens the heart and warms the soul of perfume-lovers, what will delight the senses are the seven fragrances in the line-up, which you can read about in much more detail below. (Click on each individual fragrance.) The Sana Jardin collection is strikingly beautiful – a magic carpet ride in every bottle. Savage Jasmine swirls with – yes – night-blooming jasmine, wrapped around intoxicating musk. Sandalwood Temple takes Moroccan neroli oil (from that orange blossom), enveloping it in Atlas cedarwood, Haitian vetiver, creamy vanilla and East Indian sandalwood.
Perhaps you'd prefer the purring, velvety amber Tiger By Her Side (which showcases Moroccan rose alongside Somalian incense, Indonesian patchouli) – or maybe Berber Blonde, which is filled with the light of Sana Jardin's signature orange blossom, alongside Moroccan neroli oil and musk. (Its name was inspired by Amy and Karim's 'Berber blond' sons.) 'For me, Berber Blonde is the true scent and vibrancy of Morocco, that country I love so deeply, in a bottle,' she says.
And about that bottle…? It's the creation of none other than Pierre Dinand, foremost designer in the flacon world – and, innovatively, created entirely from recycled glass, with a recycled cap, in line with the 'sustainable luxury' ethos of her business. What Amy hopes, through her venture, 'is that it starts a dialogue about how the fragrance world can be more environmentally responsible. And we have become conscious consumers in so many areas, why not perfume? And of course my plan is to expand the programme outside Morocco.'
The bottom line, believes Amy Christiansen-Ahmed, is that 'a bottle of perfume can change lives and change the way business is done. And for me, Sana Jardin is all about female empowerment. Because aside from anything else, if women had more of the power, you can bet there'd be more perfume in the world, and fewer guns…'
So we say: we have seen – and smelled – the future. And it's time to join Sana Jardin in the #flowerrevolution…