Salvatore Ferragamo: whisper the name to any well-heeled woman (literally, any well-heeled woman!), and she'll melt a little. Because Ferragamo's a name synonymous with some of the most beautiful shoes in the world – and of course, with beautiful fragrances. (For men, too…)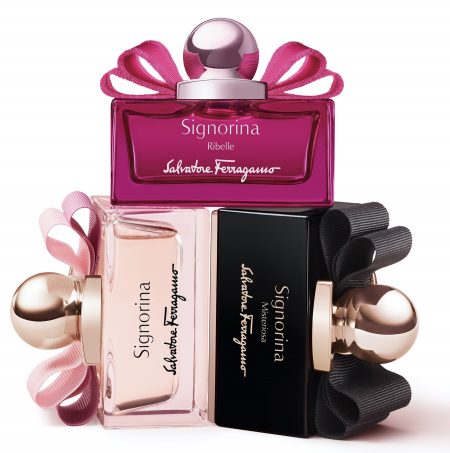 Today, Salvatore Ferragamo is a global luxury brand. But its roots are quite humble – and fascinating. Salvatore Ferragamo was a poor farmer's boy from Bonito, a small village 100 kilometres south of Naples, whose ticket to a new life in America happened to be a way with leather. (When his family couldn't afford a pair of white shoes for his sister's confirmation, Salvatore had a go – and the rest is shoe history.)
Right from the start, though, his crusade was to combine creative design with comfort. Which is why, even though Ferragamo shoes are no longer made-to-measure, styles come in a range of twelve sizes and seven width fittings. 'I was born to be a shoemaker,' he's on record as saying. 'It wasn't like learning to make shoes; it was like discovering what I already knew.'
Shoes that felt as good as they looked were clearly thin on the ground in Hollywood, where the young Salvatore Ferragamo soon set up (work)shop. He began making cowboy boots for legendary film director Cecil B. de Mille, and shoes for films like 'The Ten Commandments' and 'The Thief of Baghdad'. Soon, the stars were beating a path to his door: Lillian Gish, Audrey Hepburn, Sophia Lauren, Lauren Bacall, Greta Garbo (who later bought 70 pairs of custom-made low-heeled shoes on a single trip to Ferragamo's Florence boutique!) were all to become fans, over the years. And those shoes worn by Marilyn Monroe as she stood over a subway grate in The Seven Year Itch? Ferragamo open-toed slingbacks.
Necessity became the mother of footwear innovation – and helped to secure Ferragamo's reputation for creating some of the most stylish shoes on the planet. Transplanting his business back to Florence in 1927 – the heart of the shoe world – he encountered a leather shortage. So Salvatore Ferragamo used needlepoint, lace, hemp, fishing line, prospect, cork and raffia, instead – ensuring that the shoes frequently made it to the pages of must-read fashion magazines like Vogue. As the story goes, one day a local signora stopped by the shop, complaining about her thin soles – and just like that, Ferragamo invented the platform shoe.
A team of shoemakers toiled away in workrooms in the historic palazzo Spini Feroni, under priceless frescoes and chandeliers of exquisite theatricality. The chapel was a leather store. From this HQ, over the years, Salvatore Ferragamo collaborated with legendary catwalk designers like Christian Dior and Elsa Schiaparelli.
By the time of his death in 1960, Salvatore Ferragamo had filed 350 patents and created some 20,000 designs. His widow, Wanda Ferragamo, took charge (she was just 39). Their six children – Fiamma, Giovanna, Fulvia, Ferruccio, Leonardo and Massimo – went to work expanding the family's empire, moving into clothing, handbags, silk scarves and ties. (Giovanna was just 16 when she designed her first clothing collection.) And since 1972 there have been fragrances…
That portfolio includes exquisite creations like Salvatore Ferragamo Signorina, with its bottle an echo of the classic grosgrain ribbon on Ferragamo's bestselling Vera flat shoe design. Inside the bottle? A 'sophisticated, subtly cheeky fresh scent signature': tons of Italian style, a hint of audacity and a truly modern feel, with elements of pink pepper, dewy petals of jasmine, rose and rosy peony, and a touch of unexpected panacotta sweetness, alongside soft musks and woody patchouli notes. The floriental fruity fragrance was created by Sophie Labbé and Juliette Karagueuzoglou (read interviews with both of them in our 'noses' section, here).
Sophie Labbé also worked on Signorina Misteriosa and on Signorina Ribelle, encouraging us to embrace our 'ribelle-ious side' – like a fun ride on a vespa, zipping through the backstreets without a care in the world. A fruity explosion of mandarin, red pear and pink pepper, the white floral bouquet at the heart sings of tiaré, orange flowers and a delicate ylang ylang molecule, sinking into silky sandalwood.
In addition – very excitingly – Ferragamo has also tapped into its Tuscan heritage for a stunning collection of fragrances, Tuscan Creations: exquisitely elegant, tactile bottles, showcasing beautifully artistic scents, taking us on a journey through the natural beauty and fascinating history of this seductive region of Italy.
Your many fragrant options include Bianco di Carrara – embodying the richness of Carrara marble, 'an ode to this most precious natural stone'. Or Calimala (above), inspired by the ancient Guilds of Florence, the historic organisation which controlled this busy city's arts and trades, in centuries gone by. A fusion of soft rose, brightened by Brazilian oranges, finishing with suede and vanilla, this unisex scent celebrates a rich and fascinating history. Gentil Suono, meanwhile, seeks to recreate the atmosphere of Italy's world famous opera houses with a flamboyant blend of black pepper, prune and mandarin.
Each of the Tuscan Creations will transport you to this most vibrant part of Italy, a place of gently rolling hillsides, wonderful gourmet opportunities – and cities almost bursting at the seams with artistic and musical treasures. And if do happen to find yourself in Ferragamo's home city of Florence? You can truly wallow in shoe history: on the Via Tornabuoni (Florence's swankiest shopping street), there's a Ferragamo museum inside the Palazzo Spini: step inside and soak up the history of this extraordinary pioneering footwear brand through exhibits from its archive of over 13,000 shoes, lasts and working documents.
Only do be sure to visit the store, first – for a little spritz of something Salvatore Ferragamo. As certain as their shoes to put a little extra spring in your step…