As Ruth Mastenbroek puts it: 'Very simply, my life's work is fragrance. I am a "nose" – a perfumer, a former President of the British Society of Perfumers…'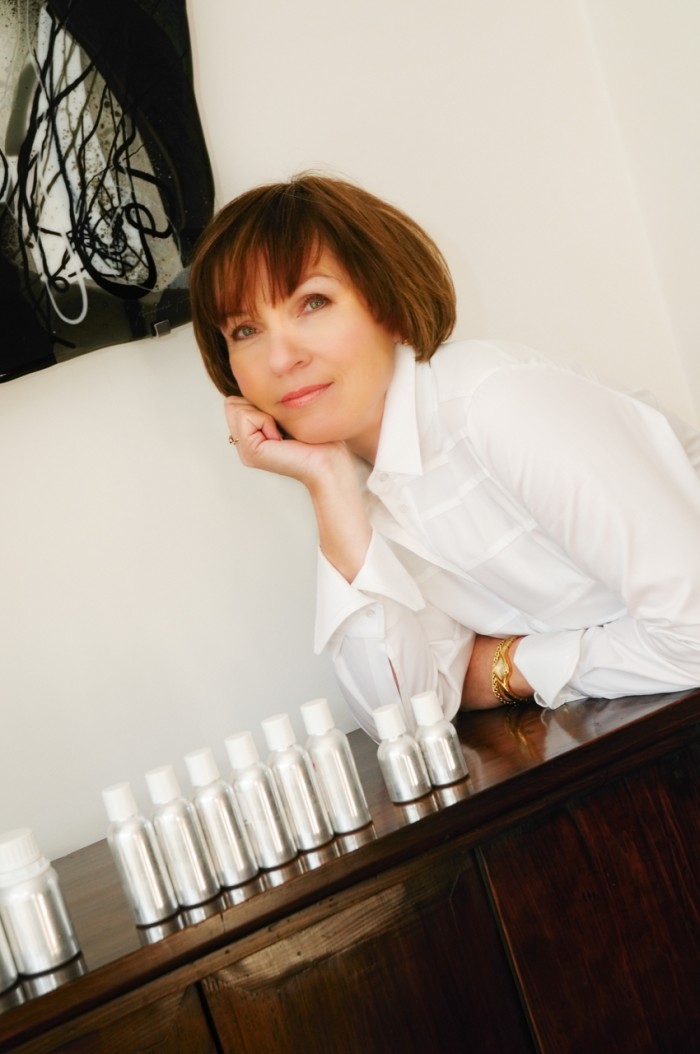 You may perhaps not (yet) know her name – but discreetly, Ruth has been commissioned by countless leading brands, creating stunning fragrances for men, women and for the home. Just a couple that we're allowed to tell you about: Ruth's worked with Kenneth Turner and Jigsaw. She's responsible for the divine Life With a View collection, which conjures up different corners of the globe –  and for the famous Grapefruit candle for Jo Malone. (Jennifer Lopez loved that candle so much, she bought 300 for her hotel room…!)
What we're happy to shout about from the rooftops, though, is her own portfolio of Ruth Mastenbroek signature fragrances – more on those, in a moment. 'Our sense of smell is a powerful reminder of precious memories,' explains Ruth.
Not so long ago, Ruth explained to The Perfume Society in an article for The Scented Letter that her own mother's fragrance – Youth Dew – showed her that the choice of perfume can be such a personal statement. 'My family had moved to America, the land of dreams, when I was small. My mother would have her hair done, once a week, and the scent of Elnett featured large… But Youth Dew can easily compete, with its spicy sweet intensity and huge power. Smelling it makes me nostalgic for a time of life that I cherish – and from childhood, I knew I wanted to be part of the world of glamour and fashion…'
Ruth later graduated from Oxford University with a degree in chemistry. Her first job? As assistant sales manager of the perfumery department at Selfridges. From there, she went on to train and work as a perfumer with Naarden International, in both the UK and the Netherlands. (It later became Quest, which is now part of the huge global perfume house Givaudan.) Ruth then worked in Grasse and in Japan before returning to England.
Her own company – Fragosmic Ltd. – was born the year Ruth became President of the British Society of Perfumers, in 2003, and in 2010 Ruth launched her own debut range of scented products. (Ground-breakingly, she was the first to use advanced micro-encapsulation in a scented bathrobe…!) Ruth Mastenbroek continues to create bespoke personal and home fragrances, for small and medium-sized brands – but today, you'll see her own name on fragrances showcased in over 25 exclusive shops in the UK, as well as the Netherlands and Nigeria.
As Ruth explains, 'Like any artist, in this case whose palette is scents, I have always sought that elixir: a unique fragrance that is a true expression of myself.'  The first, RM (her initials), was an exquisite, modern example of the Chypre family, 'which has always been close to my heart…'
What it captures, for Ruth, are 'memories of childhood: gingerbread, fresh earth, blackberries. Memories of my life in England and abroad: Japanese jasmine, cherry blossom, lotus and green tea; Dutch lilies, narcissus, hyacinth and salt air. French orchids, roses and wild flowers… Memories of travels to exotic places: the spices and oils of Morocco, Sri Lanka and Thailand…' To quote Ruth, 'This palette has been my playground, my refuge, my source of inspiration. From it, I have created a scent that stands out above all others, one that I can truly call me.'
After a citrus-fruity overture of mandarin, blackcurrant, bergamot and pineapple (plus a twist of pink peppercorn), you'll encounter fresh notes evoking hot afternoons in the garden. Gorgeous flowers bloom at the heart: rose, lily, jasmine – as she puts it, 'the floral middle notes conjure up the radiant scents of the English garden, tempered by the sophistication of Japanese ikebana.' (Which Ruth studied in Japan, NB.) The lingering base notes, of course, are a signature of Chypres: oak moss, sandalwood, patchouli. As she puts it: 'Scent is my life. This fragrance is the essence of my art. It is my signature…'
Ruth Mastenbroek's second fragrance is called Amorosa – and the inspiration, she explains, was falling in love… 'In my case, it was my love affair with Italy, hence the name "Amorosa" which means "a woman in love…" The earth, the mountains and the Italian skies have been translated captured in an exquisitely scented liquid.'
A 'green explosion' opens the fragrance: touches of water melon, violet leaf and galbanum. At Amorosa's heart, encounter an innovative new accord of tuberose – fresher and more modern – combined with tiaré flower, ylang ylang and jasmine, while elements of vetiver, patchouli and amber ground the fragrance and accent its sensuality.
Her third creation, Oxford, was inspired by Ruth's days as a Chemistry student at the university – capturing the essence of awakening and discovery. And if you don't know her work, then it's time you discovered this talented perfumer's place in the fragrant universe…