Ralph Lauren virtually invented the idea of 'lifestyle' – and as Vogue put it when writing about the designer, 'his story is the story of the American dream'.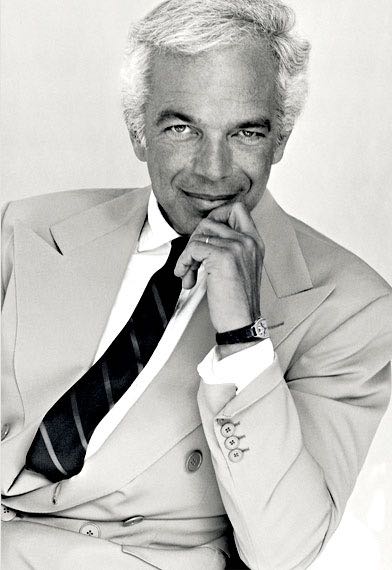 Born Ralph Reuben Lifshitz in the Bronx in 1939, from a humble Jewish immigrant background, Ralph Lauren (he changed his name while still a teenager) never even went to fashion school. He actually studied business science, and spent time in the Army, before breaking into fashion.
His first foray into fashion was as a salesman for the glove company Brooks Brothers. Yet even early on, he began to influence fashion. In his second job – for a tie manufacturer – Ralph Lauren created the 'kipper tie', the daringly wide piece of neckwear which became an international male fashion sensation. From that success, he began to think about a fashion label of his own – and with the tie design, and a $50,000 loan, Ralph Lauren founded Polo Fashions, in 1968.
Among his most iconic designs, of course, is the celebrated 'Polo shirt', the bestselling item of Ralph Lauren clothing. (Beyond that, research has actually identified the Polo pony as the second most recognised symbol in the world, after Coca Cola!) From that moment, Ralph Lauren began to influence the worlds of fashion, homewares and fragrance, showcasing everything he created in a pioneeringly 'lifestyle' way. He wasn't about showing clothes simply on catwalks: every advertisement conjured up a world we wanted to move right into, please – from log cabins to Palm Beach mansions, Long Island cottages to Manhattan lofts.
Quite aside from its fashion heritage, the Ralph Lauren 'world' isn't just beautiful: it's fun, it's energetic and spirited. In addition to staying heavily involved with his signature fashion house – which embraces Ralph Lauren Home, Polo Ralph Lauren and Polo Sport, together with his fabulous fragrance portfolio – Ralph, along with his wife Ricky Lauren, is behind many charitable initiatives, including The Pink Pony Campaign, which has raised enormous sums to fight cancer worldwide.
Ah, fragrance – surely the ultimate 'accessory'. And as you'd expect, perhaps, there is something for every scent-lover, whatever her (or his) age and passions…
From sporty to romantic, Ralph Lauren's fragrances are much more than beautiful scents, captured in striking bottles – they're about a spirit, a mood, a moment. Safari put Ralph Lauren on the fragrance map and remains as wearable today as when legendary perfumer Dominique Ropion composed it back in 1990. In its beautiful, cut-crystal silver-capped bottle, Safari was inspired by America's spirit of freedom and adventure, and 'the call of the wild plains' – that outdoorsy lifestyle which Ralph Lauren has so brilliantly brought to life through his designs, and such stunning ad. campaigns.
But let's fast-forward. Because 2018's launch of Ralph Lauren Woman (left) proved definitively that the house remains at the forefront of fragrance fashion: a strong fragrance to celebrate the power of the contemporary woman, in which one of the world's leading perfumers, Anne Flipo, offers up for our delectation bold florals, underpinned by rich woods: 'A declaration of triumphant femininity that celebrates how a woman leads today,' Opening with tart blackcurrant, juicy pear and rhubarb, it unfolds to armfuls tuberose, orange flower, Turkish rose, on a pulsing and utterly beguiling base of cedarwood and sandalwood.
Woman Intense, meanwhile, is an Ambrée fragrance created for and inspired by the woman who lives and leads with intensity. 'The woman that inspires me expresses herself through her individuality and personal style. She is boldly authentic, a true original. She leads like a woman,' observes the designer. Its polished, flask-like design, meanwhile, is pure Ralph Lauren – and pure chic.
Ralph's Club ushers in a whole new era of sophistication – Master Perfumer Dominique Ropion weaving an herbaceous breeze through orange blossom and a luxuriously warm, woody base crafted around fairly harvested, sustainable vetiver. The club has thrown open its doors, virtually, too – an online forum welcoming fragrance-lovers from around the world when they scan in a QR code, to unlock exclusive features and access live events.
Of course, the iconic Ralph Lauren Polo fragrance remains a bestseller, capturing the rich heritage of the thoroughbred sporting tradition (inextricably linked with the Ralph Lauren name), via bold, masculine accords of leather, pine and tobacco absolute. But today, the collection for men – as you'd expect – covers the whole masculine scent universe.
The fougère-lover will thrill to Polo Blue, striking the perfect balance between aquatic, aromatic and woody elements, evoking the energy of open waters and an invigorating blast of fresh air. Polo Black, meanwhile, segues from cool, invigorating notes of iced mango and silver armoire to sensual mystery, through the dry-down of patchouli and tonka bean absolute. And for fragrant thrill-seekers, meanwhile, we have Polo Red, with its fiery blend of spicy red saffron, zesty red grapefruit and deep redwood, in the base.
Each fragrance somehow, magically, captures a world of style, in as perhaps only Ralph Lauren can. Long may he continue to bottle dreams, for our scented enjoyment.