Renowned for their scented extravagances, the Royal Court of King Louis XV became known as 'la cour parfumée' – 'The Perfumed Court' – with his royal personage apparently demanding a different scent for his apartments every single day, alongside streams of aromatic scents flowing from the royal fountains…
Louis appointed the very first Royal Perfumer, to meet his every fragrant need – and Jean Fargeon duly rolled up his sleeves to fulfil the King's fragrant wishes. Those original fragrances are now conserved in the Louvre Museum in an area known as 'La Cour Marly' (a former court at the Royal palace).
Parfums de Marly unveils Haltane, an original scent of both radiance and shadow. A contrasted journey of the senses through tradition and innovation, a perfect balance of sophistication and freshness.
A bold fragrance for gentlemen of all generations.
With this new opus, Julien Sprecher, Artistic Director of Parfums de Marly, renews his commitment to savoir-faire and expresses once again his unique, avant-garde vision of classicism.
A certain idea of masculine elegance, where the spirit of the contemporary dandy meets the refined hedonism of the gentilhommes invited by Louis XV to the private soirées at Château de Marly.
A mysteriously evocative name that evokes the grass of the racetrack and a nobility between restraint and ardor. Dark green and gold. A chromatic harmony which adorns the bottle, signed with the emblematic logo.
Haltane takes traditional aromatic woods to their limit to reveal a surprising burst of sensations. Its dazzling freshness and herbal top notes quickly yield a warm and smooth sense of leather with a symphony of precious woods. Soft and sweet, escorted by saffron, the praline accord is an ultra-contemporary spin on the mythical oud wood. Natural agarwood emerges in this veil of contrasts and signs the skin with a refined and luminous imprint and an enduring comfort. A privilege that is all about sensation.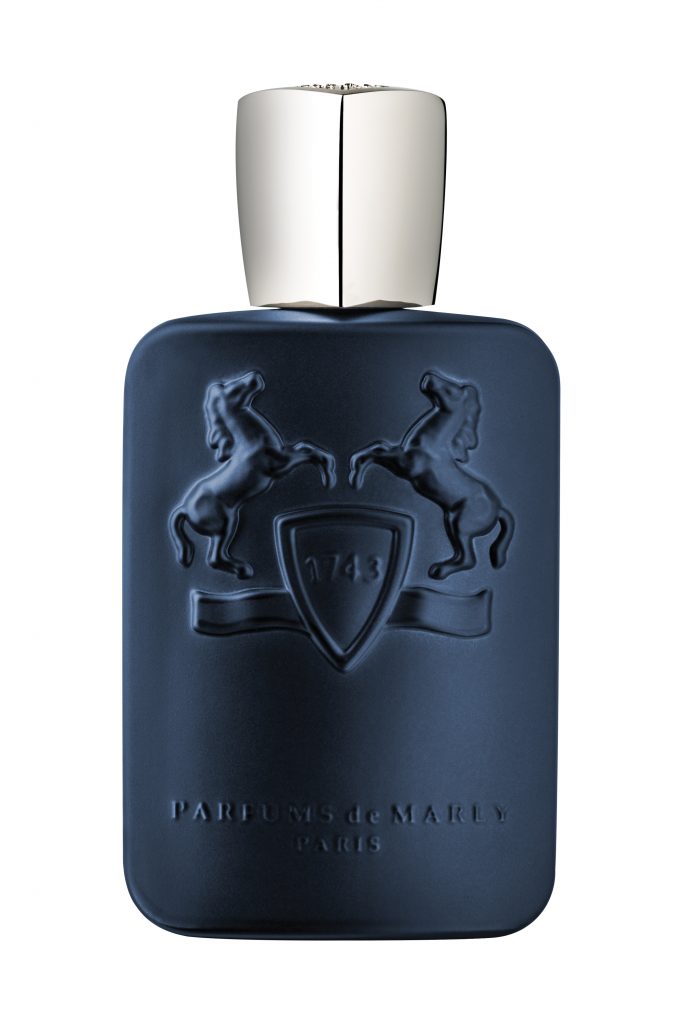 'Perfume is a time capsule,' is how he puts it. 'It has this gift of taking us on a journey. I've always been fascinated by the 18th Century, where horses and perfume were the pride and glory of France.'
Today, Parfums de Marly continue that tradition, harnessing the very best of traditional and modern perfumery techniques and materials and revisiting the decadent flacon designs of perfume's golden age. And what a fine fragrant stable they have created for us to explore – at good perfumeries around the globe, or (if you find yourself in Paris), at their gilded flagship at 26 Rue Cambon.
Named after a thoroughbred also known as the 'Royal Mare', Parfums de Marly Darcy reflects the refined and elegant spirit of its namesake. Ambrosial and sparkling with citrus and sweet floral notes at first, the musk and patchouli create a lastingly evocative base that nods to their vintage heritage yet remains totally contemporary. The golden version of the Parfums de Marly bottle (left) is one of the most dressing table-worthy we've seen for some time.
Layton, meanwhile, is one of the more masculine fragrances in the collection (though women we know love to borrow this, too…) Bergamot opens, giving way to lavender and geranium – fresh, chic and 'chivalrous' all at once, as Parfums de Marly put it. Soft amber swoops in, alongside precious woods and caramelised coffee – so it's perhaps no surprise we find this powerfully addictive.
Parfums de Marly Delina, meanwhile, was created by star perfumer Quentin Bisch, a floral tribute 'to luminous and sensual femininity'. Turkish rose, lily of the valley and peony are accented by lychee, rhubarb and bergamot, with a touch of nutmeg, flourishes of vanilla alongside cashmeran and white musks, enveloped in frankincense and rich woods. The utter prettiness of the 'juice' is echoed in the be-tasseled ballerina pink flacon – and truly, this is as feminine as perfume gets.
With stunning bottles and a wide range of luxurious fragrances for men and women that encompass every taste it is easy to fall head over heels for this heritage brand. For truly, Parfums de Marly have cracked the code of mixing historic intrigue with contemporary style..