British perfumer Nancy Meiland's fragrances have been described as 'an ode to the beauty of nature': a stunning collection which is exciting press and perfume-lovers alike.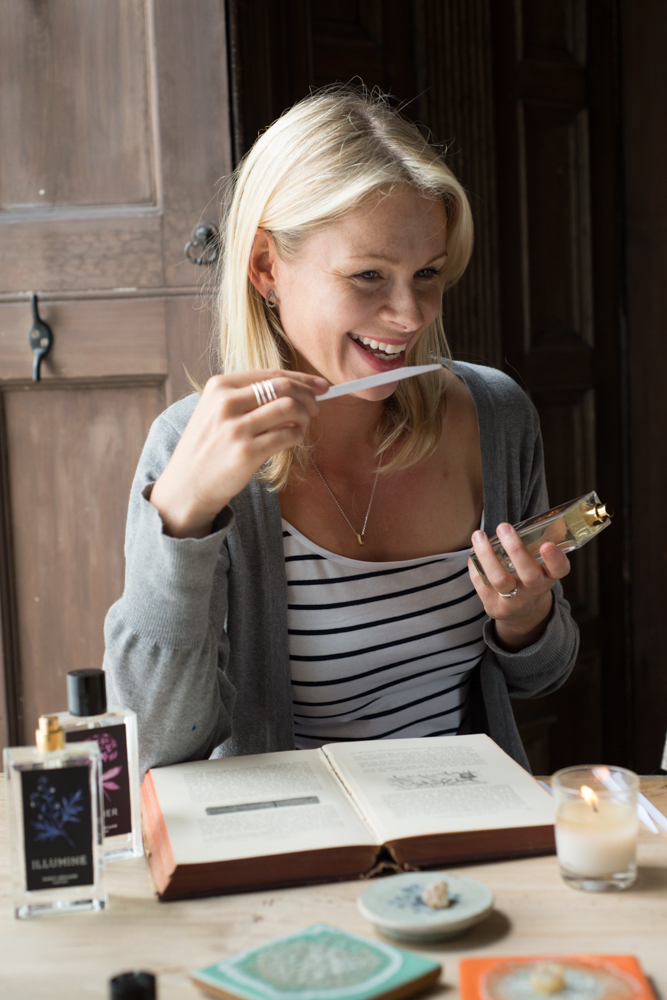 Nancy's background is as a bespoke perfumer; she began her career as an apprentice to one of the UK's experts in custom perfumery, in London, creating signature scents for those coveting 'something highly individual and special…'
Before launching Nancy Meiland Parfums, her decade-long journey through fragrance saw Nancy co-run the former School of Perfumery, act as a consultant for independent perfume houses, work on collaborations with Miller Harris, and speak on the subject of fragrance at events nationwide.
Dividing her time between town and country (Nancy's based in East Sussex), Nancy explains that 'the creative process of gathering sensory impressions and honing them into a formula is a vital one. Once a blank canvas, the formula sheet acts as a metaphor – and gradually emerges essentially as a kind of poem, with body, light and shade and a life of its own.' (It amuses Nancy, looking back, that she often had essays returned to her emblazoned with 'too flowery'. 'It figures!,' she says.)
Her debut collection, PAPER LEAF, blends exceptional raw materials from around the world: contemporary and unique fragrances which are as at home on a man's skin as a woman's.
Illuminé captures the earliest shoots of spring, with its green flashes of pure, natural chlorophyll. Calabrian bergamot, mandarin absolute and Jamaican ginger tangle with aromatic herbs and bright citrus notes, uplifting and enlivening this Cologne-style fragrance.
Explains Nancy: 'So often the inspiration for my perfumes is a particular light, and none more so than in Illuminé. I leaned towards artemisia (the herb used in absinthe) as the starting point for capturing the lush green notes that evoke a special light after a downpour in England, where the verdant branches appear to glow with pure chlorophyll green. I formulated Iluminé to have a hopeful "zing" that makes your heart leap, even when softening into endnotes of vetiver and musk.'
Rosier, meanwhile, is a stunningly modern take on rose: a 'soliflore' in which the whole flower is evoked: pink pepper, for the thorns; galbanum, for the green leaves, with geranium, jasmine, white pear and violet delicately imagining the tender rosebud.
It's very much NOT your great-aunt's rose – and Nancy observes: 'I wanted to depict both the light and the dark shades of it, as opposed to this pretty, twee and girly rose that's become slightly old-fashioned. I was interested in a soliflore of the roes depicting the whole flower including the very slightly "acid" moment the dew drop forms on the petal, the peppery thorns and hay-like buttery notes in the base. The result was something that turned out to have a touch of "bramble", more reminiscent of a rose briar.
A beguiling Chypre with deeply woody elements, featuring notes of Ceylon tea, incense, birch leaf and juniper berry, Aquilaria is essentially 'a dedication to the East Asian tree of the same name – and most especially oudh, its darkly precious resin. Continues Nancy: 'To create a perfume about the aquilaria tree has been in my headspace for the last 10 years. The tree found across East Asia produces a white sap, commonly known as oudh, to protect itself when under threat. Genuine oudh acts as a restorative balm and means that the tree can live for thousands of years protected from storms and parasites. The Buddhist monks will take pieces of its bark to burn as an incense while meditating.'
Award-winning blogger Persolaise has described Aquilaria as 'restrained, dignified and contemplative,' he writes. 'It proves it's still possible to find something new in the most overcrowded of perfumery genres. And that makes it a delightful, praiseworthy surprise.'
The fourth to join the line-up is the beautiful Églantier, inspired by Grenin, in Denmark, where there's a famous beach which is somewhat of a natural phenomenon – where two separate tides meet each other and occasionally cross over. 'If it's really stormy you get these incredible collisions of waves and spit of salt spray, which come up in a massive crash in the middle,' Nancy explains. 'I thought I'd love to do something about that, it's so dramatic.'
But rather than create a 'fresh, aquatic' scent, she envisioned a salty accord, as she explained to The Scented Letter. 'Églantier isn't your typical aquatic scent, in the sense of "that's the sea – isn't it fresh, isn't that lovely?" I wanted something to have more oomph and gravitas, to recreate the drama I witnessed when I was in Grenin. I wanted to evoke the fading sun on the merging sea – so together with the saline accord, it's been given more warmth with cardamom, vetiver and sandalwood, used to evoke pieces of driftwood washed ashore.'
Nancy also shared some useful general wisdom on choosing fragrance with the brilliant Scents and the City blogger, Viola Levy: 'One or more of the raw materials should remind you of a place that sparks joy…'
A talented British 'rising star', Nancy continues to work on a handful of bespoke fragrances each year, but within the collection, there is already something for everyone.
As this passionate 'nose' puts it, 'I am almost magically drawn to the creation of scent. It's a delicate interlacing of art, alchemy, people and places.' And, she concludes, 'I will only add to my collection a perfume that is truly exceptional, unique, inspiring to wear and well-conceived from concept through to bottle…'
And we're delighted that these 'odes to the beauty of nature' are just the beginning…