From Day One, the Moschino brand has been a fascinating fusion of thought-provoking design and couture values – but always with an irreverent edge.
The late Franco Moschino, the genius who gave the design house its name, once commented: 'I often refuse the name of fashion designer. It's a superficial, stupid job. The social-psychological aspect is more interesting.'
At first sight, Moschino – which made its catwalk debut in Milan in 1983 – often seems downright kooky. Is there another designer who has obscured hats and scarves with cuddly teddy bears, or embroidered 'Waist of Money' on a jacket, in place of a belt…?
Moschino's always been known for wild humour, irony – but also for its beautiful finish, and for clothes which transcend seasonality and become (in some cases) actual museum pieces. Elegant design, perfect mastery of the classic techniques of 'cutting and stitching' – maintaining the Italian fine tailoring tradition – together with a sharp, often mocking humour are Moschino trademarks.
As a result, Moschino's designs have become favourites with everyone from Gwyneth Paltrow to Madonna. There are collections for men, women, children – and a must-have accessories line, always combining exquisite craftsmanship and detailing with the type of quirky creativity that ensures you'll wear a smile, whenever wearing Moschino.
Today, the founder's enthusiasm for Surrealism continues to shine through everything Moschino creates. The Moschino flame now carried by the maverick designer Jeremy Scott, LEFT. Born in Missouri, Jeremy Scott studied Fashion Design at the Pratt Institute, relocated to Paris and in 1996 and 1997 won the Venus de la Mode Award for Best New Designer.
He joined Moschino in 2013. Since then, he has continued to make fashion headlines with his eye-catching catwalk designs and smile-inducing (yet always utterly chic) accessories: bags in the shape of traffic cones, for instance, with a dress like a giant yellow feather duster, or a life-size collection of paper doll clothes – collections which have continued the fun and irreverence, introducing Moschino to a new generation.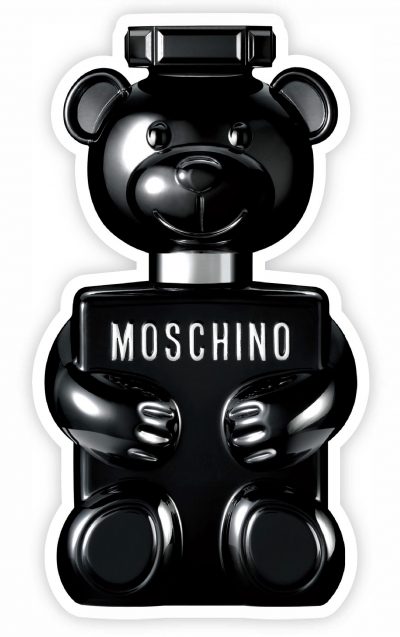 Beyond that, he has been the creative driving force behind some of the most striking fragrance bottles to hit our dressing tables in many, many years. The first of his fragrant unveilings put a massive grin on our faces when Jeremy Scott unveiled it to the press at Harrods in 2014: the first time a teddy bear had masqueraded as a scent bottle. 'I Am Not A Toy' perfume became an instant sell-out, drawing a queue which stretched round the Knightsbridge block. Toy 2 continues the 'teddy' theme, but in crystal, a warming scent offering light and fruity notes of green apple, white currant and mandarin on a captivating base of warm sandalwood and musk.
The designs might be tongue-in-cheek – but inside, the juice is approached with the seriousness you'd expect of any fine fragrance brand. Moschino's perfumers have included the revered Alberto Morillas (Moschino Fresh Couture) and Fabrice Pellegrin (Moschino 2, on which he collaborated with Morillas). For the first masculine Moschino fragrance, Toy Boy – see the black bear flacon, left – they recruited the gifted Yann Vasnier, whose composition fuses Italian bergamot, nutmeg, pink berries, clove, rose absolute, flax flowers, vetiver, magnolia, amber and Cashmeran for a spicy-woody-ambery creation that becomes highly intriguing, on male skin.
When it first was unveiled, Moschino Fresh Couture's design was one of the most smile-making, meanwhile, that we can remember. Bearing Jeremy Scott's playful signature, Moschino Fresh was as fresh as it sounded – and also marked the beginning of an exciting collection of bestselling fragrances disguised as bottles of cleaning spray. 'A dichotomy of high and low', is how the original Fresh Couture was described – juxtaposing 'the most mundane and commonplace of all products, the household cleaner, with something so precious – the juice of a luxury brand's fragrance.' It uplifts with zesty mandarin and bergamot, before a raspberry juiciness and rich ylang ylang accord sweep in, adding intrigue. Delicate notes of osmanthus and white peony give away to cedarwood, Ambrox and white patchouli, in the dry-down.
Further Fresh Couture fragrances have since set out to engage our playful and sensual sides: Pink Fresh Couture, sparklingly feminine, luminous with pink grapefruit, cassis, lily of the valley and pomegranate, with a sensual trail of musk, Ambrox and cedarwood. And Alberto Morillas's dazzling creation, Moschino Gold Fresh Couture, floral-fruity with mandarin, pear, white peach, rhubarb leaf, lily of the valley and jasmine, pulsing on a base of akigalawood, sandalwood, vanilla and musk – in quite the sexiest, blingiest 'cleaning bottle' ever to grace a bathroom shelf.
So if you've ever thought the fashion world takes itself too seriously, at times, you'll surely share with us in a resounding chorus of 'Long Live Moschino'…