Marc Jacobs is acknowledged as one of the most dynamic and exciting designers in the world – but also, importantly to us, as creator of some of the best-loved fragrances on the planet.
Born in New York City on 9th April 1963 and graduating from the High School of Art and Design in 1981, Marc Jacobs entered Parson's School of Design. As a design student at Parson's, his talent was clear from the start: Marc Jacobs received some of the school's highest honours – including Design Student of the Year.
At the age of just 23, he'd launched his first collection – under the Marc Jacobs label. The following year, Jacobs had the honour of becoming the youngest designer ever to be awarded the fashion industry's highest tribute: The Council of Fashion Designers of America (CFDA) Perry Ellis Award for New Fashion Talent.
In 1989, Jacobs and business partner Robert Duffy joined the design team at leading US label Perry Ellis. And in 1992, the CFDA again bestowed Marc Jacobs with a distinct honour: the Women's Designer of the Year Award, for his fabled, headline-grabbing Grunge Collection. (The team – who also happen to be best friends – were together at Louis Vuitton, too, where Jacobs was Artistic Director and Duffy the Studio Director.)
Jacobs introduced the secondary line, Marc by Marc Jacobs, with a spring 2001 runway show. He has gone on to win more than 10 CFDA awards including Womenswear Designer of the Year, Accessories Designer of the Year and Menswear Designer of the Year.
Today, Marc Jacobs has grown into a global brand offering not only womenswear but menswear, accessories, children's clothing, jewellery and watches – with over 200 stores worldwide. Marc Jacobs and Robert Duffy are committed to giving back to the communities where they have stores and have been involved with more than 60 charities. Their continual support of these charitable projects is a a top priority – and at The Perfume Society, we love a designer who 'gives back'…
Marc Jacobs's inspired contribution to the perfume industry started with a signature fragrance that became an instant classic and now encompasses an exciting collection of scents filled with sophistication, charm, and personality. He has built a brand with a broad appeal and brought a whole new generation of loyal fragrance lovers along for the ride.
Marc's playful yet sophisticated attitude is reflected in his love of fragrance and the wildly successful Daisy Marc Jacobs. Daisy is the absolute essence of a youthful spirit. Sunny. Happy. Free. The classic bottle topped with an oversized daisy cap has become iconic, echoing the spirit of the scent inside: positively fresh and charmingly simple. Daisy Marc Jacobs has won numerous international awards including a FiFi in the US, UK, and Italy. (Each new 'spin' on Daisy delights us, all over again – including Daisy Dream Marc Jacobs, with surely one of the prettiest bottles and uplifting ads, pictured left.)
The mood shifted with the launch of Decadence (and then Divine Decadence) – in a totally revolutionary bottle: a 'handbag' on a gold, tasselled chain, the 'juice' created by Master Perfumer Annie Buzantian in collaboration with Marc Jacobs and Ann Gottlieb (author of some of Marc's biggest hits). To quote Marc Jacobs: 'Decadence is all about a good girl being bad…'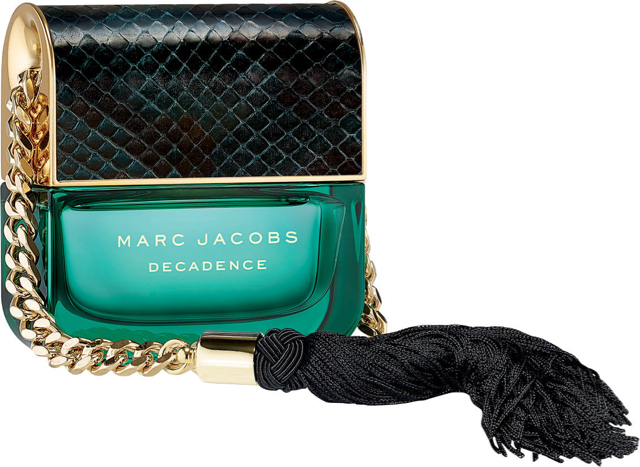 As the Escentual blog describes the fragrance: 'Decadence has a wonderfully old school feel. To me, it's the scent of a 1920s showgirl, her dressing table full of powder, lipstick and faded feathers. Decadence starts as it means to go on with lashings of rich, jammy plum laced with precious saffron, which gives the fragrance a 'golden' feel. The addition of orris, redolent of make-up powder and lipstick, runs like a thread throughout the scent, bestowing a sophisticated powdery character that subtly offsets the richness. The heart is pure velvet, dominated by saffron-tinged Bulgarian rose petals and sultry jasmine sambac. Though undoubtedly lavish, Decadence isn't just a fragrance for extroverts – it's a fragrance for anyone who enjoys rich, warm woody florals with a touch of the unexpected. And bottle magpies, of course!' Definitely another, for the collection.
I think scent is sensual,' the designer has observed. 'Evoking a mood or a spirit is key, and I think with the women's fragrances we have evoked different types, moods or sensibilities of a woman… It's interesting how you can differentiate those moods through colours, forms and scents.'
And Marc Jacobs was surely smiling when he told an interviewer: 'People came up to me in the airports and on the street and saying how much they like my fragrances. The stewardesses on British Airways were speaking about them. It seems that everyone in the shops knows me because of the fragrances…'
Could there be a more wonderful reason…?