Since Liz Earle Naturally Active Skincare appeared on the skincare scene in 1996, they've revolutionised women's beauty regimes.
How so? Through a wonder product called Cleanse & Polish Hot Cloth Cleanser, accompanied by its signature muslin cloth, which for so many women has become an essential finale to a busy day, melting away make-up, pollution – and the day's cares, through its botanical blend of essential oils, including wonderfully aromatic eucalyptus.
Founded by a former magazine and (past and present) GMTV beauty editor, Liz Earle – who we're proud to call a good friend – and her business partner Kim Buckland (also a friend!), we've watched the brand grow into a global skincare phenomenon.
From the word go, botanically-derived ingredients (many with aromatherapeutic powers) have been at the heart of the range. Liz always had a passion for glorious smells: scented plants, essential oils (she wrote a book about those) – all things fragrant, actually. So it was entirely natural that one day, there'd be a fragrance.
Botanical Essence No.1 was three years in the making: a fresh, citrus scent with a rich floral heart, 'perfect for spritzing any time your spirits need a boost,' as they put it. (OK, so we'd better declare an interest, here: our own Co-Founder, Lorna McKay, worked on Botanical Essence No.1 – you can watch Liz and Lorna talking about it, here). 98% directly derived from natural ingredients, the complex blend includes mandarin orange – and the high altitude lavender which features in many Liz Earle skincare creations.In our experience, Botanical Essence No.1 is equally loved by men and women, who adore its freshness equally.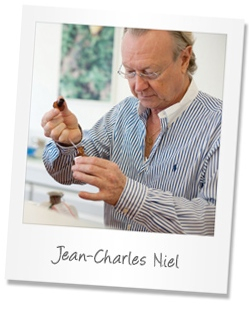 The perfumer who created Botanical Essence No.1 was Jean-Charles Niel. What he enjoyed most about creating the fragrance, he explains, was 'A total freedom of creation, blending smells of my own choice, without cost consideration, keeping only in mind (or… in nose) the final harmony and character of Botanical Essence No.1.' The perfumer's own first connection to fragrance, he also recalls, was 'weekends in my father's vaulted cellars watching women practise enfleurage, an age-old process for extracting a flower's fragrance. The mystery of this underground environment, combined with the intoxicating smell of jasmine and tuberose, is simply unforgettable.'
For Botanical Essence No.15, Liz Earle turned to 'nose' Alienor Massenet (you can read more about Alienor here, in our 'nose' interview). In contrast to the zesty debut fragrance, No.15 – named for the 15 fragrant botanicals in the blend – is a 'modern fresh Ambrée'. As she explains, 'Unlike more traditional Ambrée fragrances, Botanical Essence No.15 doesn't have such a fruity, gourmand effect. This is because of the combination and concentration of natural ingredients we've used, particularly the cedarwood oil and cypriol in the background, which give the fragrance a very clean, fresh, sexy note.' As she adds, this is very new, in perfumery.
To celebrate the 100th Anniversary of London's Royal Horticultural Society, in 2013, Liz Earle turned once again to Alienor – for Botanical Essence No.100. Fresh-floral, this time, it's over 90% derived from natural ingredients: a bouquet of Damask rose, Indian jasmine, orange flower, garlanding softly sensual sandalwood, Bourbon vanilla, cypress. (And, to lighten and brighten, there's the clarity of bergamot and mandarin.)
Spicy floriental Botanical Essence No.20 is the one for rose-lovers: a 20th birthday celebration fragrance, created in collaboration with Domitille Bertier (read our 'nose' interview with here here): over 87% natural ingredients, focused around a heart of Damask rose, alongside sandalwood. Botanical Essence No.9, meanwhile, is Liz Earle's first Chypre – the work of 'hot' young perfumer Quentin Bisch, showcasing nine of nature's most precious ingredients – and designed to capture 'that unique energy you feel, moments after a rainstorm, as the clouds part and the sun begins to warm the forest's floor…'
What's also interesting: not only are the fragrances beautiful in their own right, but they can be successfully layered together to create something entirely new. On the Liz Earle website, here, you'll find ways to create No.101 – an uplifting citrus floral, blending Botanical Essence No.1 and No.100. Play around some more, to create decadent No.29 (No.9 + No.20), in which bright, fresh florals meet the juiciness of woodland fruits. Or try concocting No.115 (No.100 + No.16), if you want to blend florals and spices in a D-I-Y 'floriental'.
Last but not least, do follow the tips once shared by the founder of this beautiful brand, for fragrance application. Noted Liz Earle: 'I find that the best way to apply fragrance is to spritz the air and walk through it, letting the mist envelop me. This way my perfume is applied delicately all over. If you prefer to apply fragrance directly to your pulse points (wrists, sides of the neck and behind the knees) spritz onto the body 8-10 cms away. When applying to the wrists, remember not to rub them together as this will crush the scent. For an extra boost, try spritzing fragrance onto your hair for long-lasting freshness…'