Roses, roses, roses: so often swirling at the heart of Lancôme fragrances – and inextricably linked with this much-loved beauty and fragrance name
And about that name: turns out it's a modern French interpretation of Castle Lancosme – a romantic castle, with turrets and towers almost straight out of a fairytale, surrounded by a moat in the Touraine countryside. It so appealed to Armand Petitjean – who founded Lancôme in 1935 – that he used it as inspiration for his new beauty brand. And the emblem of the company, from the word go, was a rose: Petitjean was enraptured by this flower – in perfumery, and in gardens…
Lancôme's history is rooted in the smart Faubourg Saint-Honoré, in Paris's chicest arrondissement. In 1935, Armand Petitjean opened a boutique, selling a tiny selection of fragrances and beauty products, manufactured just outside Paris. Looking at a Lancôme counter today, spritzing your way through its fragrances, it's hard to imagine that at the start, there were just three perfumes, two eaux de Colgones, a face powder – and lipsticks.
'Conquête' – 'conquest' – was the name of the very first fragrance, and it soon began to capture Parisiennes' hearts.  'Cuir',  'Bocage',  'Tendre Nuits' and  'Tropiques' soon followed. As perfume-lovers beat a path to Lancôme's shop, they also began to find a wider selection of cosmetics. Nutrix, Lancôme's now-legendary night cream (the first serum-based skincare cream), was introduced in 1936, and remains an international bestseller today.
Four years before the launch of Lancôme Magie, in 1950 – an aldehydic floral, with oak-mossy Chypre touches – the brand made its debut in the UK. And so when Magie was unveiled, British women could get their hands on the spectacular crystal spiral bottle, created by Lalique.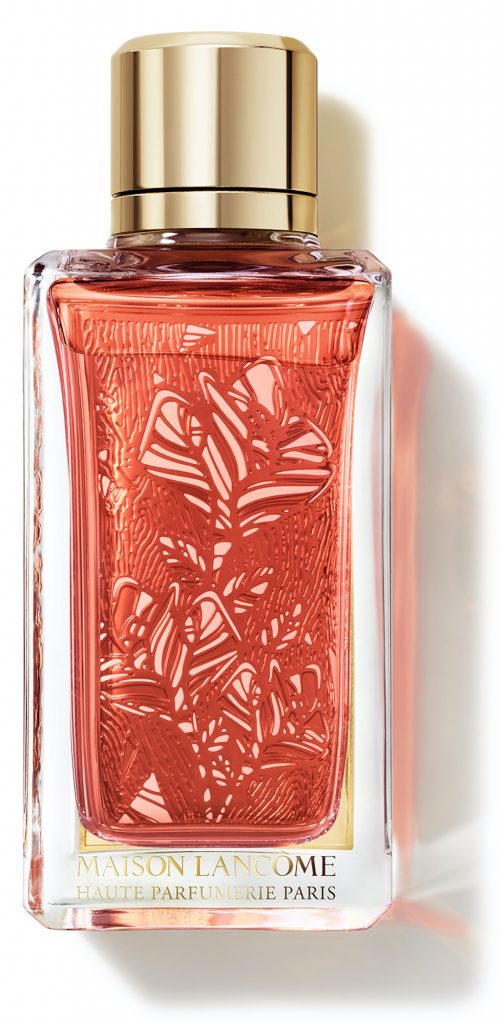 Lancôme's portfolio of fragrances continued to grow – and then along came Trésor, created by Sophia Grosjman of IFF in New York, now an enduring and revered icon of the perfume world. (So much so that when Chandler Burr curated his exhibition on perfumes at the Museum of Art & Design, in New York, the central installation allowed visitors to smell Trésor at different stages, or 'modifications', of its olfactory development.
'The Picasso of perfumery', Sophia Grojsman has been described as – and she changed the very structure of fragrance, with Trésor, in which the base notes can be sensed right from the start. So from first whiff, there's that rose, garlanding ingredients like peach, iris, lilac, vanilla, sandalwood and musk.
We love this quote from Sophia Grojsman: 'Rose is a flower of love; it is the first flower that a man gives to a woman. Petals of roses have this luxurious, rich smell that is familiar…' Trésor, she says – still hugely loved, today – is a 'hug-me' fragrance, at once sexy and sensual. 'A sensual fragrance can also be sexy, but a sexy fragrance is not necessarily sensual. Most men love  Trésor. They all say they just want to hug the person who wears it!' Trésor's beautiful ambassadors, through the years, have included Isabella Rossellini, Penelope Cruz,  Kate Winslet and Emma Watson.
Armand Petitjean had, we are told, 'a passion for noble essences and sublime absolutes'. And almost 80 years later, Lancôme is paying homage to his scented soul via Maison Lancôme – an exclusive range of exotic perfumes, showcasing specific precious materials, in the most luxurious flaçons. Think: a whole garden of roses accented with a mouthwatering pistachio accord, in gourmand-spicy-floriental   Rôses Berberanza, above right. We have iris – perfumery's most precious ingredient – wrapped in sugared almonds, in  Iris Dragées. And if you love peonies, we just know you'll swoon on the spring-like bouquet in  Pivoines Printemps, its petals enveloped in Chantilly rose and spiced with pink peppercorns. (Read about all the Maison Lancôme creations, below.)
And of course, we also now have the phenomenon that is  La vie est belle ('life is beautiful'), above left. Tender and soft, with gourmand touches, the original fragrance has been joined by  La vie est belle L'Eau de Toilette, created by two of the finest 'noses' in the world – Dominique Ropion and  Anne Flipo – who fused steam-distilled magnolia with iris pallida, white flowers absolute and patchouli, creating the first-ever 'gourmand magnolia' fragrance. Since then, life got even more beautiful, with fragrant  La vie est belle iterations encompassing intense versions – and even a silky hair mist.
But perfumery's mood is changing. Yes, we want beautiful fragrances – but the environment is ever more on perfume-lovers' minds. So 2019's launch of  Lancôme Idôle perfectly reflects parent company L'Oréal's mission to tread more lightly on the planet with everything it does.
Already a winner of a Fragrance Foundation Award, this sparkling and utterly contemporary Chypre, right  – 'an ode to the women of today's world' – is the dazzling co-creation of Shyamala Maisondieu, Nadège le Garlantezec and Adriana Medina, incorporating rose absolute and rosewater (roses, of course!), garlanded by jasmine and resting on a base of cedar, vanilla and patchouli, evoking the irresistible scent of just-washed linen. 'Here's to the ones who dream big,' Lancôme tell us. 'A new generation of conquering women. Strong. Outspoken. Empowered. Here's to the leaders of tomorrow, daringly reaching for the sky and opening new horizons. Here's to the new idols, paving the way for others. Declare the time is now, be your own Idôle.'
And we say: here's to a new, more eco-conscious age of fragrance, pioneered with  Idôle. Setting a new standard in fragrance, ingredients were sourced through L'Oréal's Solidarity Sourcing Programme, to ensure transparency and traceability. Their mission: to improve the positive impact of fragrance's supply chain on a social, economic and environmental scale. And innovatively, the super-slim flacon – reminiscent of a mobile phone (only way more beautiful) – is refillable, time and time again, from the 'fountain' you can see above.
A perfect reflection of the fact that Lancôme continue to have their finger on the pulse of the (changing) world of perfume – while continuing to create exquisite scents, for us to spritz onto our pulse-points…