La Perla. Luxurious lingerie. To women (and admiring men) the world over, those words are inextricably linked. Today, La Perla is worn by actresses and celebrities. Maybe you won't see it in those red carpet paparazzi shots – but the confident smoulder of many an A-List Oscar attendee may well owe something to the La Perla lingerie shaping her body, beneath the dress you see.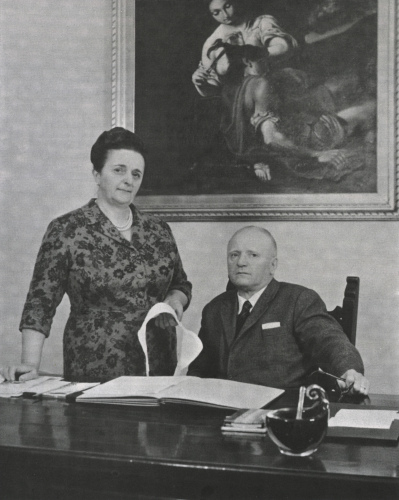 The fascinating story of La Perla began in a lingerie atelier in Bologna, with Ada Masotti – an artisan trained in the tradition of hand-crafted Italian corsetry, which dates back centuries, offering custom-fitted corsets for wealthy women. But why La Perla ('the pearl')? Because every creation that Ada presented to her clients was showcased in a case lined in red velvet, as if it were a jewel.
Initially, Ada began by offering underwear in traditional skin tones. But in 1960, daringly coloured lingerie was introduced – as well as the hand-made lace and embroidery which has remains one of La Perla's specialities today.
Working alongside her brother, Ubaldo Borgomanero, La Perla's motto became 'Never compromise on quality and innovation'. Famous innovations include modern stretch fibres, created especially for La Perla, and the creation of the very first matching stretch lace lingerie sets. Their eternal signature: using the very best fabrics – laces, silks and satins – to enhance a woman's sensuality. As Ada's only son Alberto, who took over running the company, commented in an interview with the USA's People Magazine, 'A woman should be the most sexily "dressed" when she is undressed.'
But La Perla hasn't just followed fashion; quite literally, it has shaped it, too. In the 1970s, La Perla offered romantic lingerie that echoed fashion's mood – but also sleek and very natural designs, which liberated the body at a time when women were beginning to experience unprecedented freedom.
In the 80s – the decade of 'Power Dressing' – shapes were more modern and sculpted: in 1983, La Perla launched the first-ever stretch lace wide-shouldered 'body', a fore-runner of the 'under-jacket' bodysuits which marked the dawn of the era of underwear-as-outerwear. As Alberto observed, 'Underwear is no longer taboo, thanks partly to Madonna, but also to a whole new post-feminist mood.'
The designs aren't always hidden away, though. Beyoncé wore La Perla for her 2014 Grammy Performance (and in her video 'Partition'). Kate Winslet looked stunning in an underwired 'body' for her cover of Harper's Bazaar in summer 2014 – while Katy Perry and Madonna were also photographed in La Perla briefs, in V Magazine…
Today, La Perla's also known for swimwear – and for bridalwear, a natural progression for a company with such long links with lace craftsmanship. (To celebrate its 50th anniversary in 2004, La Perla put together a collection made with the airiest Valenciennes lace, produced on the 19th Century looms of Calais, once the centre of the lace-making world.) At the new flagship boutique at No.9 Old Bond Street, luxury lingerie has been taken to a new dimension – with a new made-to-measure service, offering lingerie created from macramé-woven gold thread, even hand-embroidered with the wearer's initials. (Each of these pieces requires one or two fittings, and can take up to a month to make.)
But say 'La Perla' and many of us will nowadays immediately think of exquisite fragrances, too. (Including for men: several feature in the line nowadays.) In 1986, La Perla Parfum – the very first La Perla fragrance – was created, to express the essence of La Perla's seductive, luxurious signature through a contemporary Chypre scent, with spicy roses, amber, benzoin. As perfume blogger The Non-Blonde commented, 'It doesn't really flirt, because there's no need. A sideways glance is all it takes to mesmerise and draw others in…' None other than Pierre Dinand – the most celebrated bottle designer in the perfume universe – was enlisted, to create a bottle with a sensuously curving shape (above) that perfectly captured the spirit of La Perla.
La Perla later brought us In Rosa, created by leading 'noses' Veronique Nyberg and Alienor Massenet (read our nose interview with her here): the same iconic bottle shape, and another in the Chypre family – but this time, with fruity touches of sweet raspberry and crisp pear, a floral heart of rose, violet and cyclamen, on a sensual base of amber, patchouli and sandalwood.
Just Precious, meanwhile, is an exquisite woody-Ambrée with floral touches, from perfumer Marie Salamagne: luminous orange blossom is garlanded by jasmine sambac and other white flowers, on a woody-amber base that 'effortlessly highlights the femininity of any woman who wears it'.
Exactly like the lingerie that made La Perla famous…