When Kenzo Takada – a young fashion designer, raised in a traditional teahouse in the small town of Himeji – left Japan, in 1964, it was the start of an awfully big adventure. Filled with curiosity about the wider world, but having never left Japan before, he booked a second-class passage aboard a boat to Europe. The ship's ports of call – Hong Kong, Vietnam, Singapore, Sri Lanka, Djibouti and Egypt, en route for France – opened Kenzo's eyes to a kaleidoscope of colour, pattern and vibrancy. His mantra became, quite simply: 'The world is beautiful.'
Settling in the Paris suburb of Clichy, he began showing his designs to designers, including Louis Féraud, and magazines (including Elle). He was hired as a freelance for Pierre Cardin – but Kenzo's dream was to open his own store. And when a space opened up in one of Paris's historic 'arcades', the Galerie Vivienne, in 1970 Kenzo Takada did just that. Jungle Jap showcased the colourful designs and inventive shapes which had already earned him a reputation for creativity, including kimono-style garments and clashing, splashy prints – a world apart from the space-age, minimalist shapes which had been Paris's signature during the 60s.
The walls were painted with murals conjuring up the lush tropical scenes of Henri Rousseau – and a new fashion star was born. As Vogue put it, 'Within just a few seasons, the press and buyers and fans were packing his over-the-top shows to see his eclectic creations, presented on boisterous models who danced and pranced gaily together on the stage.'
By 1972, his shows were such a hot ticket that when Kenzo staged an event at the Gare d'Orsay, in Paris, 3,000 turned up instead of the expected 800 guests. As Carine Roitfeld, who modelled for Kenzo in her youth (and later went on to become Editor of French Vogue) comments: 'The 70s in Paris were an incredible time, thanks to Kenzo. He would rent out castles, and there was always dancing, theme rooms, palm readers. Everyone was there.'
His work has always been a melting pot of artistic and cultural trends, inspired by his travels as he soaked in local traditions and customs: India, China, Africa. These opened the door to dreams and exoticism, to 'diffusion' lines like Kenzo Jungle, Kenzo Kids and Kenzo Jeans – and to a new expression of Kenzo's creativity, through Kenzo Parfums. In 1988, Kenzo unveiled his debut fragrance Kenzo for Women.
Since that time, Kenzo has launched fragrances which have become loved and worn the world over…
FLOWERBYKENZO – which remains an international bestseller, more than a decade after its launch – was inspired by the poppy, a soft and feminine luminous floral from renowned 'nose' Alberto Morillas, in a stunning curved bottle by one of the world's leading flacon designers, Serge Mansau. Though poppies may be scentless, it conjures up the idea of this short-lived flower with notes of wild hawthorn, Bulgarian rose, Parma violet, cassia, white musk and vanilla. As the Boisdejasmin blogger Victoria Frolova commented in her review, 'It's a study in contrasts. There is an interplay between the vintage references and the abstract modernity. It skirts the line between power and delicacy. Even Flower's innocent softness has Morillas's characteristic, sensual, addictive quality…' And, she adds, throughout its development, FLOWERBYKENZO 'retains a soaring, radiant quality…'
And (among other creations), you might like to discover Kenzo Amour, its shapely bottle designed by Karim Rashid, and inspired by the sculpture of Brancusi – 'like a little piece of art on our vanity,' commented Allure Magazine. It has top notes of cherry blossom, white tea and – yes – rice, frangipani and heliotrope flowering at its heart, and a base of than aka wood, vanilla and musk.
And August 2014 sees the debut of Kenzo Jeu d'Amour (below right), developed by perfumers Daphné Bugey (who worked on the original Amour), and Christophe Raynaud, featuring pomegranate, blood mandarin, tuberose and freesia, alongside a tea accord.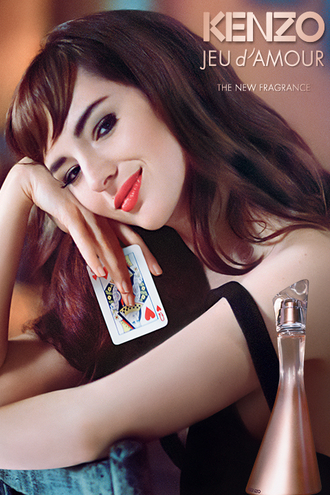 In November 1984, Kenzo was named a Chevalier de l'Ordre des Arts et des Lettres by the French Minister of Culture; he has also received a Time for Peace Fashion Award. Kenzo himself retired in 1999; today, Humberto Leon and Carol Lim – the founders of trendy boutique Opening Ceremony – are the creative directors of the brand, igniting new interest in the brand. As Vogue commented in March 2013, 'Their modernised version of early Kenzo – particularly their billowy, off-the-shoulder dresses for spring – conjure up a kind of hyper cool vision of the 70s, a time when Kenzo was dressing Jerry Hall and Grace Jones at Studio 54…'
If you'd like to explore the world of Kenzo fragrances in more depth, there's a book to help you: Perfumes by Kenzo: Travelling in the Land of the Senses, which journeys through the fragrances of the brand, written by Veronique Durruty and Patrick Guedj, Parfums Kenzo's Creative Director. (It's out of print, but you can find it via Amazon here.) As the book explains, each Kenzo fragrance is a sophisticated and stylised story of nature – and the book's texts evoke the world of perfumes. 'From the humidity of the Amazon forest to the scorched lands of the Kenyan savannah, from the azure Chilean skies to the night-time streets of Tokyo, the journey is as poetic as it is visual, open to chance emotions…'
And if you'd like something more 'instant', to conjure up the world of Kenzo's scents? The Kenzo Parfums website, has some really rather fun short movies that bring the world of the fragrances alive, including behind-the-scene clips from the creation of the ads.)
We thank you, Kenzo, for adding a little more colour to our wardrobes – and our fragrance wardrobes, too.