Romano Ricci has perfume in his DNA. His great-grandmother was the legendary couturier Nina Ricci and his grandfather Robert was creator of the equally iconic L'Air du Temps.
Although he'd grown up surrounded by fashion and fragrance, Romano Ricci set out to learn the art of fragrance creation from scratch. 'I'm self-taught,' he says. 'I never went to ISIPCA (Paris's 'perfume school'), or any similar schools. Instead, I gained my competence through practice. I worked in perfumery for seven years before launching my own adventure. I was with France Fragrance for three years and also worked with other perfume makers such as Pierre Bourdon, Francis Kurkdjian, Isabelle Maillebiau and Philippe Romano – who all taught me a lot.'
He launched Julette Has A Gun in December 2006: a brand devoted to women, offering a new type of elegance within niche perfumery: 'The innocent Juliet of Shakespeare is transposed to the 21st Century with a gun… Metaphor for the perfume, weapon of seduction, or simple accessory of bluff. "Gun" essentially symbolises the liberation of women towards men… And sometimes with an aftertaste of revenge.'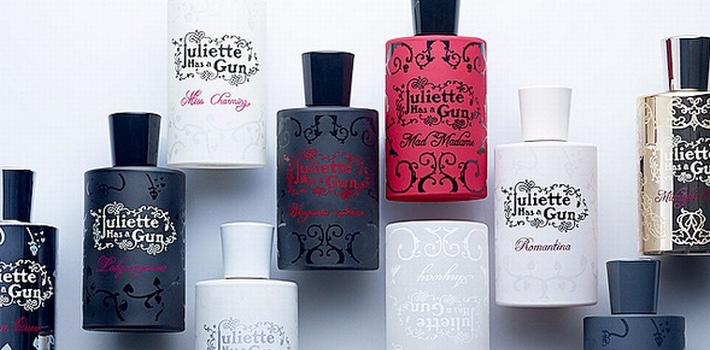 Adds Romano, 'For me, perfume is intimately connected with seduction, perhaps in the same way as fashion, make-up and hairstyling. It's a way to define oneself externally. I felt, however, that there existed a more modern and more amusing way to approach these issues. That's why you will also find humour in my work, even though the work is rigorously done.' The debut fragrances included Miss Charming (an airy swirl of Moroccan rose, strawberry and lichi), and the darker, more mysterious Lady Vengeance, pulsing with rose, vanilla and patchouli.
Since then, Juliette Has a Gun has won the hearts of perfume-lovers around the world. In 2011 Romano also won the French Fragrance Foundation's 'Special Prize of the Board', awarded to an individual who has shown special ingenuity, creativity and dedication within the perfume industry.
One of the most innovative fragrances in the range is Not a Perfume, based very much on two notes usually used in the base – Ambroxan and white musk – which are instead given the 'lead role'. Purse sprays, equally innovatively, are in the form of silver 'bullets', perfect for slipping into the chicest handbag – and refillable with any of his fragrances. (Refills are something we'd like to see more of, in this industry.)
2015 saw the unveiling of Not Another Oud – which is, actually, an oudh. (Always tongue-in-cheek, this perfumer.) As blogger Candy Perfume Boy revealed: 'I have found myself reaching for it on a regular basis, mainly because it is neither quiet nor loud and works nicely on those warm days when one wants something with a bit more oomph than a refreshing Cologne or floral. It also has that wonderful ability to disappear and reappear periodically throughout the day and has on many occasions made me stop and say "what smells so good?" So is Another Oud just another oudh? Well yes… but it could even encourage the biggest of oudh-cynics to potentially crack a smile.'
2016 saw the launch of MMMM… – which you can see right. Explains Romano Ricci: 'I was thinking about this indescribable onomatopoeia when I created the fragrance. Behind that sound, that murmur, pronounced almost internally, lies a world of hidden pleasures that goes beyond words… A gourmand accord of vanilla and neroli. An olfactive sweetness that regales the senses and provokes immediate pleasure.'
In Paris, you'll find the collection showcased in NOSE (nose.fr), an innovative perfumery in Paris's 2nd arrondissement which Romano co-founded. Elsewhere, track down Juliette Has a Gun in all the most intriguing perfumeries (including London's Les Senteurs).
And next time you're passing, can we suggest you follow your own nose and find out why this rebellious perfumer has the scent world so excited?