Though his designs – particularly his signature 'pleats' – are loved by women all over the world, it was the launch of a certain perfume, in 1992, which truly put Issey Miyake on the map.
After a decade of 'room-rockers', there was something so refreshing – literally – about a fragrance as clear as water, in a stupendously simple and beautiful bottle, which smelled so pure and so fresh. L'Eau d'Issey was literally an antidote, for many, to those so-opulent scents – and the fragrance became a true scent icon.
In reality, Issey Miyake calls himself a 'clothing designer', rather than a 'fashion designer' – and it's true, his boundary-pushing designs transcend trends, allowing wearers to express their own individuality and freedom. He draws on ancient traditions – the folding of paper, the drape of fabric – for an utterly timeless yet completely modern look: a balance between tradition and innovation, handcrafts and new technology.
He says, 'Curiosity and happiness are at the core of my work. Design is never static but it is only possible after constant exchanges of ideas, aesthetics and sensibilities.' Continues Issey Miyake, 'Clothes are of no interest except insofar as they provoke sentiments and reactions in those who wear them. I create, not to express my ego or my personality, but rather to try and bring answers to those who are asking themselves questions about our era and how we should live in it.'
Born in Hiroshima, Japan, his interest in fashion began in childhood. (We're told he read his sister's copy of Vogue.) Astonishingly, Issey Miyake survived the atomic bombing of his hometown, but lost many of his family. At 21, he enrolled at Tama Art University in Tokyo, graduating in graphic design. His first collection, in 1963, was called 'A Poem of Cloth and Stone', setting the scene for future ground-breaking shows. And within two years, Issey Miyake had moved to Paris and enrolled at the 'couture school'. He also travelled regularly to London, entranced by boutiques like Biba, part of the Youthquake shaking Britain.
Issey Miyake worked for a range of international names – Guy Laroche, Givenchy, Geoffrey Beene – before setting up the Miyake Design Studio, first showing in New York in 1971. Almost from the start, magazine editors loved his creations, so different to anything else out there – closer to art and architecture, in many cases, than mere clothes. (And as such, exhibited widely in galleries and museums, since the early days of Miyake's career.)
Technology-driven and textile-focused, his innovations include the Pleats Please collection, which was born in 1993: the age-old notion of wrapping a body in two dimensional materials – pleats – which drew on new technology, to utterly beautiful results. The idea for the designs came about when Issey Miyake was invited to create costumes for a ballet, 'The Loss of Small Detail'. The pleats allowed the dancers to move – and since then, they've offered a sense of freedom to countless wearers who've embraced Pleats Please, which has gone around the world in 80 colours, embodying exuberance, dynamism and colour.
His awards are numerous – from  France's Chevalier de L'Ordre National de la Legion d'Honneur to  the 22nd Kyoto Prize in Arts and Philosophy, acknowledging the depth and breadth of Issey Miyake's work. A true pioneer, he set the stage for a future generation of Japanese designers.
But what many of us love Issey Miyake for most are infinitely wearable fragrances – a journey which began with the light, aquatic floral L'Eau d'Issey (for women), composed by Jacques Cavallier. The name was play on words, as it turns out: in French, it sounds like 'odyssey…' Involved in every detail of the fragrance which would bear his name, Issey Miyake designed the bottle himself, based on a view of the moon behind the Eiffel Tower from his Paris apartment. And since that first 'water-inspired' fragrance, meanwhile – a timeless harmony of woods and flowers – there have been other L'Eau d'Issey innovations…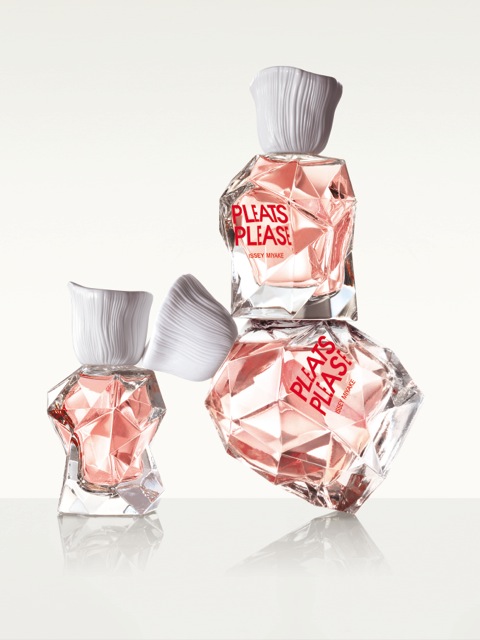 L'Eau d'Issey Florale is a beautiful, pale pink fresh-floral, focused by Alberto Morillas around a budding rose. And L'Eau d'Issey Absolue, meanwhile, is something quite different, billowing with night-blooming jasmine, tuberose and honey, created by Olivier Cresp.
From the start, Issey Miyake worked with the word's leading photographers, sharing their interpretations of the fragrance – including Irving Penn (the 'wonder boy' of image and light). More recently, Daniel Jouanneau turned his lens on L'Eau d'Issey to stunning effect, as you can see above.
And in 2013 – after a wait of almost 20 years – a second Issey Miyake fragrance appeared on the scene: Pleats Please, a counterpart to the iconic pleated clothing which is so much a part of Issey Miyake's signature. Perfumer Aurélien Guichard's inspiration was light – so important in the world of Issey Miyake – and the result a fragrance which opens sparklingly with nashi, a hybrid between pear and apple.
At the heart of Pleats Please bloom fresh peony and sweet pea – and indole, for a voluptuous touch. In the base, you'll encounter rich, woody tones of cedar and patchouli, infused with the radiant warmth of vanilla and cosy white musks. These meticulously sculpted facets are echoed in the bottle – and Pleats Please certainly pleased a new audience of Issey Miyake fans.
'I like the idea of scents but not that of a fragrance,' Issey Miyake has observed. 'I do not possess the culture of fragrance, but rather the culture of scents.' But for a man who proclaims to be s a stranger to the culture of fragrance, we'd say he's doing rather extraordinarily well…