As the histories of perfume houses go, there is surely no richer tapestry than Guerlain's. The House of Guerlain began almost two centuries ago, in 1828, and its story is woven into that of fragrance itself.
Pierre-François Pascal Guerlain opened the very first Guerlain shop on the Rue de Rivoli in Paris that year, selling vinegars, scented soaps and cosmetic products (including the gloriously-named liquid 'Bloom of Roses', for lips).
The first of a legendary dynasty of perfumers, Pierre-François began creating custom fragrances for high society Parisians – and by 1840 had opened a 'flagship store' on the glamorous Rue de la Paix. His most famous client? French Emperor Napoleon III and his wife Empress Eugénie, who he created Eau de Cologne Impériale for in 1853. This so-refreshing Guerlain Cologne can still be splashed on today – and is still available in a gilded, bee-adorned bottle: Napoleon III's 'emblem' has become that of Guerlain itself.
Pierre-François went on to enjoy the title of 'His Majesty's Official Perfumer', bestowed on him by the Emperor. Other royal commissions followed – from Queen Victoria, and Queen Isabella II of Spain, among other crowned heads.
After Pierre-François died in 1864, his son Aimé Guerlain took his place at the perfumer's organ. (Aimé's brother Gabriel managed the business, meanwhile.) Fragrant winds of change were blowing through the scent world, bringing whiffs of exciting new synthetic ingredients, which Aimé embraced, creating the style of Guerlain perfumery which endures to this day: precious naturals, adorned and enhanced by molecules which can make them last on the skin, or project from it, or simply conjure up scents from Mother Nature she's unwilling to share through even the cleverest technique of extraction. His most famous and enduring creation was Jicky, in 1889, the first to include the so-recognisable 'Guerlinade': a secret accord of notes which ensures those-in-the-know can recognise a Guerlain on someone, in a flash. (For more about Jicky and its place in the evolution of perfumery, click here.)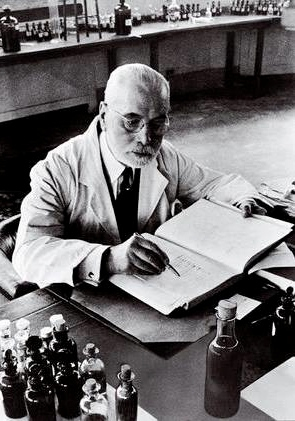 Jacques Guerlain took over from his uncle Aimé in 1890 – which marked the start of a hugely exciting time for the house. Timeless creations like L'Heure Bleue (1912), Mitsouko (1919) and Shalimar (1925) were launched – and like Jicky, remain in the Guerlain collection today, loved as much as ever by men and women all over the world. Guerlain continued to innovate on the cosmetics front (we would dearly love to be able to get our hands on 'Ladies in All Climates Powder for the Skin', for instance) – and it wasn't simply your pulse-points you could scent with a fragrant Guerlain treat: their stand at the 1934 'Exhibition of Products of the French Industry' included 'poudre sympathique' (for perfuming paper), and 'Bouquet de Roi', which did the same for handkerchiefs.
Then the extroardinary Guerlain olfactory gift then seems to have skipped a generation – because when Jacques died, in 1963, it was his grandson Jean-Paul Guerlain who took the baton. They'd already been working alongside each other: Ode, Jacques' final perfume, was created with Jean-Paul, as was the acclaimed men's fragrance Vétiver – one of many stunning masculine offerings in the perfumed portfolio.
The last of the Guerlain family perfumers, Jean-Paul's masterpeices include the men's Habit Rouge (1965), as well as Chant d'Arômes (1962), Chamade (1969), Nahéma (1979), Jardins de Bagatelle (1983) and Samsara (1989). There's a wonderful – and wonderfully romantic – story behind Samsara. For once, Guerlain decided to offer external perfumers the opportunity to create their next perfume. Jean-Paul Guerlain submitted his creation anonymously: a modern Ambrée, made for a woman he was in love with. Out of all the submissions, his was chosen. Samsara was born – and Jean-Paul won her heart, too…
Today,  some 350 perfume creations later, Guerlain remains one of a handful of fragrance houses which controls their natural ingredients 'from field to flacon'. Bergamot is specially grown by farmers in Calabria, vetiver in Tamil Nadu, roses in Bulgaria, as well as Tunisian orange blossom and petitgrain. Two jasmines – with quite different facets – are sourced: jasmine sambac, and Grasse jasmine. The motto endures: 'Never compromise on quality'.
So as well as creating fragrances, a key role for only the fifth in-house Guerlain perfumer, Swiss-born Thierry Wasser – the very first non-familly 'nose' in the history of the house, who joined in 2008 – is to maintain those exacting standards: a 'perfume explorer', as Guerlain puts it. (An important aspect is his focus on sustainability, ensuring a long-term supply of the raw materials on which Guerlain depend.)
Thierry's arrival at Guerlain marked the dawn of a new era of contemporary fragrances, firmly rooted in Guerlain's unique past. Sumptuous floral Idylle, delicious La Petite Robe Noire (with its gourmand notes of cherry, licorice, almond and vanilla) – and each year's new incarnation of Acqua Allegoria: long-lasting Cologne-esque fragrances –originally inspired by the great gardens of the world – which are as light-filled and sparkling as a summer's morning.
Guerlain fragrances can of course be explored in perfumery departments all over the world. But should you find yourself in Paris, there are two locations which just beg for you to set aside time to discover, explore and enjoy. Guerlain has now opened a dedicated concept store at 392 Rue Saint-Honoré, where you'll find fascinating artefacts like old flagons and recipe books, photos and more – yet in an entirely contemporary setting. A clever interactive iPad programme can help you take a short-cut to 'your' perfect Guerlain, from the dozens of fragrances in the store – three choices, expertly tailored to your tastes. You can even sink into a comfy chair and sit awhile, while they unfold…
And in an adjacent room, you'll find huge fridges, perfectly preserving gilded bee bottles containing some of Guerlain's classics. Want to step up the luxury factor still further? Choose one of a dozen colours of glass bee bottle to be personalised after the fragrance is decanted before your eyes: countless ribbon options, engraving styles. This is perfume shopping at its most luxe and indulgent – and you can read our full report of our visit to the boutique, here.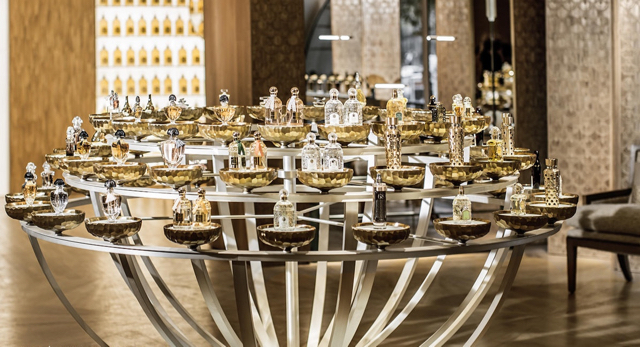 But we cannot recommend too highly another opportunity to drench your senses in Guerlain – this time, at the flagship store at 68 Champs-Elysées, which has undergone a stunning renovation. A 'temple to perfume', we think of it as – but one where you can not only delight your sense of smell, but taste, too. 
First, spray and sniff your way through Guerlain's perfumes – from nostalgic to utterly contemporary – at the 'organ' upstairs. Admire the butter-soft scented leather gloves, a Guerlain revival of the ancient parfumeur-gantier' tradition (read more about it here). And then we suggest you make your way down the sweeping staircase – don't miss the Guerlain postcards! – and on to the luxurious Restaurant 68, headed up by superstar chef Guy Martin. We can seriously recommend one of the decadent, perfume-inspired pastries – our favourite is the Little Black Dress – enjoyed with delicate sips of specially blended fragrant tea: an echo of Shalimar, perhaps, or L'Heure Bleue…
Because there can be few more delicious ways to feel you're truly part of perfume history.