Estée Lauder changed the course of fragrance history. Until the 50s, women mostly reserved fragrance for high days, holidays – and birthdays. But Estée Lauder had a brainwave.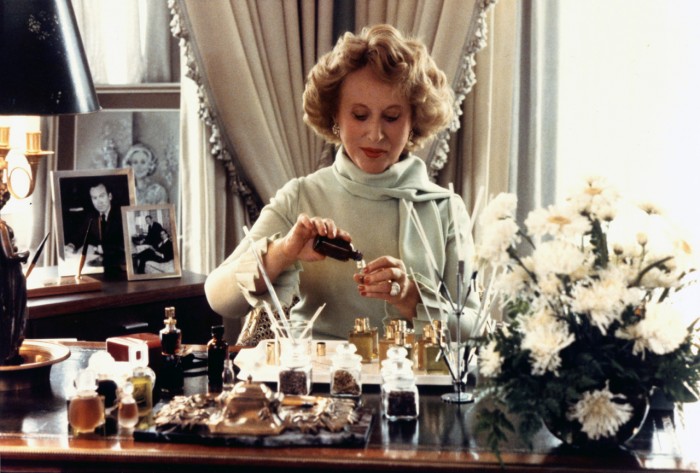 So the game-changing fragrance Youth Dew began as a bath oil – as she once told The Perfume Society's Jo Fairley over tea at New York's Plaza Hotel. 'Back then, a woman waited for her husband to give her perfume on her birthday or anniversary. No woman purchased fragrance for herself. So I decided I wouldn't call my new launch "perfume".  I'd call it Youth Dew,' (a name she borrowed from one of her successful skin creams).
No question: Estée Lauder is one of the most remarkable businesswomen to have graced the beauty world. Born Josephine Esther Mentzer, in the New York suburb of Queens, she began her business with four skincare products and a simple promise: that every woman can be beautiful. (Why the name? 'Estée' was a play on her nickname, Esty.) She married Joseph Lauder, and though she'd never even been to college, never mind business school, launched her beauty brand in 1946. Their first major order was for $800 worth of products from Saks Fifth Avenue – and Estée Lauder never looked back.
Estée's secret was an innate understanding of what women wanted. One of her most famous quotes is: 'Telephone, Telegraph, Tell-a Woman' – because she believed that if a woman liked her products, they would spread the word far and wide. But Estée Lauder's energy was also unflagging: she attended the opening of virtually ever counter, and stayed for a week to instruct her beauty advisors on sales techniques and merchandise display. The philosophy she shared with her sales staff: 'I didn't get there by wishing for it or hoping for it, but by working for it.'
Throughout her whole life, elegance was Estée Lauder's signature: always perfectly made-up, perfectly coiffed, utterly elegant – and impressively bejewelled. And although she was known as a skincare pioneer and the savviest of marketeers (she's the woman who invented the 'gift-with-purchase', among other retail innovations), Estée Lauder's career was fuelled by a profound love of perfume. She was once described as 'the only true nose in all America', and throughout her career was intimately involved with every scent creation.
An important step was to try them on her friends. She was aware that out of awe or sheer politeness, they might not always give her a truthful verdict – but as she told The Perfume Society's Jo (Fairley), 'I can tell by their eyes. They can be smiling, but only when their eyes smile do I know a fragrance is right.' The headily Ambrée Youth Dew became a massive global success.  (It didn't hurt that the seductive actress Dolores del Rio once commented that the secret of 'driving men gaga' was was brushing your hair with Youth Dew'.)
But it was merely the first of many fragrance hits: Private Collection (a release of the scent she had always kept for herself), Beautiful, Pleasures, Alliage, White Linen. Estée believed the key to advertising each and every one was through 'lifestyle' advertising: leaf through any vintage glossy – Vogue, Bazaar – and you'll see stunning black-and-white ads (like the one above) featuring 'faces' like Willow Bay, Paulina Porizkova, Karen Graham and Elizabeth Hurley. Many of the fragrances endure in the House of Estée Lauder collection today.
Her daughter-in-law Evelyn Lauder shared Estée's passion for fragrance and the two of them worked closely for many years; later, Aerin Lauder became involved. Often inspired by her grandmother's work, Aerin Lauder (Estée Lauder Style and Image Director) was looking back through the archives and rediscovered this 'fragrance'. Working with the same passion and vision as her grandmother, she created several contemporary 'spins' on her grandmother's perfume, including Private Collection Tuberose Gardenia, which remains so popular. (Aerin has, of course, created her own perfume house – AERIN – which you can read about here).
Karyn Khoury  also worked closely with Estée, and has often told us that for each new launch, she imagines what Estée herself might comment. (Karyn has long held the title of Senior Vice President, Corporate Fragrance Development Worldwide The Estée Lauder Companies, Inc.) Modern Muse joined the line-up in 2013: a multi-faceted fusion of mandarin, honeysuckle nectar, tuberose, lily, twin patchouli notes, amber wood, seude musk, vanilla and more. It's since be joined by Modern Muse Le Rouge, Modern Muse Nuit and Modern Muse Le Rouge Gloss, whose appointed 'face' is the model and social media sensation Kendall Jenner.
The company is still very much a 'family': Estée Lauder's son Leonard Lauder remains tirelessly at the helm, with grandchildren Jane Lauder and Aerin Lauder in senior roles and William P. Lauder as Executive Chairman – which is surely what Mrs. Lauder would have dreamed of.
She was well-known as a generous philanthropist, supporting countless charities which ranged from helping to build children's playgrounds in New York to supporting the restoration of Versailles. Estée Lauder was honoured with so many awards during her career – The American Society of Perfumers gave her its first Living Legend Award, in 1994 – but one of the high points of her life is said to have been receiving the French Legion of Honour.
So honoured ourselves to have spent time with her, we will always treasure this gem from Estée Lauder – from her lips to our ears. 'We should never underestimate the power of fragrance to enhance our lives. Each morning, a woman should spray fragrance into the air, first thing, and go walk through it. That first spray of the day, you know, lasts longer than any other, on the skin. Then you'll feel brighter and younger. Because you don't smell a fragrance with your nose. You smell it with your heart.'