'The link between scent and mood has long been known and talked about, but never been scientifically proven when it comes to perfume. Now for the first time, the worlds of cutting-edge olfactory neuroscience and classic fine fragrance are brought together' – discover your own perfumed possibilities with edeniste…
We've never seen our Co-Founder Lorna McKay more excited than when she returned from the launch of edentiste. Literally bouncing up and down as she recounted her meeting with the visionary founder, Audrey Semeraro, in the words of the brand, they are 'Blending the science of emotion and the art of perfumery,' while for Audrey, it's about 'redefining the mission of the perfume industry with the first generation of active wellbeing fine fragrances…' Because edeniste are far more than a luxury fragrance house, more even than a company seeking to tap into that feeling we all get when wearing a scent that seems to resonate with our soul. Each edeniste fragrance has been 'charged with active molecules clinically proven to boost our mood and elevate our emotions.' And when they say proven, they mean it. The wellbeing effects of these fragrances haven't been left to hearsay, as with so many other aromatherapeutic type perfumes, oils and unguents available – the edensite scents have been tested by neuroscientists, literally showing which parts of our brains light up when we positively respond to the perfumes. But it's been a long journey to get to this place of perfumed possibilities, and it involved challenging the entire fragrance industry itself.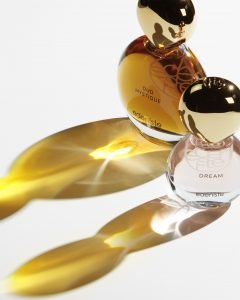 For Audrey, it all began with her being raised near Grasse and living in Saint-Paul-de-Vence, an idyllic medieval village in the South of France. Being so close to what is widely acknowledged as the birthplace of fine fragrance, perfume being an art form was not so much a concept as a scented birth right swirling through her bloodstream. Growing up 'surrounded by nature, flowers, and fruit trees' in her parents' garden, her parents fortuitously spanned the worlds of Art and Science – Audrey's mother being a glamorous model for the Parisian couture house of Nina Ricci while her father was a respected nuclear scientist. If fragrance house founders could have an olfactory origin story to explain their powers, just as superheroes do, this must surely have been Audrey's. Getting to attend all the Nina Ricci fragrance launches because of her mother's job, even the way she played with her toys was influenced by her upbringing. 'As a child, of course I played with my dolls,' she smiles, 'but I played as much with bottles of fragrances, pretending to be a perfumer.'
Career paths (and lives) are not always a straight line, as we all know, and Audrey's encircled the world of the film and television industry, at first, moving on to organising luxury events at a later stage. Even so, scent drifted into this professional arena. 'After almost 20 years of running my company,' Audrey recounts, 'I noticed the positive and profound effects that scenting an event had on my guests, in setting the mood and improving their enjoyment so I decided to go back to my passion.' And so, following the birth of her daughter, she finally 'took the leap' and made the decision to follow the perfumed path. Explains Audrey: 'My aspiration has always been to bring emotional wellbeing to people, 'but on investigating the fragrance industry further, 'I found that this need wasn't being addressed. There was a gap in the market. Though new scientific discoveries to do with our sense of smell were out there, she says, 'no one was using it to create luxury fragrances.' What followed was a gruelling yet fascinating four year scented research stint in which she was 'reading medical journals, speaking with neuroscientists, meeting with R&D teams in fragrance companies…' Learning of the true impact fragrances can have on the structure and function of the brain, nervous system, and related physical responses, the final result of all that hard work is edeniste: 'a fragrance brand that infuses scientifically proven olfactive molecules into a unique active fragrance collection that improves wellbeing.'
'I wanted a brand that was based on what customers actually need in their day-to-day life,' says Audrey, and working with the Japanese fragrance house of Takasago, and two world-class French perfumers – Aurélien Guichard and Jérôme di Marino –alongside the neuroscientists, she's now utterly thrilled that 'These unique juices we created using a wealth of scientific research… tell us precisely which ingredients can boost our emotions.'
Melding those worlds of Art and Science while having the best of both, the edeniste collection encompasses the most divine eaux de parfum and Lifeboost® essences – think of these as olfactive wellness juices to boost energy levels, happiness or even allowing you to drift off to sleep surrounded by the most gloriously soothing scent – the edentiste collection contains 'the highest-level olfactive neuroscience, combined with the highest level in fine fragrance.' edentiste's ethos echoes the very words we ascribed to when we began The Perfume Society – for everyone who wants to smell good and feel great!