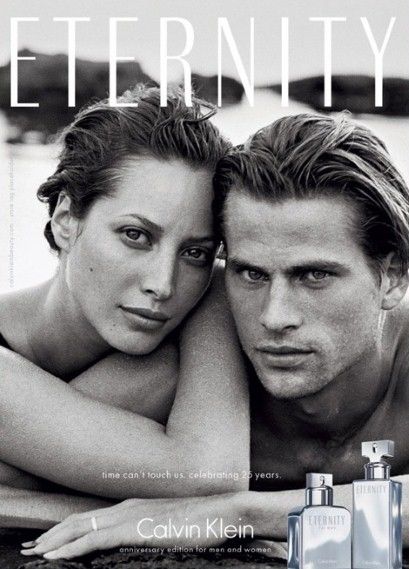 From the moment a pale grey wool coat appeared on the cover of Vogue, Calvin Klein's destiny as a major fashion force – or as Vogue puts it, 'America's King of Clothes' was sealed. Within seven years, he'd made it to fashion's Hall of Fame, winning a coveted Coty award in 1973 for creating a whole new style of timeless, clean, modern sportswear.
But it was really Calvin Klein's use of striking photographic imagery – and his move into fragrances – which ignited global interest in the Bronx-born designer, carving out his place in ad. history. Prowling on all fours on a vast billboard dominating New York's Times Square wearing curve-clinging jeans, Patti Hansen – 1970s supermodel and the future Mrs. Keith Richards – was star of the first headline-grabbing campaign, which triggered sales as blazing hot as the ad. itself.
Brooke Shields was next to pour herself into his denims – declaring, controversially, that 'nothing comes between me and my Calvins' – and by 1980, two million pairs were being sold every month.
Then the launch of Calvin Klein Obsession in 1985 – a seriously smouldering Ambrée fusing peach, spices, sandalwood, orange blossom, amber, musk, civet, vanilla, incense and so much more, advertised by a tangle of naked (and beautiful bodies) – marked the dawn of a new era in 'designer' perfumery, in which Calvin Klein fragrances have played such an important and ground-breaking role.
Obsession itself tapped into the mood-of-the-moment: decadent, daring, basically va-va-voom in a bottle. Then in 1988 came its counterpoint: the pure white floral Eternity, which featured the exquisite Christy Turlington as its 'face'. Its message of marriage and family was expressed via a beautiful ring-design on the simple silver cap – inspired by the eternity ring Calvin Klein bought for his wife Kelly from the estate sale of the Duchess of Windsor. (As Calvin Klein commented in an interview with fellow designer Marc Jacobs, 'I'd always seen Christy as the epitome of the woman who was my woman – the woman who I wanted to dress – whether it was when she was 17 or today. They just don't come finer than her, I don't think.')
Skip to 1991, and he's talking about Calvin Klein Escape perfume. 'It's about Kelly and myself, what we do and how we live,' Klein explained. (And we surely all lusted over the Kleins' stunning minimalist East Hampton house, with its linen drapes, limed wood floors and dazzling sea views.) The scent's message, he explained, 'is about getting out, being active, finding things in your life that transport you in a really healthy way.'
The world's love for Calvin Klein clothing, accessories and fragrances continued to swell – until in 1994 came fresh-fresh-fresh Ck One: a first-of-its kind unisex eau de toilette, launched with ads. by Steven Meisel starring Kate Moss, future movie director Sofia Coppola and Donovan Leitch. Ck One went on to notch up a staggering $60 million of global sales in three months, kickstarting a trend for sheerer, more transparent fragrances that endures to this day.
And although Calvin Klein's own last runway show was more than 10 years ago, his signature style – simple, wearable, and so-so stylish – continues to infuse the clothing and the much-loved fragrances today. 
For many, the smell of summer just IS the scent of, yes, Ck One Summer – with a fresh, refreshing spin on those citrus, fruity, aquatic and aromatic notes we all know so well being launched each year in a 'collectible' new bottle, for every season. (Always a fragrance that you could happily steal from your partner's side of the bathroom shelf, however, Ck One Red Edition offers separate versions for men and women: 'hers' playing up the fruity floral qualities with watermelon, violet, white amber, patchouli and skin musk, with 'his' featuring sparkling aldehydes, pear, suede, vetiver, tonka and musk.)
In 2005, the voluptuous Euphoria made its debut, created by perfumers Dominique Ropion, Carlos Benaim and Loc Dong, winning a Fragrance Foundation Award in its first year for 'Best Luxe Fragrance'. Since, then, new spins on Euphoria have seduced us all over again, the most recent being Endless Euphoria: lighter, fresher, more outdoorsy, with its notes of cherry blossom, violet, bamboo, sandalwood and musk.
Importantly, in 2014, Calvin Klein also celebrates the landmark  25th anniversary of the introduction of Eternity with exclusive, silver-finished limited edition bottles, filled with the signature fragrances for men and women. And that iconic advertisement (top right) – featuring his 'perfect woman' Christy Turlington with Mark Vanderloo, shot by Peter Lindbergh. 'As long as intimacy goes on, so will Eternity,' the designer comments.
And as long as we're interested in style – and in great scents – there'll surely be Calvin Klein.