There's over 150 years of history behind Boucheron – yet this renowned jewellery brand has managed to keep its finger on the pulse-point of our times, creating stunning jewels (and more recently fragrances for men and women) of true, sparkling brilliance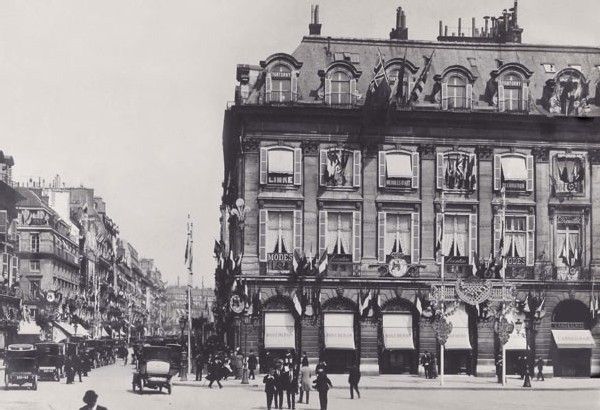 Frédéric Boucheron was the very first jeweller to set up shop on Place Vendôme – which went on to become the epicentre of Paris's fine jewellery world. Its special order book was a roll-call of the wealthiest and most celebrated people in the world, a legend almost from the day Boucheron opened its doors, in 1858. And the jeweller's reputation grew with each fresh commission.
Tsar Nicholas II summoned Frédéric Boucheron to the British Royal Court to commission a tiara set with pearls and diamonds for his fiancée, Alexandra, Queen Victoria's granddaughter. (It took over 2000 hours to complete.) A sufferer from terrible migraines, the Tsarina insisted that only the coronet eased the pain – and it became her signature jewel. In 1928, the Maharajah of Patiala entrusted his collection of precious gems to Boucheron's artisans, under the guidance of Louis Boucheron (son of the founder), so that they could be transformed into show-stopping pieces. Two years later, the Shah of Iran commissioned Boucheron to rework the treasures of the Persian Empire:  from a 159-carat sapphire to a rainbow of coloured diamonds, extraordinary creations came alive in the workshops.
In the early days, the Countess of Castiglione became one of the Maison's most important ambassadors: known as 'the Divine One', she was one of the most beautiful women of the century. 'A collector of men's hearts' is how the mysterious Countess is described – and those hearts included Napoleon III's. She was lavished with jewellery by those who fell for her charms – but to preserve her beauty, left the house only in the evening, adorned in jewels that twinkled brightly under the lights of the Place Vendôme, where she lived in the basement apartment beneath Boucheron's original store. (So legend has it, when the Countess returned home and was alone in her flat, she'd spend hours contemplating her jewels, mesmerised by the dazzle of the splendid stones.)
Aristocrats and crowned heads sought out Boucheron's craftsmanship (here's a tiara belonging to the Queen Mother, above).  But so did Paris's courtesans and demi-mondaines, and although other houses refused to sell their jewellery to these women, with their sometimes 'shocking' lifestyles, Boucheron had no such qualms – showing an avant-garde tolerance that attracted women who had freed themselves from convention. And that 'openness', as they put it, is still in Boucheron's DNA today.
Boucheron-lovers captivated by this jewellery name have included Joséphine Baker, Sarah Bernhardt, Edith Piaf, Grace Kelly, Kristin Scott Thomas, Julianne Moore, Gwen Stefani, Charlotte Rampling and Ava Gardner (who inspired an entire line of Boucheron jewels), among others who've been captivated by this jewellery name.
But how do you capture the sparkle of jewellery, in a bottle?  Well, in 1988, 'noses' Francis Deléamont and Jean-Pierre Bethouard succeeded in doing just that, for Boucheron's signature fragrance. As Alain Boucheron (President of Boucheron from 1980 to 2004) explained, this was 'a new art for travelling the road of dreams and contemporary sensuality, a new language to exalt emotion, our reason for existing and creating.' As Béthouard observed: 'The perfume had to capture the sparkle, the light and the splendour of a multi-facted jewel.' And indeed, the fragrance is as multi-faceted as a diamond:  an Ambrée floral, with a halo of mandarin and orange blossoms, an opulent heart of white flowers – jasmine, ylang ylang, tuberose – and drops of amber and vanilla in the velvety base.
And what else could the bottle be, but a ring…? (See it below.) Inspired by the archives of special orders, the glass artisans rose to the challenge to create an 'olfactory jewellery set', producing an imaginary ring in rock crystal, decorated with gold and studded with a blue sapphire cabochon. In a rather wonderful twist, Boucheron's clients flocked to the Place Vendôme to buy the real version of the 'jewel bottle';  it didn't exist – but Boucheron savvily soon brought that to life, too.
When Boucheron Jaïpur Bracelet was later launched, this sparkling floral took its inspiration from another piece of jewellery: a bracelet – called a nauratan – which is considered a lucky charm in Rajasthan. We've seen Place Vendôme – named after the square itself – which echoes Frédéric Boucheron's own philosophy: 'Our reason for being is to create emotion'. Nathalie Lorson and Olivier Cresp have done just that with this sparkling, voluptuous floriental woody scent.
Quatre (left) is a modern interpretation of Boucheron's famous collection of stackable earrings, rings and bracelets of the same name. The flacon design? Ultra-modern, a play of materials and techniques, based on yellow, white and pink gold (echoed in the bottle's cap). The fragrance? Bursting with powdery-roses, sensual musks, delivering a soft veil of cedar, the creation of a talented trio of Antoine Maisondieu, Nadège Le Garlantezec and Natalie Gracia-Cetto.
The Boucheron Collection, meanwhile, is a seriously sumptuous offering. We'd consider this luxe line-up shareable – though there are Boucheron fragrances specifically for men, too. Some of the world's leading perfumers have worked on the collection – Jean-Christophe Hérault, Dominique Ropion, Nathalie Lorson and Fabrice Pellegrin – to showcase a single precious material: iris, amber, tuberose, vanilla, neroli and oudh, exploring perfumery's most magical ingredients.
So: most of us may never get to stare at our cache of Boucheron gems, when we return from a night out. But we can still be a little part of Boucheron's extraordinary history, with a spritz or a splash…