The annual Perfume Bottles Auction is the most important date in the diary for serious scent bottle collectors around the world. Every year, stunning examples of artistic fragrance flaçons are meticulously sourced and offered to bidders, and it's a chance to see some of the rarest bottles outside of a museum.
Since 1979, organiser and founder of The Perfume Bottles Auction, Ken Leach, has been working 'to create public and corporate awareness of the artistry to be found in vintage perfume presentation.' His antique shop's show-stopping merchandise 'has served as a source of inspiration for glass companies, package designers, and celebrity perfumers, before ultimately entering the collections of perfume bottle enthusiasts around the globe.'
Like last year, thanks to the pandemic the auction will be held online on May 1st 2021 – though this offers the opportunity for everyone to join in. The circumstances have made sourcing items more challenging, but Mr. Leach says, although he's not been able to travel '…as I normally would to view collections, fate smiled and among this year's consignments are some of the rarest and most unusual items I've seen.'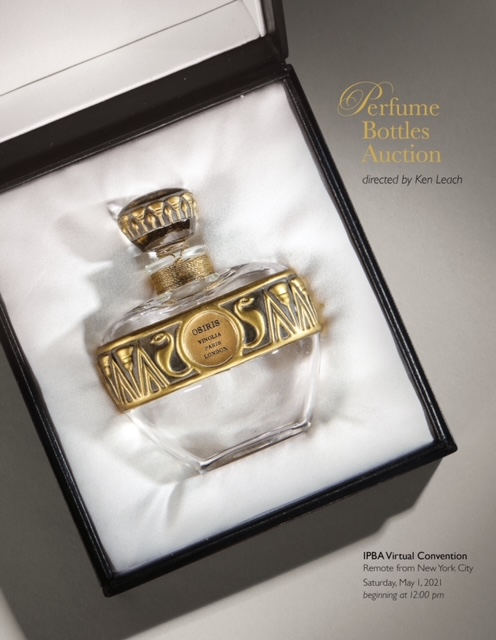 The stunning print catalogue – highly collectable in itself, and an invaluable resource for fragrance fans and historians alike – is now available (and can be sent worldwide).
Mr. Leach is pictured, above, with some of the most important items, and walks us through them, below. Get set to swoon…!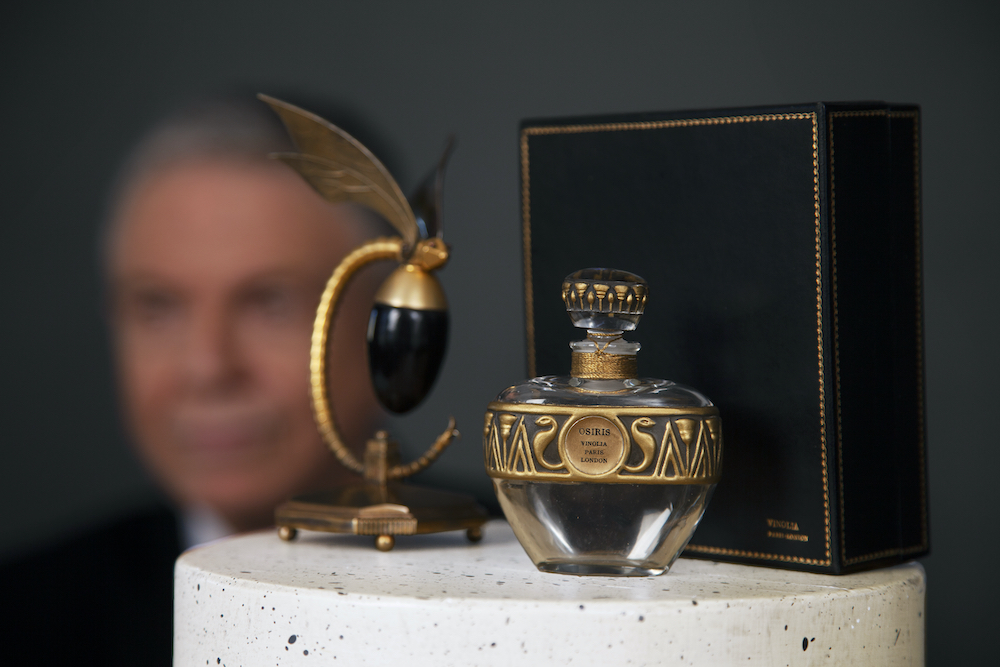 DeVilbiss & Osiris
'Exceedingly rare 1928 DeVilbiss figural dragonfly perfume atomizer with a pre-sale estimate of $6,000 to $8,000.  Also in this photo is the all important Osiris by Vinolia with a pre-sale estimate of $30,000 to $40,000
Paul Poiret Rosine
'1919 Rosine Aladin perfume bottle in elaborate box signed Mario Simonis '19. The box graphics depict Paul Poiret as a Persian King in an imagined Ambréeist tableau, the base covered in authentic Moroccan fabric. Pre-sale estimate $2,500-3,500.'
Hoffmann
'Spectacular 1920s Heinrich Hoffmann Czechoslovakian black crystal perfume bottle with Austrian decoration by Turriet & Bardach. Pre-sale estimate $4,500-5,000'
Isabey Lalique
'1924 Rene Lalique for Isabey A Travers la Voilette (Through the Veil) perfume presentation in collaboration with Alix Ayme. On the box cover and seen through a veil, a beautiful woman smelling a bouquet of flowers is detailed. The lustrous box is finished to appear lacquered while the veil pattern is printed in metallic ink, allowing the embossed flowers to appear to pierce through the veil. Pre-sale estimate $3,000-6,000′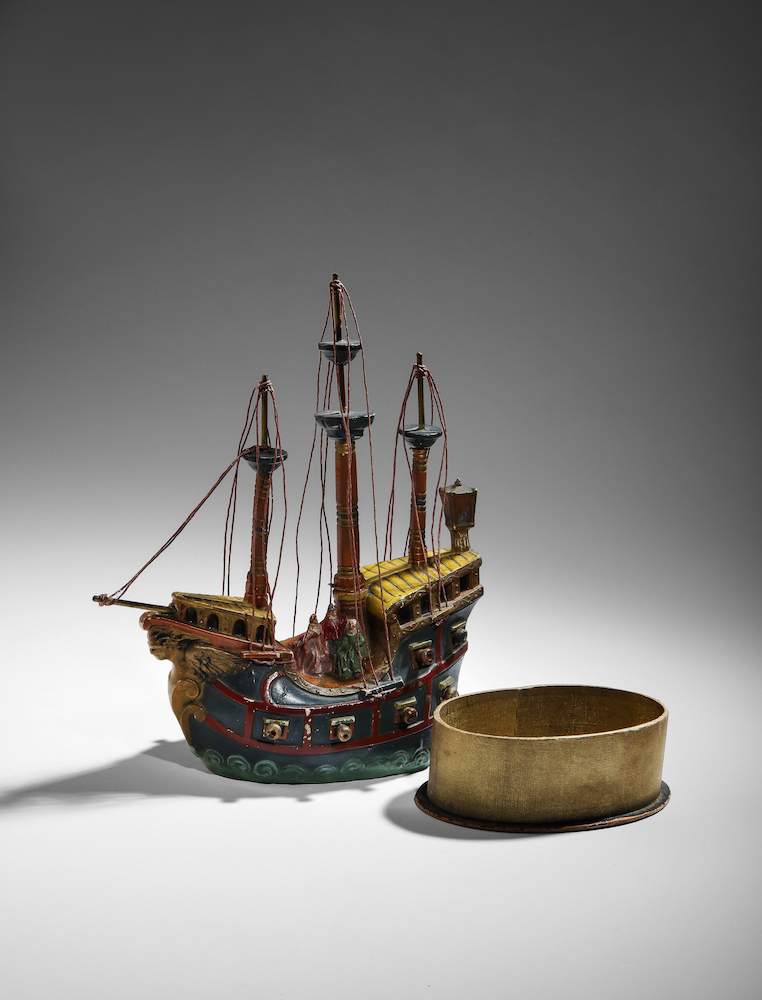 Powder Box

'1920s Rare Galleries Lafayette "Terre de Retz" highly detailed figural "Pirate Ship" powder box. Pre-sale estimate $1,500-2,000'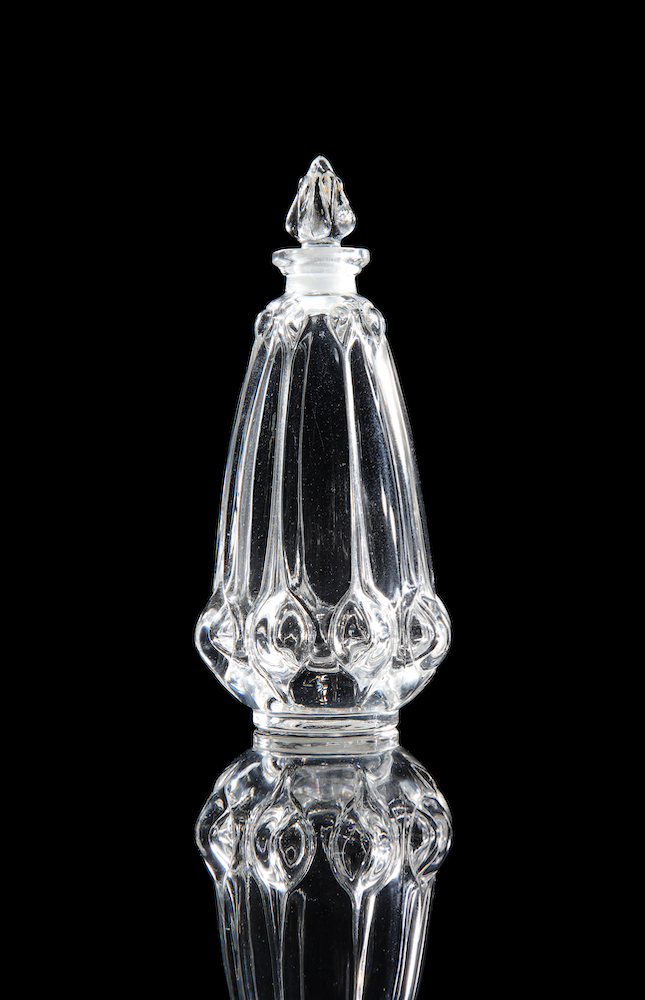 Lalique Olives

'1912 Rene Lalique et Cie. "Olives" clear glass perfume bottle molded with convex oval cabochons, matching stopper. Pre-sale Estimate $600-800'
Ballerina
'1940's Marie Earle Ballerina perfume bottle presentation includes a covered plaster ballet shoe stand box. Advertisements for this perfume read "Ballerina perfume for dancing souls." Pre-sale estimate $3,000-4,000′