Fragrance as art is a much debated subject, lately, with many top noses collaborating with artists to provide mutual creative inspiration, and some of the world's most respected museums, art galleries and even ballet companies using fragrance as another way of provoking emotional responses in their audience.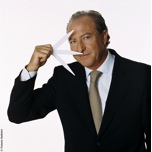 Alberto Morillas was recently comissioned by Issey Miyake to create L'Eau d'Issey City Blossom – a perfect interpretation of spring in the heart of the city, using notes that move away from the obvious and rather hackneyed image that comes to mind when we think of a 'spring bouquet' – and placing the flowers distinctly in an urban setting, rather than a countryside backdrop with shepherdesses and fluffy lambs-a-gambolling.
Issey Miyake was extremely keen to showcase the evolution of City Blossom, from original idea through to the 'mood board' and finally, in a stunning temporary art installation at their Brook Street boutique of intricately folded origami blossoms created by French visual artist, Mademoiselle Maurice.


We are thrilled to see this sprit of creativity blooming – quite literally in the case of Issey Miyake's City Blossom – between fragrances houses, visual artists and master perfumers; and intrigued to learn more from Alberto about the way he went about the task of creating a distinctly urban blossom perfume – flowers not being something one normally associates with a gritty cityscape, it has to be said…
Is it an easy exercise to try and reveal the best of nature in an urban environment?
AM: – At first glance, it's contradictory to speak about a city blossom! Unfortunately, not many "green lungs" remain at the heart of the asphalt. At the same time, that's what makes my work thrilling and probably less conventional.
How did you find the inspiration in such a setting to create the new Issey Miyake City Blossom fragrance?
It was as I was walking past certain great Paris florists that something was triggered: nature literally overflows from their shops to the pavement, with these cascades of flowers, greenery… my eye was drawn to delicately scented flowers in riotous colours, precisely the so-called "city blossoms" which bring colour and life to passers-by. They don't grow there but they are the basis of sublime bouquets, a beautiful floral dance. An imprint of beauty in the city.
To which olfactory family does this new interpretation of L'Eau d'Issey, City Blossom, belong?
AM: – For me, it's an abstract woody floral fragrance, no doubt about that!
How is this new fragrance – City Blossom – an evocation of abstract flowers?
AM: – Freesia, osmanthus and magnolia, which are at the heart of this creation, have common characteristics, such as being at once soft, delicate, fleeting and therefore hard to capture. With such flowers, you appeal to your imagination, you escape, better and further away perhaps than with other flowers that offer themselves to your nose, instantly and directly. The difficulty lies in mastering this evocation, halfway between a natural, crystal clear freshness and a composition which allows a glimpse of a fantasised yet harmonious nature. However, without the magic of pink peppercorn in the top notes, which I have made my signature note over time, the flower would be less abstract.
Smell it in lemon wedges, as in here, let yourself be intoxicated by its intense hints of saffron, and you'll be surprised to discover its metamorphosis into a flower, the instant of a blossoming…
Do you think there are other matches between the world of land art and the universe of City Blossom?

AM: – It's quite disturbing to realise the extent to which this fragrance has points in common with the dawning of a work of art: for instance, the base notes of Virginia white cedar, ambrox and white musks are truly arranged to provide "texture", as if one should find there the superimposed petals of a flower… musk is present as a backdrop, a support to gather the soft notes without the bitterness of white cedar, and ambrox, this "patina" of the perfume maker, adds depth, power and sensuality to the composition whose notes it will end up enhancing in full ! A breath of floral generosity.
If you had to describe L'Eau d'Issey City Blossom in a few words, what would you say?
AM: An outburst of floral poetry.