Oscar de la Renta was one of the most charming men our Perfume Society Co-Founder Jo Fairley ever interviewed: designer, raconteur, gentleman. He's a great loss to fashion – and to fragrance. For more about the story of this couturier and to explore the world of his fragrances, click here – but meanwhile as a tribute, we thought we'd run Jo's interview with Oscar, about the women in his life.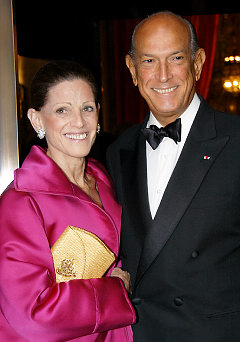 'I have six older sisters, so I've been spoiled by women all my life. But the two women who've had the greatest influence on me were my wives, both very strong personalities. My present wife, Annette de la Renta, was on the Best Dressed List for years before we even met – even though she "hates" fashion. She is the shyest woman. Whenever I have my picture taken, she ducks out of the firing line!
Annette comes from a world in which you only appear in the papers three times: for your birth, your marriage and the day you die. As a designer, I have a high profile. But it wasn't a case of opposites attracting; we have a lot in common: our home, our garden, a love of culture; she's a great book-lover. What's so wonderful about her is that she has fabulous taste and a wonderful eye and she likes things very simple, so she calms down my Latin exuberance. All her life she's had clothes custom-made; for years she's always dressed at Yves Saint Laurent and for a long time resisted wearing my clothes. I tell her, but Annette, mine are free! So now she wears my designs. If Annette doesn't like a collection, I can see it instantly in her face.'
'My first wife, Françoise – who sadly died of cancer in 1983 – would smile for the press even if she didn't like the show, then scream at me when we got home! She'd been Editor-in-Chief of French Vogue, but she gave it all up to come to America to marry me – which seemed perfectly natural, at the time! She was ten years older than me, 45 when we married, and tremendously exuberant. The Duchess of Windsor used to call her "my vitamin A"! She'd never really lived in New York, and to change your life like that is really gutsy. But I know she never regretted it. When she was already ill, I asked her, "Françoise, do you miss Paris?" And she said: "I never, ever thought I made a mistake. But I feel a nostalgia for 'l'heure bleu' – that hour at dusk when the sky turns blue…" She never looked back and in that sense, I'm the same way. I have no regrets.'
'Through Françoise, I met Diana Vreeland, who was then Editor of Bazaar and a tremendous help to me when I first arrived in America from the Dominican Republic. In a lot of ways, she made my career – but she became a great friend, too.
Personally, she was tremendously stylish and had a fabulous sense of humour. Each Christmas, she would come to stay with us in Santo Domingo, back when it was a tiny community – and after 30 years of dictatorship they had certainly never seen anyone like Diana Vreeland. She used to dress in caftans to go every day to the pharmacy at 5 o'clock, where she could buy all the latest vitamins and slimming pills without prescription.
A friend of ours would take her, and he'd come back and say, "you can't imagine, every afternoon people are staring at her like some strange bird!" And then one day Diana came down to breakfast and said, "sadly, tomorrow, I have to go." And we said, "What do you mean?" And she laughed, "every day I've been going to the pharmacy and every day there were more and more people, and I've made a bigger and bigger effort – and now I've run out of ideas. So I have to go!" Afterwards, the lady who ran the pharmacy changed the name to Farmacia Diana.'
'Like every kid, I went to the movies to see my screen heroines. My favourite star was Ava Gardner; I thought she was the most beautiful woman I'd ever seen. Later, I went to Spain to study art, and I wanted to immerse myself in everything Spanish, the very soul of Spain – so on the first Sunday, I went to a bullfight. One of the bullfighters laid his cape down for a woman in the audience; everyone started talking and looking and I could see, even from my seat way, way up, that it was Ava Gardner. From then on I could hardly look at the bulls. I calculated which route she'd take to leave the stadium, and left a little early. She left early too, to avoid the photographers, and suddenly Ava Gardner was there, running towards me. I stood in front of her and said, 'my name is Oscar de la Renta and I come from the Dominican Republic.' And she said, "how sweet!"
Years later, after I met her at a party in Madrid, we became friends, even flirted a little. But by then, she was in her late 30s and used to drink a lot and get very drunk. She was wonderful, very bright, but very difficult to be around when she started to drink because she could say horrible things…'
'When I arrived in America I became very good friends with C.Z. Guest, who was married to Winston Guest, and one of America's great beauties. Until I got married, I had a room at her house and spent practically every weekend there.
That's where I met the Windsors and got to know the Duchess very well. The Duchess was really fantastically well-dressed. And it wasn't just access to great clothes: I know a lot of women who wear a grey skirt and a grey sweater and are a lot better dressed than women who spend a fortune. It's to do with having a sense of yourself. It all starts with good grooming. I always say, "to be well-dressed, you have to be well naked." If you don't feel good, you can't look good.'
'Who have I loved to dress? Any woman who buys my clothes. But I do remember one time Audrey Hepburn fell in love with a dress she saw on my wife, and I was so proud because Audrey looked so beautiful in it. It's been a thrill to dress incredibly stylish women like her, or Mrs. Gloria Guinness, or Babe Paley.'
'When I was a boy, of course, my mother was a tremendous influence in my life. They used to call her "Madame Georgette", because she was always dressed in georgette dresses. She was quite controlling, always very protective of me. But at the same time, she encouraged me hugely. I loved drawing, ever since I was a boy, and desperately wanted to be a painter.
My father wanted me to take over his insurance business, as the only son, but my mother helped me – and ultimately, made the kind of sacrifice only a mother will make. She had multiple sclerosis, and was very sick – although I didn't know how sick – and she forced my father to send me to art school in Spain, knowing she'd probably never see me again. Which is what happened. So, in a way, I owe everything to her. I always say that my mother's revenge is that by the time my father died, I was making far more money than him!
My sisters were wonderful to me, too, especially the eldest two.'
'My oldest sister married when I was six years old, so they were like extra mothers to me. After art school, my father still wanted me to give up this 'fashion nonsense', but I couldn't face going back home, living with a stepmother I didn't know. So I started doing fashion illustration for magazines and newspapers, for extra income, and to prove to my father that I could make some money. And my sisters were fantastic, because behind my father's back, they would send me money, so I could pretend to him I was making more money than I really was. Nobody could have wished for more support and help from any group of women. So of course, I've paid them back in clothes. But more importantly, in love…'
Jo Fairley