Fragrance oils fell out of favour for a while, but there's no doubt they're back – a trend we've watched build over the past year in to a full-on fragrant flurry.
Perfume oils are perfect for layering scents – you can prolong the strength and life of your perfume by adding an oil (on top or underneath – both ways are absolutely fine) in either a complimentary fragrance that enhances the notes of your chosen perfume, or a contrasting scent to boost an aspect you wish was there.
So, if you have a perfume that's too sweet for your tastes now, try adding an oil that's citrusy and fresh; if a fragrance smells too harsh, soften the edges with a vanilla or musk-based fragrance oil, and so on.
Think of it like cooking a recipe, and 'tasting' as you go – balancing the flavours until you reach the perfect blend. Or, if you're a perfume purist, of course you can simply enjoy wearing these fragrance oils alone…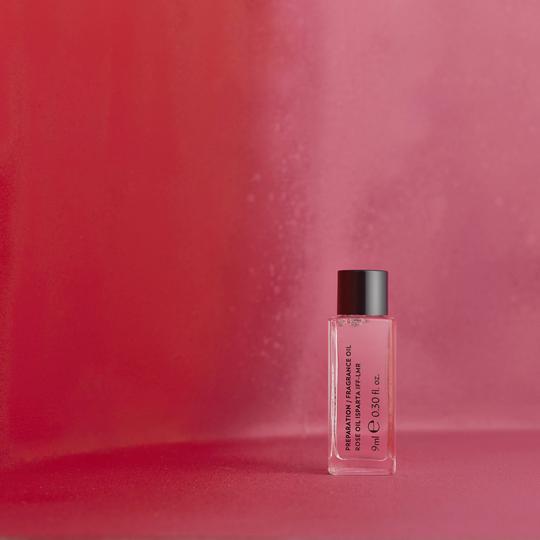 We can't get enough of Ostens oils – impecable quality (they source them directly from IFF and, uniquely, make them available to the public for the first time), and they actively recommend you try layering them with any fragrances you already own. We love ramping up the rose in a perfume by adding this one – it's like diving head-first into a mountain of freshly plucked petals. Exquisite examples of Jasmine and Cedarwood are also available, with Patchouli Heart and Cashmeran coming soon. We can't wait to play!
Ostens Rose Oil Isparta £65 for 9ml perfume oil
If your Summer scents still seem a bit flighty to wear, add some depth with this deliciously fragrant oil – an unexpected mix of spice-infused bergamot and plum with an addictive leather/amber dry down that lingers for hours. Malin & Goetz like to surprise, and all their perfume oils are cleverly blended and rather sophisticated scents – so with this one, don't worry, you wont smell like you've been hitting the bottle! The roller-ball application makes this especially useful for travelling or touching up your scent on the go.
Malin & Goetz Dark Rum £40 for 9ml perfume oil
Presenting the dinkiest trio of roll on perfume oils to allow you to create a signature scent by layering together, using in combination with other perfumes you have or wearing alone. Mocha Bloom has infused espresso with musky floral tones, Leather Haze fuses smooth woodiness with ripe berries and Vanilla Satori mixes spiced honey sweetness with the freshness of citrus and rich undertones of tobacco leaves.
& Other Stories Tailor Your Story Layering Scents £19 for 3 x 4ml perfume oil
As part of the gloriously packaged, apothecary-style The Alchemist's Garden collection, Gucci spoil us with14 scents, comprising seven Eaux de Parfums, four Perfumed Oils and three Perfumed Waters, all composed by brilliant perfumer Alberto Morillas. Designed to be layered in the most luxurious way, the four oils are poetically named and elegantly scented – and we think they look fit to be displayed on Marie Antoinette's dressing table. We loved the violet oil that walks a tightrope between powderiness and verdancy, a perfectly delicate touch to layer with green and forest-y scents.
Gucci Alchemist's Garden A Kiss From Violet £295 for 20ml perfumed oil
Fragranced body oil are another great way of layering (and making your perfume last longer). Fans have flocked to this warm fragrance, and now you can smother yourself in the decadently rich oil as well – it's powerful enough to wear alone, or really lovely layered with lighter scents. Warm ambergris and cedarwood are buoyed by luminescent jasmine, with distinct undertones of caramelised brown sugar to my nose. Argan, sweet almond and apricot kernel oils have been used as the base, making this gorgeously moisturising but never greasy.
Maison Francis Kurkdjian Baccarat Rouge 540 Scented Body Oil £75 for 70ml
Written by Suzy Nightingale