&nbsp
Feel the Mugler AURA as 'botanical meets animal'
ANGEL, ALIEN, A*MEN and now… AURA. Invited to the press launch of Thierry Mugler's latest perfume in the alliteratively fragrant lineup, we just had to sniff out this place where 'botanical meets animal', all housed in the most gloriously decadent green bottle that resembles something from The Wizard of Oz's Emerald City.
Intrigued? Join us as we get up close and personal in a steamily-scented jungle…
Created by the fantastically talented foursome of perfumers, Daphné Bugey, Marie Salamagne, Amandine Marie and Jean-Christophe Hérault, working together on the project under Mr. Mugler's guidance; this is the first major new fragrance launch for Mugler since Womanity in 2010. No wonder the perfume world has been holding its breath in anticipation of this latest – Mugler are known for their groundbreaking (some may even say deliciously weird) perfumes that cause olfactory ripples and, eventually, become absolute icons.
Mugler describe the new fragrance as being a place '…where animal dominance meets the power of plants. A divine, new concept of femininity – a call to follow your instinct and obey your senses, to tap into your deepest desires and unleash the inner force waiting to break free.' Well, goodness. But what exactly does Aura smell like? To be honest, we're just not entirely sure! Greenly sweet yet freshly smoky, it's an harmoniously blended scent that's difficult to define and a definite all-day wrist-sniffer your nose keeps going back to for another hit of gorgeous peculiarity.
Let's try to nail this down…
Thierry Mugler says: 'Aura is the irresistible charm unleashed by the fragrance's allure…'
The tang of rhubarb leaf melts into the intriguingly named – and rather mysterious – ingredient named 'tiger liana'. Trying to pin down exactly what this magical note may be proves tricky as it's a top-secret and apparently never used before in perfumery, but having assiduously sniffed, we think the uniquely green woodiness must be (in part) down to this… But the surprises aren't done with, yet, for a soft breeze of orange blossom seemingly floats above a cannopy of trees before plunging down to the creaminess of bourbon vanilla and earthily smooth and fur-coat like warmth (and exclusive molecule) 'Wolfwood' in the base. A hazy sap-laden mist that swoops and glides, this is something you absolutely have to smell – and give time for the oddness to kick-in. Perhaps not a room-filling perfume bomb that will divide the crowds in the way ANGEL and ALIEN certainly have – there's perhaps a less obvious, deep level of olfactory intrigue at play here, and one that's well worth your while exploring…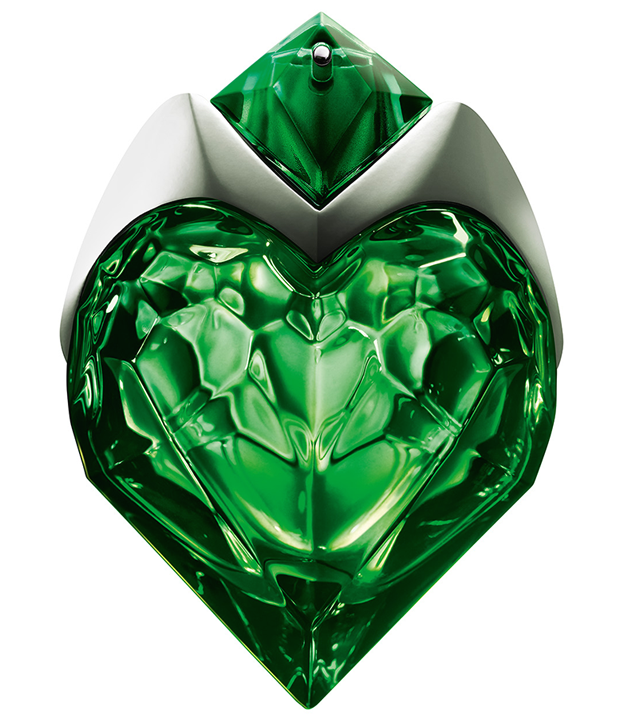 Thierry Mugler AURA from £49 for 30ml eau de parfum
Available nationwide from 30 June 2017
Written by Suzy Nightingale