Marine, aquatic, ozonic, oceanic – all terms applied to the sea-like, beachy scents that were so popular in the 1990s, and which we're now seeing a huge surge of once again. Having been considered deeply unfashionable for so long, what's causing this 'new wave' right now…?
There was a period in the '90s when, if you turned on your television or flipped through a glossy magazine, within minutes you'd likely be greeted with the image of oiled, sun-tanned men in tight pants diving from boats, cliffs or helicopters into water. The fragrances they were advertising had an easy, breezy sporty freshness and were, inevitably, drowning in an ingredient called Calone.
If you've ever smelled a scent and been reminded of the sea, chances are it contains something called Calone – a synthetic aroma compound developed by Pfizer in 1951. Discovered accidentally, when searching for a food additive to give the taste and aroma of watermelon, chemists had stumbled across a sea breeze, bottled. But it wasn't until 1988 the popularity for using it in perfumes began – Yves Tanguy adding Calone to Aramis New West, Pierre Bordon to Davidoff Cool Water – and the trickle became a veritable tsunami, sparking a new fragrance family sub-category of 'Aquatic' or 'Ozonic'.
Marine Biologist Wallace J. Nichols is fascinated by the resurgence of this aquatic allure, and says 'I believe that oceans, lakes, rivers, pools, even fountains can irresistibly affect our minds.' He devoted a seminal book to the subject – Blue Mind: The Surprising Science That Shows How Being Near, In, or Under Water Can Make You Happier, Healthier, More Connected, and Better at What You Do, eschewing the purely philosophical approach and instead, pooling scientific research to discover exactly why this might be. 'We are inspired by water,' he explains, 'hearing it, smelling it in the air, playing in it, walking next to it, painting it, surfing, swimming or fishing in it, writing about it, photographing it, and creating lasting memories along its edge.'
In the Summer 2021 'Perfumed Vagabond' edition of our multiple award-winning perfume magazine, The Scented Letter, I take a much deeper dive into the history of these marine fragrances, and their contemporary versions. But this new wave continues to swell – I believe because the sea grants us serenity, perspective and allows our minds to rest awhile amidst the vastness of the ocean. Similarly, sea-like scents give a feeling of travelling with our noses, hopefulness and the promise of adventuring again!
You'll find our full list of marine-themed fragrances in the magazine, but here we share with you other fragrances making ripples right now – some new waves, and others that make up the wider olfactory ocean. OIne thing's for sure: it's definitely safe to venture into these fragrant waters again…
Storie Veneziane by Valmont Palazzo Nobile Sea Bliss is an invitation to travel, a free-spirited scent that 'nods elegantly to the invigorating, salty air of an azure seaside.' Radiantly fresh up top, evocative of sun-kissed skin in the tiare-rich heart with a comforting caress of soft musk in the base, 'It is a breath of freedom cradled by intoxicating trade winds' that makes you pause awhile, drop your shoulders and dream…
£136 for 100ml eau de toilette lamaisonvalmont.com
Cartier Rivières de Cartier Insouciance A water-inspired trio are the olfactory expression of Mathilde Laurent's belief that water carries within it 'the scent of every organic or mineral element that it meets: leaves, flowers, wood, roots, fruits…' Insouciance playfully sparkles, contrasted by cool shade of fruit trees, so deftly conjured via irises, violets and green elements.  £84 for 100ml eau de toilette selfridges.com
JUSBOX Feel 'n' Chill Feel n' Chill wraps you in a blanket of fluffiness – soft musk shushing the freshness of lazy waves, lush coconut water and juicy watermelon adding a slight booziness to the dry down. Lay back and drink of England as you watch azure seas roll ever onward, your blood pressure dropping deliciously with every aromatic breeze.
£140 for 78ml eau de parfum Exclusively at selfridges.com
4160 Tuesdays What I Did on My Holidays A proper 'staycation' seaside holiday, with all the sticky-fingered memories of candyfloss smiles, sudden downpours with the hope of 'it's meant to be brightening up, later!' Exploring mossy rock pools while smeared in suntan lotion, burning your thighs on pleather seats, minty sticks of rock that last forever and salty, kiss-me-quick selfies. Sheer joy, bottled, in other words. £40 for 30ml eau de parfum 4160tuesdays.com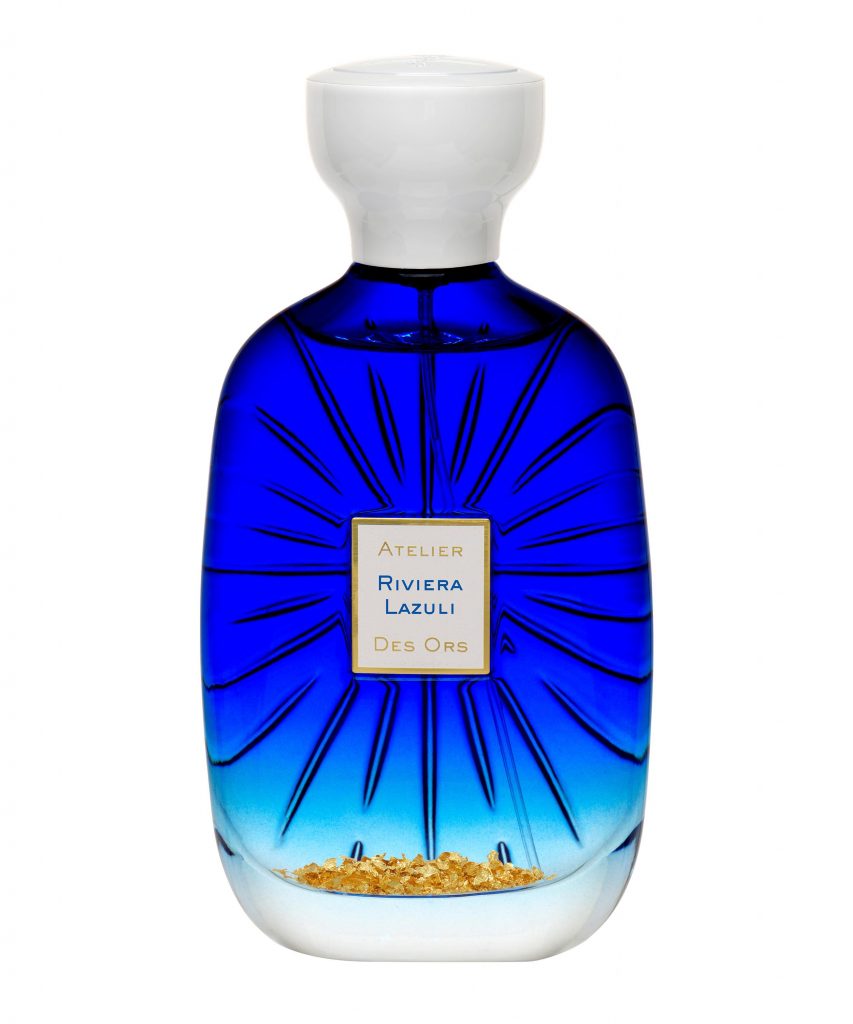 Atelier des Ors Pomelo Riviera An olfactory ode to the French Riviera, one glance at that deep blue bottle and we're halfway there… Adding armfuls of sun-soaked citrus and a tang of salty air, let's use scent memories to inspire future holidays and keep us aloft, no matter where we are. The signature gold flecks swirling in the juice are mesmerising, meanwhile – the glint of sunshine on water. £225 for 100ml eau de parfum libertylondon.com
SKANDINAVISK Kapitel 4 Island Solitude Sea breezes slice through gnarled crab apple, dog rose and moss. This marine floral invites 'exploring glittering Scandinavian waterways under sail… navigating with no fixed destination, and encountering rocky shadows to escape upon.' At a time when travel's so tricky, we are thankful to escape on scent's magic carpet, instead. £45 for 50ml eau de toilette skandinavisk.com
Perfumer H Salt Gusty walks on wind-whipped dunes, Lyn Harris weaves wild herbal notes of rosemary, white sage and coriander with angelica seed and cardamom, with the earthiness of patchouli and oakmoss mellowed by orris. An interesting 'fresh Chypre', aromatic and yet sexy at the same time. From £150 for 50ml eau de parfum perfumerh.com
Coach Blue Aromatic lime and absinthe dives into cool, crystal clear blue water, salty laps enlivened by the warmth black pepper before we climb out and rub down with a warm fluffy base of dry cedarwood and the welcome glow of amber. Lacking energy? This scent will revive your spirits! £29 for 40ml eau de parfum escentual.com
Written by Suzy Nightingale