Tissues at the ready, because this is all just too lovely…
After his wife lost her sight at the age of 52 within just a week, following complications from diabetes, Mr Kuroki wondered what to do to make his beloved smile again. Locking herself away and living a life of seclusion after going blind, Mrs Kuroki was utterly distressed not to be able to enjoy the outdoor life she was so used to – the couple were dairy farmers in Shintomi Town, Miyazaki Prefecture in Japan, married since 1956 and working hard every day – a life that seemed lost to her, now.
Her husband thought that if he could perhaps tempt her outside again, if perhaps a few visitors might come every day, that her life would be improved. Little could he have known what a huge and lasing impact his next decision could have on both their lives…

Vowing to connect his wife to the nature she so loved, Mr Kuroki set about picking a highly fragrant plant that she could enjoy smelling even though she couldn't see the flowers anymore. With this in mind he began clearing the land, a process that took two years in all, eventually creating the perfect environment to grow a huge carpet of tiny pink flowers called 'shibazakura' in Japan, or more commonly known as phlox to us.
As the buds began to bloom, word spread of their touching love story and the mass of colour and scent it inspired, 'a few' visitors has now, more than a decade after the first phlox was planted, become a must-see (and smell!) destination for up to an incredible 7,000 people on any one day, during the peak season of late March to April. What once were the cow sheds have now been transformed into an information building to house pictures of the couple and their story, and of some notable local dignitaries who have visited them. The couple often receive the visitors in person, and from the pictures, it certainly seems as though his wish came true:
Mrs Kuroki has a lot to smile about, now.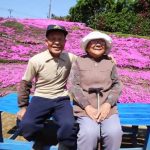 Do have a look at the official website for more stunning pictures of this unashamedly heart-warming story – the text is all Japanese, and though we know of several readers who are fluent, here's the all important address details for those of you who aren't, and are planning a trip to Japan:
Miyazaki-ken, Koyu District, Shintomi, Nyuuta 17180-1
One teeny word of warning for people wishing to recreate this carpet of colour is that the scent of phlox is apparently quite similar to that of the cannabis plant – read more here – so we may be playing safe and enjoy looking at the pictures, or hopefully one day visiting in person, instead.
Written by Suzy Nightingale