Above the splendidly deshabille Wilton's Music Hall in London's East End, a slightly nervous man in a denim shirt and dapper hat addresses the expectant crowd who have gathered to hear him speak. 'It's slightly rough around the edges, Margate, but that's sort of why I love it…'
In front of him glass bell jars cover amber coloured perfume bottles, and this incarnation of The Perfume Salon – a regular event gathering fragrance fans, artists and musicians – continues with music from The Ottermen, cocktail drinking and a general air of jollity. Fragrances with only GPS coordinates for names are sniffed, and somehow the seaside air has been transported here, along with the optimism and excitement that seems to glow from Haeckels founder, Dom Bridges.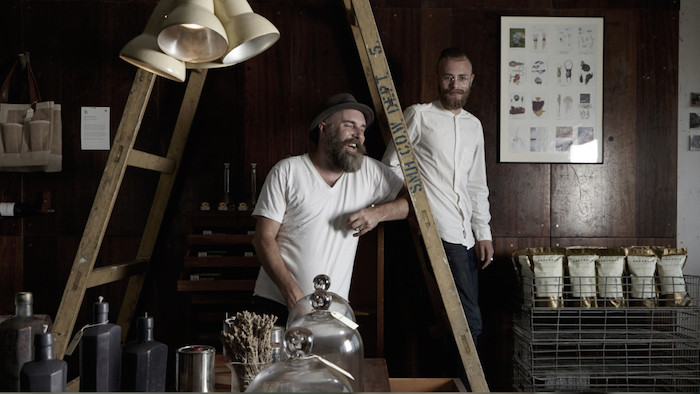 Talking to him before this evening celebration of local, British ingredients began; Dom explained his raison d'être to The Perfume Society:
'Everything is locally sourced, within reason. Obviously we can't harvest on the scale that some other perfumeries do, so we're using things like Headspace Technology to provide us with stable equivalents that we can alternate with to be able to get our production numbers up. But as a source, as inspiration, it's borne out of a love affair with this place, that people sort of forgot about.
A big part of its culture is art and hedonism, but in the past it was all about being a health oasis – there were so many treatments that originated from Margate, and if you could just scratch the surface and pick up the shopping trolley left on the beach and look beyond that – there's a Jurrasic chalf reef that allows three types of seaweed to grow there that aren't found anywhere else in the world! There are also all sorts of amazing local plants that don't traditionally make it into perfumes, but which have their own unique characteristics and which we very much wanted to reflect in our fragrances and beauty products.'
Each of the fragrances have been directly inspired by a particular local locations they feel an affinity with.
In fact, they aren't given names at all, and are only discernible from one another by their distinct GPS coordinates, with each of the hand-crafted products being developed in their mad-professor like cliff-top lab in Margate…

GPS 23' 34"N
Picked on 25th March 2014, a sunny day.
'This location is one that is close to our hearts, an uninhabited bay with remnants of beach use in times gone by and only a raw natural beauty left behind to enjoy.
A man made bathing pool bridges the gap between the sea and land, an iconic reminder of a past popularity and a link between man and effects on the nature of the landscape. Walk along the sandy beach with sand and salt on your skin and take in the aromas of fresh seaweed, the chalk reef and seawater.
Listen to the sound of the wind blowing through the long cliff top grasses, black lovage and distinctive white flowers.'
The relationship of smell and your surroundings is such a powerful yet intimate connection, and the idea is that you will sniff the perfumes based on nothing but whatever you think of when you smell them – there are no exotic names or flashy advertising campaigns to pre-suggest what you will be experiencing.
Dom particularly loves the thought of people looking up the GPS coordinates of a fragrance they have fallen in love with, only to discover it's based on – for example – a particular cemetery in Margate, or an abandoned theme park that was once a Victorian ornamental garden and still has roses growing through the charred wood, where they were originally planted.
As Dom gleefully chuckles – 'I want people to enjoy what's right under their noses, to suddenly spot that wild flower growing through the cracks in a pavement!'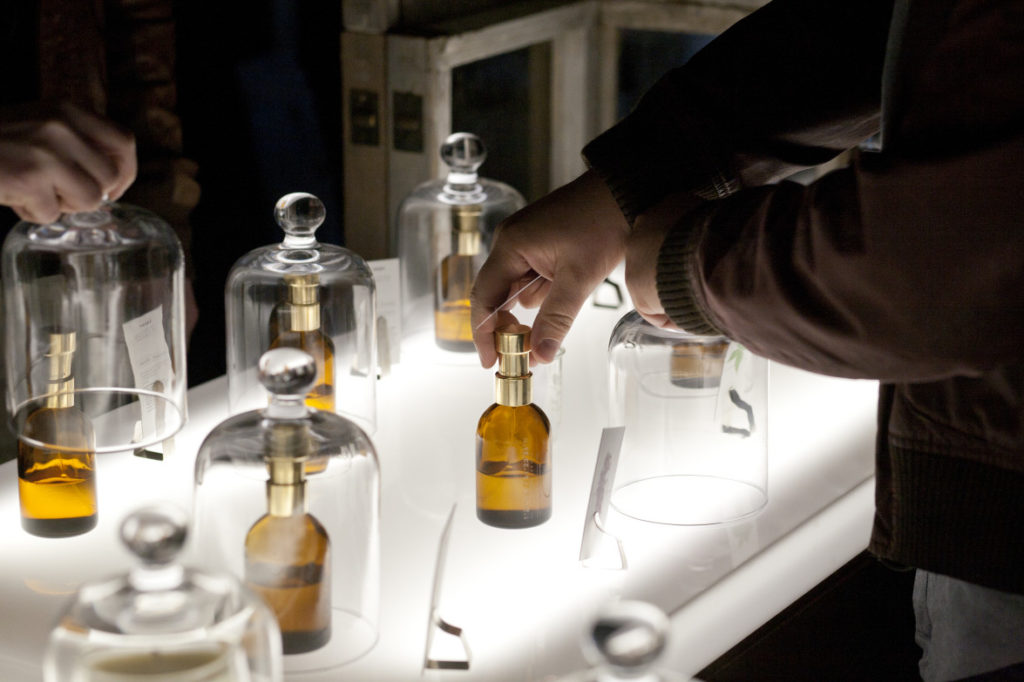 Eau De Parfum / GPS 23' 5"N
Picked on 9th February 2014. cloudy day.
'Originally a 19th century amusement park with ceremonial gardens, this place is the historic center of the town with many people sharing fond memories of being on the now disappeared rides. The most prominent memory that is widely shared is riding the large wooden scenic railway style roller coaster which once had over half a million people use it every year.
To experience this location is to walk around this monumental disused ride, itself a victim of arson, with the scent of burnt wood and charred leather surrounding you to then find yourself at the back of the site where there was once the ornamental gardens.
The fragrance of the burnt ride gives way instead to the Victorian roses that are still growing where they were originally planted and have seen the amusement park in its journey from popularity to demolition and finally now to a resurrection as the remaining burnt ride is restored.'
Haeckels have an ace up their sleeve, creating an outpost of Margate in one of London's hippest hangouts – The Ace Hotel, Shoreditch. A stunningly furnished pop-up shop will spend six months in residence at the hotel (next to their florist shop) and will possibly stay longer. If the buzz we saw surrounding Haeckels is anything to go by, they could be flying the flag for Margate all over the world…
Haeckels Fragrances, £160 for 100ml eau de parfum.
Buy them at Haeckels
Written by Suzy Nightingale