As I walk towards the location to interview Mona Maine de Biran – founder of new niche fragrance house Kierin NYC – brightly coloured electronic adverts radiate from various London bus stops en-route, showing their perfume bottles with labels individually designed by fragrance fans.
'Something about Kierin NYC is really resonating with people it seems,' says Mona, absolutely beaming at the pop-up launch where people could design their own bottle labels, print them out and create their own bespoke flacon to keep forever. This innovative and inclusive approach defines the ethos that Mona made sure Kierin remains true to, along with their decision to be completely cruelty free, vegan friendly and to support social groups who mean a lot to them.
'Diversity and inclusion are core to the brand and not just presented as an afterthought. Kierin NYC is a brand for young people of all ages, colors and nationalities,' they state proudly on the website. Inclusive of everyone then, but aimed particularly at a younger market who are searching for something extra, other than just a nice smell in a bottle that means nothing about who they are. For Mona, this means inviting people '…to be inspired, not defined or confined, by fragrance.'
Following a successful international modelling career – which allowed Mona to traverse the globe and visit remote, exotic locations – returning to New York, Mona turned her experience into an insightful lifestyle blog, 'Manhattan Minds', also becoming the champion of the successful TV talent show 'Star Search'. Her husband and co-founder, Didier, worked for over twenty years with with the prestige houses of Chanel, Prada, Bvlgari and Carolina Herrera among the many names on his extensive CV. With Mona's passion for fragrance and story-telling, 'he helped me see that this was an opportunity to create our own fragrances to tell those real stories of the city, rather than those stylised celebrity-driven tales you might see in Sex and the City.'
We wanted to delve deeper in to what makes Mona tick – why it was so imporant to her to keep Kierin NYC real, and close to her heart…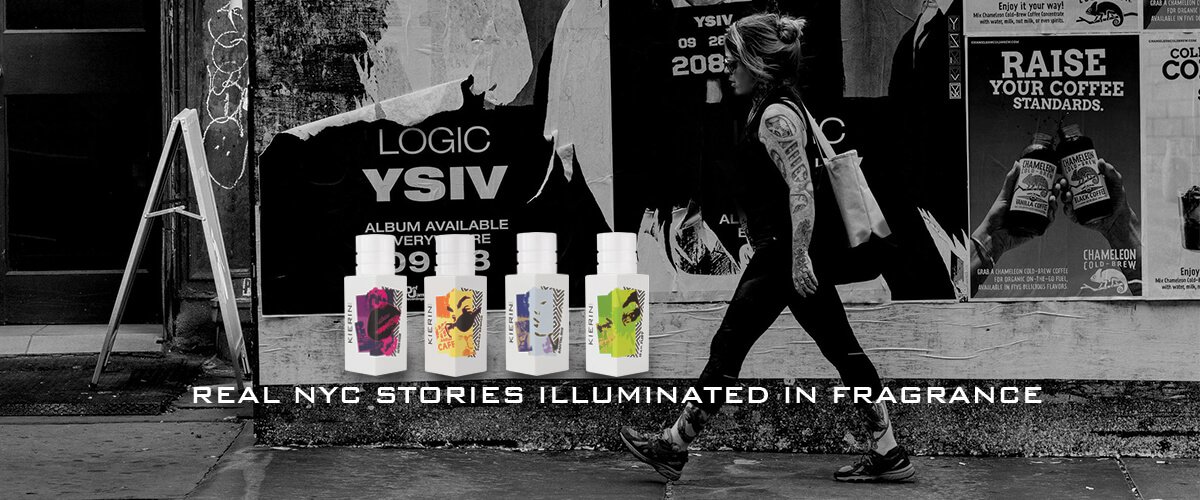 What makes Kierin NYC different, do you think?
Mona: 'There are so many brands that are ostensibly for young people, and yet the images they project are so stereotypical, still – they haven't moved on with the audience who are, they hope, wearing them. You have the perfect woman on a beach, someone up a mountain or in the fields in France. And while I love the fields of France, this doesn't really tell my story of living in New York. I wanted to actualise my "now" as an urbanite – and I think so many people want to do that, to be more present, to have their own reality reflected in the brands they choose.'
What is it about fragrance that's so important to you, and what power do you think it gives the wearer?
'Perfumes are something that universally, viscerally connect with people, You know, they can move your mood. I've always wanted to have a voice and wanted to empower people, and with Kierin NYC we can share a voice, to power people olfactorily. And fragrance tells other people your story anyway, unconsciously, we're radiating these messages all the time!'
You've worked with brilliant young perfumer Mathieu Nardin for the initial four fragrances – why did you choose him?
'We wanted to work with someone who was an up-and-coming talent – we had the opportunity to work with any of the Robertet perfumers, and we loved the way they worked, with such quality and sustainable ingredients – but because Mathieu is so understanding of what we do, and the way we do it, it just works.
We didn't want to present him with a list of notes to include, we wanted to give him a space to use his creativity to the full. So we started with pictures, mood boards, and he immediately knew what he wanted to use to shape that in to reality. He begins with about twenty different versions, and we then work with him to edit those, so we see ourselves as co-creators in that sense.'
Will Mathieu be the perfumer for future fragrances?
'Well we didn't want to be a brand that just had one identity, and one signature – it's all about diversity, right? So with these four I think his signature is a woody accord you can notice throughout. For the next two we'll be working with a different perfumer, to give another voice, another view, and that's the way we want to grow…'
The bottles and imagery are very distinctive, can you tell us how they reflect Kierin NYC's personality?
'These four are very Pop-Art inspired, but we're also working with another artist for the next three fragrances – two new fragrances and a limited edition – and they'll be more graffiti in style. We'll be sticking with the rainbow palette though, because again that rainbow's all about "we are one" and that's imporant to us. The graffiti artist is an imigrant and so for the limited edition we'll be working with him to include notes from his own culture, working as a team with the perfumer to include his voice within the fragrance.
What does "niche" mean to you, now?
'I just don't think you can call yourself "niche" if you have twenty fragrances coming out every year which are no sooner on the shelves than they're discounted, discontnued and in a bargain bin somewhere, or completely unavailable. How can people connect with them? They don't have time!
I don't want to be one of those brands that comes out with a new fragrance every fortnight, I think that's exhausting for consumers too. So we want to make sure the stories we're telling focus on authenticity and integrity for everyone involved. We also wanted to make sure we're accessibly priced, so everyone can get an opportunity to try fine, niche fragrance. I understand the imporantance of those ultra luxury brands, but that's not who we are.'
Finally, we always like asking – because it's so revealing! – what are your five favourite smells in the whole world…?
'Cambodian incense – I've travelled a lot, so the things I love are often smells I strongly associate with places. The smell of this, which the monks burn in the temples, just opens my mind and takes me straight back there.'
'A Californian cliff edge – I lived in California as a little girl, and there's nothing better than sitting on the edge of a cliff and looking out to sea. In Santa Cruz there's a very specific sea salt scent, the waves crashing on the shore and the spray mixing with the breeze.'
'Frédéric Malle fragrances – In Barney's there's refrigerated rooms you can go in to smell the scents, and that was my awakening, in the year 2000, of what niche fragrance could be, and I felt more fragrantically "woke" I suppose! I hadn't yet met my husband, but going there and smelling these incredible fragrances really showed me what niche can do. And they were like nothing else, so unique.'
'My children as babies – I know a lot of people say that, but oh that smell, it's definitely one of the most important for me. It's about our connections with people we love, isnt it?'
'New York – When I think of where I live now, I genuinely connect it with my own fragrances, I feel like I'm there when I wear them, it's a connection with home, so that has to be a success, right?!'
So which KIERIN NYC story will you choose to wear and tell? Feeling sluggish and in need of uplifting? 10 a.m. Flirt is a juicy, green take on fig that feels clean, a go-anywhere scent filled with waxy gardenia and cashmere-soft wood to perk up the soul on grey days and revel in happiness year-round. Another cheering pick-me-up is found in Sunday Brunch – luminous bergamot and sparkling lemon atop a soothing brew of Earl Grey tea and soft, sunshine-y jasmine.
Santal Sky, meanwhile, swathes you in a comfort blanket of cardamom-flecked, creamy sandalwood, a wearable serenity for stressed commuters and desk-bound office workers with decadent saffron-speckled vetiver to delight you 'til dawn, and far beyond. (All of these fragrances are impressively long-lasting.) Perhaps the most impactful, though, is Nitro Noir – a powerhouse contemporary Chypre/floral that positively swings its hips, with ripe pink berries swirled through rich patchouli and dusted with powdery orris for a hypnotic, individualistic hurrah.
Whichever story through scent you choose, we're sure you'll want to explore the whole Kierin NYC range for different moods, and to suit whoever you are that day…
Kierin NYC fragrances £65 for 50ml eau de parfum
Try them at The Perfume Shop
By Suzy Nightingale