Romano Ricci – founder of niche perfume house Juliette Has a Gun – was born to be creative, with roots in both fashion (his great grandmother was renowned couturier Nina Ricci) and perfumery (his grandfather Robert created the famous L'air du temps); but though grateful to his heritage, Romano was driven to make a name for himself and learn the basics for himself rather than resting on his laurels and hoping the prestige of the family name would carry him through.
Romano became an apprentice in the perfumery world, studying for four years and learning from the greatest noses, eventually persuading Francis Kurkdjian – a master of perfumery – to allow him to work with him. Juliette Has a Gun say: 'In the creator's mind, the innocent Juliet of Shakespeare is transposed to the 21st century with a gun… Metaphor for the perfume, weapon of seduction, or simple accessory of bluff, the "Gun" essentially symbolizes the liberation of women towards men…and sometimes with an aftertaste of revenge…'
Wryly humorous names like Another Oud, Mad Madame, Not a Perfume and Anyway, along with intriguing blends of notes are the hallmark of Juliette Has a Gun – a house that pays no regard to the traditional way of doing things just for the sake of it, but creating some truly great perfumes that have been blowing the socks off press and public alike since their launch in 2006.
And we are thrilled to now stock the JHAG Discovery Kit in our shop – filled with EIGHT NICHE FRAGRANCES, including a 4ml Not A Perfume, so you can explore layering all of these wonderful fragrances at your leisure (and pleasure). We think this kit creates a WONDERFUL GIFT and is perfect for when you are on the go. All yours to explore and treasure for only £25.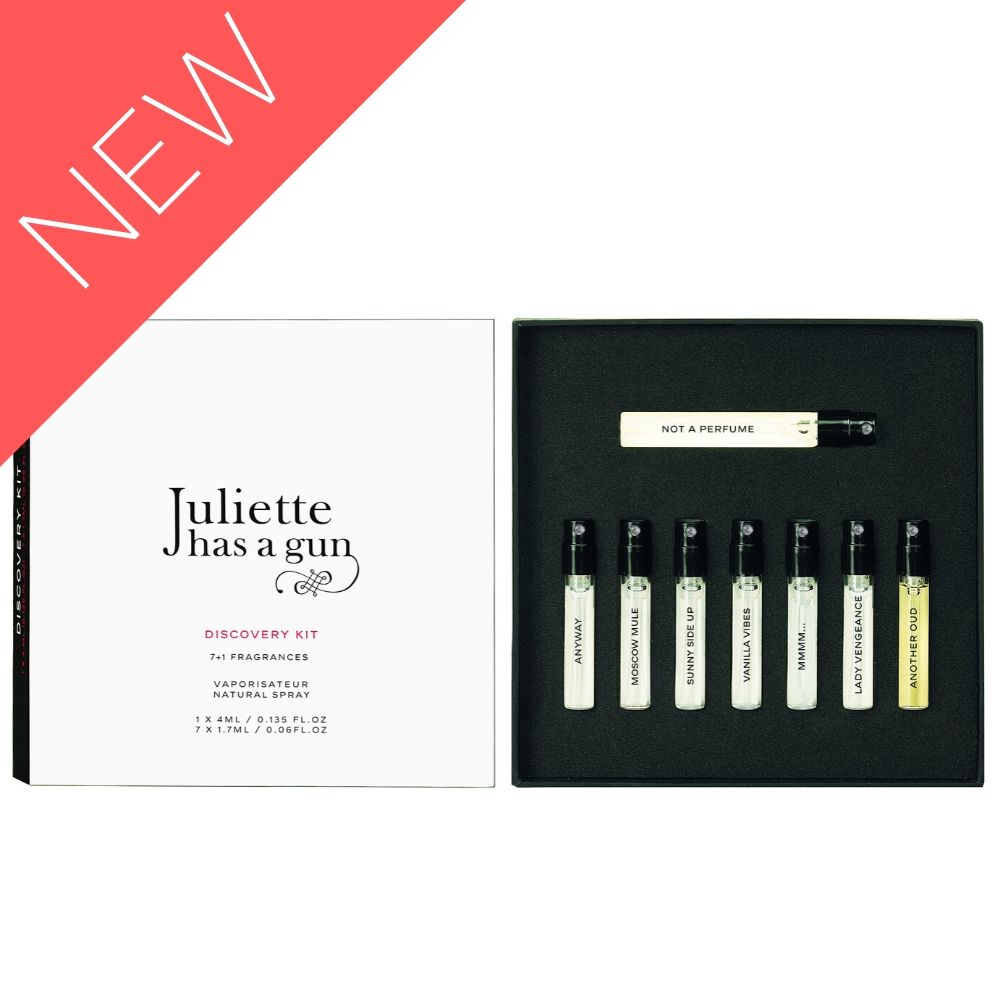 But before we wonder what your favourite smells of their Discovery Kit will be, we caught up with the stylish maverick Romano, and once cornered, got him to reveal the smells he just cannot do without in his life. What, we wondered, makes his nostrils quiver with delight?
Romano Ricci: My five favourite smells…
1. Tomato leaves 'There is something about it. Without any explanation, I am just totally attracted and addicted to this poisoning green smell…'
2. Cetalox 'This is one of my favorite ingredients, I even created a fragrance [NB: it's called Not a Perfume] made 100% of it. I love the fact that some people can smell it and others cannot. It is the beauty of this pure ingredient.'
3. Castor Oil Plant 'It reminds me my passion – car racing. Whenever I enter the garage of my racing team, I smell this odour which immediately puts me in a racing mood.'
4. Lavender 'As a child we used to spend our vacations in our summer house in Grasse. It was called "la Renardiere"  and I loved it very much. It was surrounded by lavender fields. You could smell it all over the place. I should mention, though, that I kind of had a bad experience with the bees! So, it has a bad side to it too…'
5. Play-Doh 'I used to love the smell of it as a child and still do, I am deeply jealous of perfumers like Demeter for instance, who created a fragrance around it!'