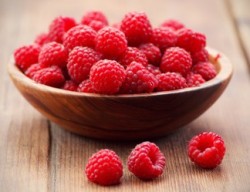 Tangy or sweet, juicy or tart:  more sophisticated than a strawberry, but just as lush.  Raspberries quite often appear, nowadays, as part of a 'red berry accord' in fruity-, or fruity-floral scents.
Cranberries and blackberries have similar aroma chemicals, but mostly, perfumers turn to one of two synthetics to recreate raspberry-ness:  'frambonine' or 'raspberry ketone' (which can also be used as a raspberry flavouring).
Most of us know and love the fruit of the plant – which is a member of the rose family, and is grown all over the world – but just occasionally, the scent of its lightly woody-floral blossom makes an appearance in a perfume construction, too.
'The natural extract is tooth-shaking sweet, seemingly (of course, it isn´t in reality),' explains perfumer Andy Tauer, 'and smells like a raspberry under LSD influence. (I miss any experience there, but I imagine what it might be like!)  In my perfumery work, I use synthetics for raspberry chords, too. Let´s call them "raspberry coupé". They're like berry clay that you can form and shape in all directions.'
He continues: 'I do not use that many fruit chords in my creations, but raspberry is just perfect with roses. And jasmine. I sometimes wonder why the combination of fruits and berries with flowers are so enchanting. Maybe it is because it brings together the ethereal pleasure of scent and the down-to-earth joy of pampering our body with food. One fine day I will buy a few kilos of real raspberry extract, though, and make my ultimate fruity Tauer.'
Smell raspberry in:
Britney Spears Circus Fantasy
By Kilian Back to Black
Chopard Casmir
Donna Karan DKNY Red Delicious
Andy Tauer Une Rose Vermeille
Guerlain Insolence
Lanvin Jeanne Lanvin
Marc Jacobs Daisy Eau So Fresh
Marc Jacobs Oh Lola!
Paco Rabanne Lady Million