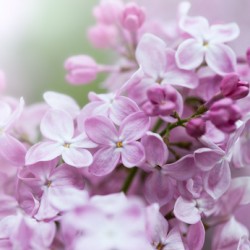 The powdery sweetness of lilacs fill the air in suburban streets and parks in late spring:  short-lived, but utterly beautiful, with their pollen-y, jasmine-like softness, and tantalising hints of almond and roses. As perfumer Andy Tauer tells The Perfume Society, 'Lilac in perfumes is the note of spring, the promise of summer.'
Lilacs were introduced into Europe via Spain around the 16th Century, from the Arabs.  The early fragrant use of the flowers was in pomanders.  Our favourite lilac legend, though, is that the deep floral fragrance was believed in Celtic cultures to transport humans into fairyland and the spiritual world.
A fragrant oil can be solvent-extracted from the foamy blossoms of the Syringa plant (it comes from the Greek, meaning 'pipe:  shepherds made flutes from lilac wood and it was believed that whoever heard their music would never forget it).  Nowadays, a synthetic form of lilac's often used in contemporary perfumery, as it's possible to recreate the tender natural fragrance perfectly, more reliably – and year round.
Do smell deep, though, and see if you can detect intrigue beneath the soft surface. Because Andy observes: 'My white lilac blooms early, due to an early spring in Zurich. I am convinced that I can detect a hidden note of car exhaust, modern car, there. How cool is that? It goes to show: flowers are more than what we see. I love them for that.'
Smell lilac in:
Aerin Lilac Path
Caron Fleur de Rocaille
Caron Infini
Caron Royal Bain de Caron
Chloé Love Eau Intense
Cristobal Balenciaga Le Dix
Elizabeth Arden Fifth Avenue
Estée Lauder Private Collection Tuberose Gardenia
Frederic Malle En Passant
Givenchy Le de Givenchy
Gucci Guilty
Guerlain Chamade
Guerlain Champs Elysées
Guerlain Idylle
Guerlain Mitsouko
Guerlain Nahéma
Lancôme Trésor
Ralph Lauren Lauren
Versace Versace