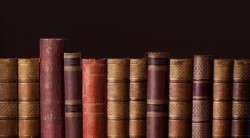 Fragrances can be 'leathery' – but it's not really essence-of-leather in that bottle, as Andy Tauer explains below.  It might be from birch tar (which has a leathery smokiness), or juniper, aldehydes or other synthetics, designed to give a skin-like scent. Patchouli, black tea and tobacco can also conjure up that old library/leather-jacket sensuality.  Women's chypres, and men's fragrances, are most likely to have a leathery sensuality, but perfumers can take leather on all sorts of fragrant journeys:  woody, aromatic, floral, even gourmand.
Here's what leather means to perfumer Andy Tauer, and how he uses it in his creations. 'The first association, when you tell me "leather", honestly, is "Swiss Army" and me serving there as soldier: my generation had the privilege of serving in thick leather shows that were made to endure a Swiss invasion of Moscow, including the way back. Solid and as uncomfortable as can be. Every evening we had to brush them, polish them. As mixed as my memories of proudly serving in the Swiss Army are, I loved the scent of my leather boots. Rough leather, made from Swiss cows, with a thickened skin due to a happy but rough life in the Alps (we can dream, can't we?). Leather in perfumery is not a natural essential oil that you buy.
He echoes our comment above: 'You have to make your leather chord. Birch tar can be one of the ingredients going in there. Leather as side note brings out, by contrast as so often in perfumery, flowers. Flowers bloom on skin when there´s leather in the base of a fragrance. It is like sticking bright colored flowers into my army boots. Wonderful, and a reminder how precious peace is.' 
Leather and perfumery go way back together, meanwhile.  The links are rooted in the tradition of the 'gantier parfumeurs', a guild of glove-makers in Paris who fashioned gloves for royalty and the aristocracy as far back as the 15th Century.  The whole tanning process smells repulsive, though, so leathers were treated with oils, musk, civet and ambergris, to mask the smell of the animals' skins.
The very first 'leather' scent, so far as records show, was worn by King George III:  Creed's Royal English Leather.  He was so taken with the smell of scented gloves that he asked Creed to make it into a fragrance – and you can still smell that today…
Smell leather in:
Boadicea the Victorious Complex
Boadicea the Victorious Warrioress
Caron Tabac Blond
Chanel Les Exclusifs 28 La Pausa
Chanel Les Exclusifs Cuir de Russie
Dior Les Créations de Monsieur Dior Diorling
Guerlain Shalimar
L'Artisan Parfumer Dzing!
Paco Rabanne 1 Million
Serge Lutens Cuir Mauresque
Tom Ford Tuscan Leather