Deep in the heart of the forest, where the myriad sprites flit, in the mythological world you might happen across the tree spirit known as the dryad. Usually linked to the oak, these nymphs are suposedly tied to the spirit of trees, with some ancient texts suggesting they live for many hundreds of years – only dying when the tree itself expires.
Woodlands and forests have long been inspirational springboards for creative minds, and of course are ripe for exploration within the artistic world of perfume. Yet the majority of fragrances inspired by such verdantly shadowy spaces tend toward the ultra masculine side of the scent world. Thus we have been offered various fougère ("fern-like" fragrances, the first of which was Houbigant's magnificent Fougère Royale in 1882) and woody/green variants that inevitably put one more in mind of Tarzan swinging through the treetops and beating his hairy chest, rather than nymphs a-frolicking in gauzy gowns… Until now.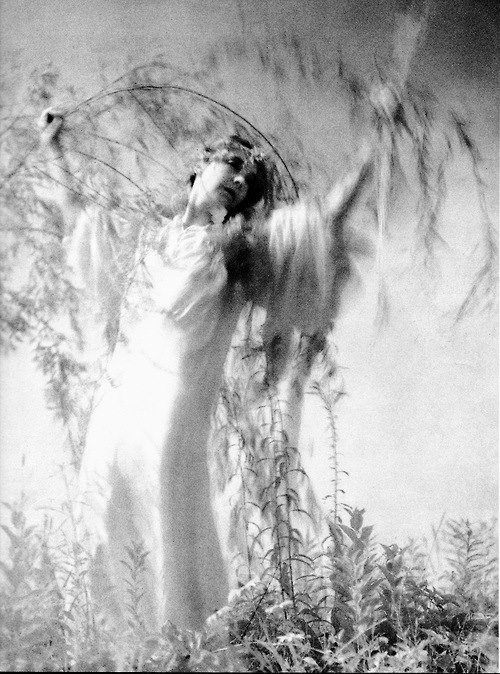 Dryad is the hotly anticipated fifth fragrance in the Papillon Perfumes collection, and for which the brilliant self-taught perfumer and founder of Papillon, Liz Moores, has combined mossy depths with a rolling misty "otherness" and that chic style of an uber-feminine fragrance that genuinely feels like it could have been composed in the 1920s.
As Liz herself describes,  'vibrant emerald Galbanum weaves with the delicate flesh of Bergamot, the nomadic wanderings of Dryad begin. Beneath jade canopies, sweet-herbed Narcissus nestles with gilded Jonquil. Shadows of Apricot and Cedrat morph radiant greens to a soft golden glow.'
Wearing this feels like being transported to the set of a Lord of the Rings fashion shoot, styled by the surrealist photogropher Man Ray and starring Lillian Gish draped around a tree in a barely there dress made of precariously placed leaves.
It's overwhelmingly green with dewy galbanum at first, leading you onwards with armfulls of orange blossom and dry leaves crackling under bare feet. Lurking in the shadows are half-glimpsed creatures of fur and fang, the dry down a splendorous plunge in to the vintage chic aura of some lost-classic chypre that lingers beguilingly, all foxy minx leading you a merry dance and never quite knowing where you may end up if you follow the path all the way…
Dryad's notes:
Cedrat, bigaradier orange, bergamot, narcissus, oakmoss, jonquil, clary sage, orange blossom, lavender, orris, vetiver, thyme, galbanum, costus, tarragon, apricot, benzoin, peru balsam, deertongue, styrax.
If you follow Liz on Instagram, you'll notice she's surrounded by woodlands, her idyllic looking home seemingly full of the abandoned or injured animals she looks after, contented cats and rosy-cheeked children, so little wonder nature-loving Liz was inspired to create this perfume. And it seems everyone who's tried the samples thus far are also joining the queue to trot down that shady forest path…
Papillon Artisan Perfumes Dryad £125 for 50ml eau de parfum
Buy it at papillonperfumery.co.uk
Written by Suzy Nightingale