How to buy fragrance at Christmas? Where do you even begin? Well, right here with The Perfume Society's everything-one-click-away guide! From nervous noses to designer divas and scented gents, we've even got the perfect gift for overseas friends. Start (and finish!) your shopping right now…
When you're not sure exactly what scent to get, or are sick of giving loved ones the same old thing, our overwhelming feedback from happy customers suggests a Discovery Box is definitely the way forward. Bursting with luxurious and often hard-to-find mini, try-me size scents and decadents beauty extras, each box is specially curated around a theme or with a particular kind of perfume-lover in mind.
At The Perfume Society, we've something to suit pretty much everyone, no matter how picky about perfume they are! From designer name divas to scented gents about town, millenials desperate to discover what suits them best and those keen to branch out with something different – get those pens ready and see how many gifts you can tick off your shopping list in one fell swoop (and all from the comfort of your sofa/desk/bed!)
Packed with even more new niche scents, there's an incredible 13 fragrances curated, including a stunning 7.5ml of Anima Vinci Neroli Wisdom. Alongside treasured houses such as Amouage and Atkinsons we've included exciting newness from Parterre, fragrantly evocative Stories by Eliza Grace, Memoize, perfumed provacteurs The Modernist, and the brilliant UK niche house of Tom Daxon. But it doesn't stop there… Keep their complexions glowing (no matter how many nights were spent partying) with the recent GOLD AWARD winning skinSense ANTI-AGING Overnight Leave on Mask (WORTH £8.50) – and ensure their hands smell and feel wonderful with the bestselling Balance Me Super Moisturising Hand Cream (WORTH £10). If you don't know these names, we're betting you AND your fragrance loving friends would love to discover them…
Niche Collection II Discovery Box £19 /£15 for VIPs
If you're not sure what fragrances are currently in their collection, plump for some perfumes that only came out recently. With that in mind, we curated a selection of the newest and most exciting fragrances we've seen and smelled this year. It includes sunlit AERIN Hibiscus Palm, whisk-you-to-the-Riviera Tory Burch Bel Azur, and so-pretty Philosophy Amazing Grace Ballet Rose. If they prefer their scents darker and with more intrigue, they'll love the Clive Christian duo – Chypre 'L' for Women and Ambrée-woody 'L' for Men. And they can also enjoy the sophisticated Lalique Noir Premier Illusion Captive, Shay & Blue Black Tulip, together with the new KENZO WORLD.
Latest Launches Discovery Box £19 /£15 for VIPs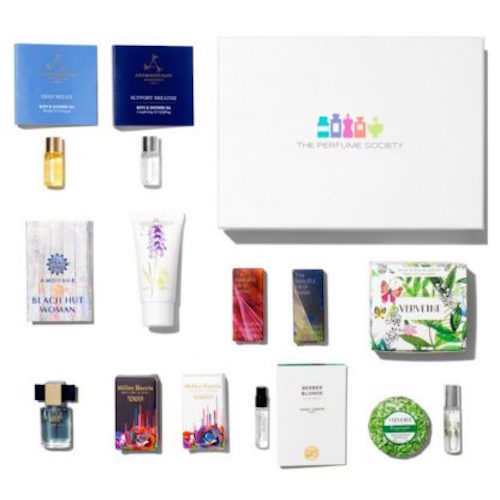 Know someone who's stressed, had a horrible year or just deserves some scented pampering? Invite them to take some time and indulge their senses with the glorious scents in this box. The perfume houses range from Amouage to Sana Jardin, Estée Lauder to Fragonard, together with duos from an exciting niche house called The Beautiful Mind Series and the ever-fabulous Miller Harris. We have also included some indulgent little extras to help them really unwind: a sumptuous Heathcote & Ivory Lavender Fields Hand Cream and from Aromatherapy Associates, Deep Relax and Support Breathe Bath & Shower Oils.
Treat Yourself Discovery Box £19 /£15 for VIPs
Is there a male in your life who's stuck in a rut, and really needs to get their fragrance game together? Give them our most generous men's collection to date, with sensational scents including Creed Viking (winner of The Fragrance Foundation's Best Male Fragrance 2018!), niche offerings from Nejma, Floris and Jack (Richard E. Grant's fragrance line) and the new Shay & Blue King's Wood, among this divine selection. Plus as a special treat, we are throwing in a FULL-SIZE Escentric Molecules 03 Body Wash (worth £20 alone!). With so many incredible fragrances to choose from, anyone will feel like a new man…
The New Man Discovery Box £19 /£15 for VIPs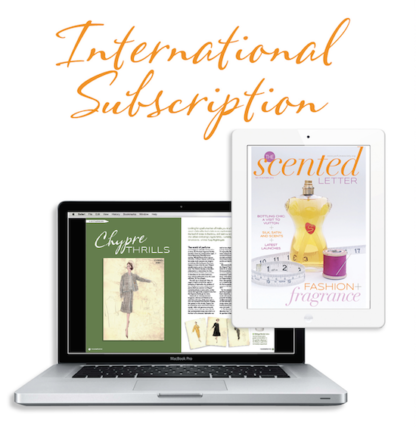 Alas, due to postal restrictions (don't get us started) we can't ship our boxes overseas – and we're as gutted as you are about it. BUT that doesn't mean fragrance loving friends and family living outside the UK should miss out. We can now offer International Subscriptions to our multi-award-winning digital downloadable magazine, The Scented Letter.
We take full advantage of our privileged access to all the leading 'noses', perfume houses, latest launches, news, exclusive interviews and more to ensure The Scented Letter is your finger on the pulse-point of everything that's happening in the scented world!
The Scented Letter Magazine International Subscription £20 for a full year
If they're obsessed by fragrance and very possibly will need new shelving units from Santa, just to hold the scents they already own, why not welcome them to our world?! As a member of The Perfume Society VIP Club, they'll receive the following exclusive benefits…
•  Six issues a year of our online/downloadable digital magazine The Scented Letter – (virtually) the only publication in the world devoted to all things fragrant…
• Exclusive competitions with fab fragrant prizes – including bottles signed by perfumers.
• An exclusive monthly 'insider offer' – special offers from top-name fragrance houses, and ONLY for our VIPs.
•  Early access to tickets for all our events – meet with leading 'noses' and key figures from the perfume world, attend in-store events, workshops, etc. (Our VIPs are first to hear about these.)
•  A special member's discount on our Perfume Society Discovery Boxes (normally £19 – but £15 to our VIPs)
•  Plus, choose them a FREE Discovery Box when you sign them up, from a number of options…
It's the fragrant gift that keeps on giving for an entire year!

VIP Club Membership £25 for a full year
Still don't know what to get them? Well, if you happen to know a fragrance they already like, type that name into our Fragrance Finder and you'll be given suggestions of six other scents we think they'll absolutely adore, with something for every budget… It's sheer (almost spooky) genius!
Written by Suzy Nightingale