Rich, intense, smouldering… We are talking about the new Carolina Herrera Confidential collection of fragrances here (just unveiled exclusively at Harrods), rather than Carolina Herrera de Baez herself – although at least a couple of those adjectives could equally apply to the beautiful and so-creative daughter of world-renowned designer Carolina Herrera, who has for many years worked alongside her mother and is intimately involved in the creation of the design house's fragrances.
This bewitching and opulent collection is made up of seven stunning scents – plus four oils, for layering, to 'customise' the fragrances and make them your own. It doesn't really surprise us to discover that summer visitors to Harrods have been scooping up the whole collection, which is also available in an if-you-have-to-ask-the-price-you-can't-afford-it lacquer box so desirable, it has us buying Lotto tickets.
Confidential is all about memories, explains Carolina. 'I was going through my memory bank, and thinking back to specific moments in my life and my mother's life, trying to capture them in perfume form. I have had 20 years of working with my mother, and years before that growing up around her – and there are so many facets of our life to explore…'
She takes us on a journey through the fragrances and their inspirations below – but first, we asked Carolina to share her own five favourite smells…
1. The smell of the earth after tropical rain – 'dirt, wet grass, the whole thing'.
2. Jasmine – 'this also reminds me of times spent in South America, where my family is from and where jasmine grows everywhere… It has so many different nuances: it's different by night and by day, indoors and out.'
3. Clean baby – 'specifically MY clean babies, although they're rather grown up now, at 11 (Olympia), nine (Miguel) and seven (Atlanta). I have to hide fragrances from them nowadays because they like to wear everything at once, especially my son – I think he wants to mark his territory at school or something!'
4. Frozen coffee – 'we keep ground coffee in the freezer compartment to keep it fresh and the smell just fills the whole space; it's amazing when you open the door…'
5. Patchouli – 'it reminds me of going to concerts as a teenager (maybe even a Grateful Dead concert!)'
The new Carolina Herrera Confidential fragrances, meanwhile, showcase some of perfumery's most precious materials. For the launch, Carolina Jr. was joined by the perfumers who've worked on the collection, rising stars Quentin Busch (of fragrance house Givaudan), and Pierre Constantin Gueros (Symrise), who joined the conversation.
Herrera Tuberose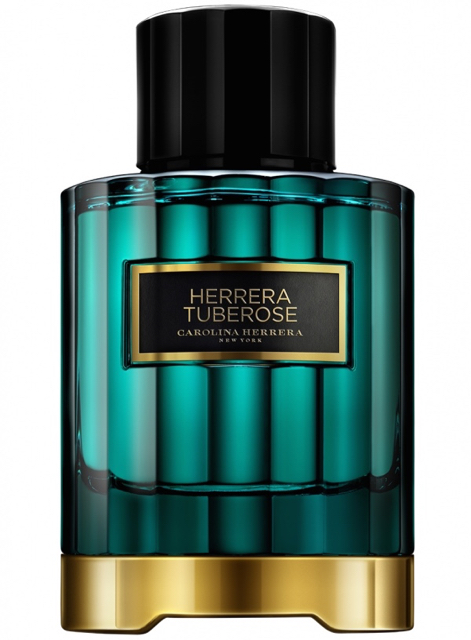 'This is really the Herrera "signature". My mother always wore tuberose and my first memory of smelling perfumes was going with her to a place called The Perfumer's Workshop at Bloomingdales, where she used to buy oils of jasmine and tuberose and mix them. This tuberose has a green facet, but it's strong, it's addictive; you almost want to eat it…'
Nightfall Patchouli
'I love this ingredient but it has a very bad reputation; it's another ingredient I wanted to work with to see if we could get rid of the "Grateful Dead vibe". I think we've managed to make it very elegant, somehow.' Comments Pierre: 'That's the challenge using patchouli: to make it a bit more rounded, a bit more subtle… We did that with some soft vanilla absolute notes, ambery notes that sit well with the woody dryness, and some floral notes: a hint of rose and white flowers. But still, patchouli is the star of the perfume. It's an ingredient which really ages so well on the skin, developing a creaminess. To me this smells very exclusive and sophisticated.'
Burning Rose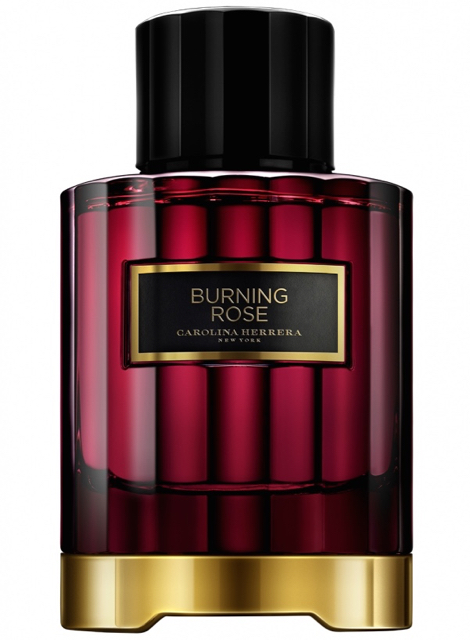 'Rose is an ingredient that was always present in my life and my mother's life,' explains Carolina. 'But this isn't your grandmother's rose; this is a sexy rose, a very voluptuous rose – really, a rose on fire…' Adds Quentin: 'Rose is such an incredibly versatile ingredient… It can be fresh, it can be very dark, and I love the fact that it's been around since the beginning of perfumery yet there are still new interpretations of rose that we can make.'
Oud Couture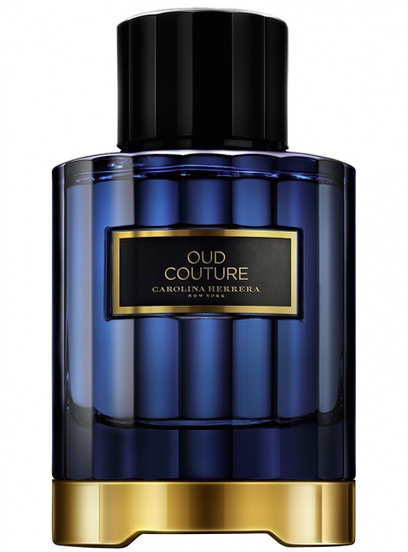 'I have to say that oudh has nothing to do with my previous life, but a lot to do with my working life,' notes Carolina. 'I remember it from the first time I went to the malls in the Middle East and they smelled incredible, and everyone smelled so exciting. When I left, I was given several little bottles of oudh oil and I wore them to the point where my husband almost left me, saying "WHAT are you wearing…?" But I wanted to explore a way to make oudh more "Occidental".' Added Quentin: 'This is a raw material that interacts with the skin almost like no other. It can reveal the person who's wearing it. The extroardinary thing about oudh is that there are so many different ways to describe it; for many ingredients there are just three or four words that sum them up, but if you ask people to describe oudh there are more than 100 different words which fit: strong, animalic, leathery, rich…'
Neroli Bohème
'This is really the scent of South America to me; it takes me to Venezuela, to our family estate, with its incredibly lush gardens and breathtaking landscape. It's probably the most accessible of the fragrances if you're not a lover of rich, intense perfumes,' Carolina acknowledges.
Amber Desire
Explains Pierre: 'There are really two different ambers. There's the amber from ambergris, which has a golden scent, honeyed, like sweet vanilla. And then there's the perfumistic amber which comes from cistus labdanum and is a bit more dark and smokey. And in this fragrance, you'll find both. It gives an almost spiritual impression, reminiscent of burning balms and resins.' Adds Carolina: 'For me it's this intoxciating mix of labdanum, rose, date absolute and vanilla, which I love – much brighter than many ambers I've smelled.'
Herrera Confidential Oils
'There are four oils, which can be layered to customise a fragrance or worn on their own. I really wanted to explore this concept of layering and "customising" fragrances to make them your own,' explains Carolina, who adds: 'Because the bottles are so much smaller, I tend to take these with me when I travel.' (The other fragrances come in wonderfully hefty flacons, but carrying too many in a case would soon tip you into the realms of excess baggage.)
'You literally need only a drop of each on the skin – but it's really fun to combine them and see what evolves. I especially love the musk and the sandalwood. It's a pure musk which somehow breathes differently on the skin – a real "dirty musk"!' (The quartet is made up of Pure Oil of Musk, Pure Oil of Rose, Pure Oil of Sandalwood and Pure Oil of Oud – and truly, a drop really is all you need of this one…)
The most recent to join the Carolina Herrera Confidential collection is Mystery Tobacco , a worldwide exclusive for Harrods, created by Quentin Busch. 'This is another smell that reminds me of South America, and men smoking,' notes Carolina. 'I also went to visit plantations in Cuba and saw men hand-rolling cigars and saw that this is a very personal, artisanal thing…'
Quentin has his own childhood memories of tobacco: 'Both my parents were smokers, and my father loved a cigar. He had this little box where he kept the cigars and when I was a kid I loved to open the box and smell it; it was like a treasure box, it evoked travel and excitement and it somehow made me feel a bit like a pirate! But ever since then I've been really intrigued by this material, which has a really magical aspect: it has amazing facets of dried fruit, especially dried apricots, and so for Mystery Tobacco I combined tobacco with resisns and spices and osmanthus, patchouli, sandalwood in spicy-woody-leathery fragrance that expresses all the different dimensions of this ingredient…'
Certainly, our own perfume wishlist suddenly got much longer – and if you'd like to explore the fragrances for yourself, we encourage you to make a perfume pilgrimage to Harrods now…
Carolina Herrera Confidential £185 each for 100ml eau de parfum
Herrera Confidential Oils £270 each
Exclusive to Harrods