New year, new you? Fragrance is the easiest way to revive your spirits or change the vibe (with no counting calories or impossible exercise routines or self-imposed 'rules' to follow!) A new scent can give you more confidence and energy or soothe the senses after a difficult time. It can also be your 'shoulder pads in a bottle' best friend – or a hug in a bottle, helping you feeling better about yourself every single day.
If you're new here (hello!) and don't know all the things we do, or just want to start the new year as you mean to go on; why not consider some of the fragrance-filled options below, and join us in the scented celebrations…
Treat yourself to something new (with 22% off*)
Now all the Christmas gifts have been exchanged, we think YOU deserve an extra present for getting through all of last year. We're welcoming in the new year in the most fragrant way possible, by giving you 22% of ALL our Perfume Society Discovery Boxes (when you spend £40 or more)!
Simply select your favourite Perfume Society Discovery Boxes (*minimum spend £40, valid on Perfume Society Discovery Boxes only, offer ends 7th January 2022) and enter the code Hello22 at checkout.
Take the stress out of scent shopping
Fragrance can be bewildering, and finding a new one often overwhelming – that's exactly why we started The Perfume Society, to take the stress out of shopping for a new scent. How can you find your perfect perfume? What's the best way to take care of it? How can you make it last longer? Where should fragrance be applied, to get the most out of every spritz? Nobody's born knowing these things, so we've collated answers to dozens of the questions we're regularly asked in our FAQ section. Simply head there and click on the question, and your answer will appear!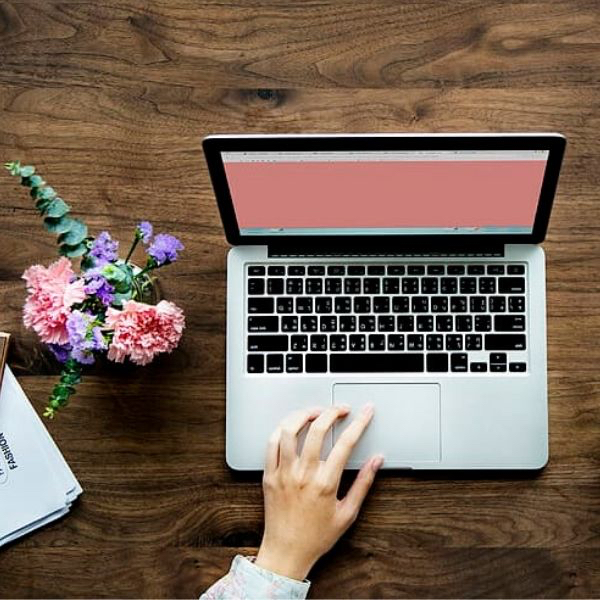 Find your next favourite fragrance
How can you find the perfect scent to suit you? It's a question we're asked more than any other, and can be somewhat overwhelming if you don't know where to begin. And that's at the best of times – let alone trying to navigate buying a new scent from your sofa, without sniffing beforehand!
We have the perfect perfume solution: our genius Fragrance Finder…
You're simply asked to type in the name of a fragrance you like already, and the so-clever algorithm does all the work for you. This is a computer system that was first set up decades ago, when our clever Co-Founder Lorna McKay had an idea how to help customers of Liberty's perfumery seek out their next scents.
That computer program has been fully updated with key words comparing and describing hundreds of thousands of fragrances – not only the fragrance notes, but how the fragrance will make you feel, the atmosphere the perfumer has created, the character of the scent itself. All you need do is type in the name of a fragrance you already love and you'll be given an immediate list of six scents to seek out, all at various price points and with characteristics you're extremely likely to swoon for. Honestly, try it – they're quite spookily accurate!
Become a V.I.P
For just just £12 per year, you can join our special VIP club and receive the following exclusive benefits for 12 months of fragrant fun…
• Special Discounts:  £4 off our professionally-curated Perfume Society Discovery Boxes, you'll hear about all the launches before anyone else. This year we will be offering even greater discounts and some fabulous 24-hour price drop opportunities exclusive to our VIPs.
• Digital Subscription to The Scented Letter: You can read more about this below, but all VIPs get immediate access to our award-winning online magazine, delivered to their in-box– featuring perfumes, perfumers, ingredients and so much more devoted to all things fragrant. Psst ..we'll send you the latest Scented Letter as soon as you sign up..!
• Event Tickets: Early access to events – virtually and in real life…meeting with leading 'noses' and key figures from the perfume world.
• Exclusive Prizes: just for VIPs.
(Please note: due to shipping restrictions we cannot send our boxes to the Republic of Ireland or internationally.)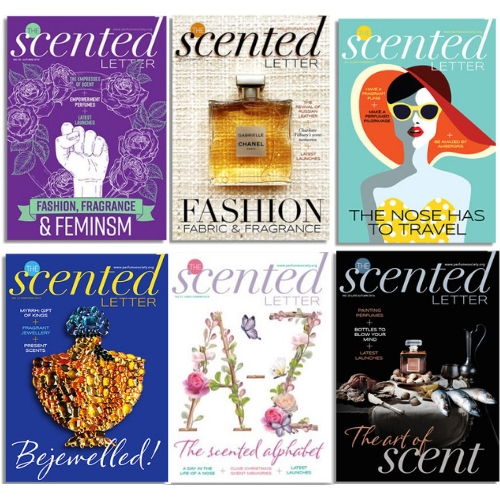 Read The Scented Letter, our multi-award-winning perfume magazine, now FREE for everyone!
Described as a 'must-read' by industry insiders and perfume-lovers, we are delighted that our gorgeous and fact-packed digital magazine, The Scented Letter, is now free for everyone to read in digital format online. You can read the most recent Time to Shine issue, here. But don't worry, if you prefer print, the magazine (and back issues) is also available to order in gorgeously printed form via our Online Shop.
Appearing FOUR times a year this utterly beautiful magazine, featuring at least 60 pages on perfume news, features and much more will take them ever-deeper into the scented world, via our Latest Launches round-up of the new men's and women's scents, exclusive interviews with the world's best perfumers, stunning spreads devoted to the fascinating history and future-forward trends shaping the perfume world.
However you choose to celebrate in scent, we wish you a wonderful (and fabulously fragrant) year ahead for 2022!