When science meets art, fireworks happen, and so it is in fragrance, with the question of 'what should a man smell like?' seemingly answered by perfumer Paul Parquet for Houbigant in 1882. The conclusion? A fern. Now, this once traditionally masculine smell is a hot topic in fragrances marketed to women or perceived as 'gender fluid', for those leafy ferns have come a long way…
The problem for Parquet was, ferns don't exactly smell of anything much. His technological developments created a whole new fragrance family – fougère roughly translates to 'fern-like' – say it 'foo-jair', with the 'j' a little soft, almost 'foo-shair'.
When you think of a fern, what smell comes to mind? Misty woodlands, verdant undergrowth still wet with morning dew, a sense of stillness and contemplation, leafy green shoots pushing their way through a forest floor? Whatever you imagine, that smell memory was originally encapsulated by Houbigant's Fougère Royale – created in 1882 and much copied by those who clamoured to achieve a measure of its success.
Called the 'greatest perfumer of his time' by no less than Ernest Beaux, the creator of Chanel No. 5, Parquet can be said to have been the first perfumer to truly understand and appreciate the use of synthetic aroma materials in fragrance composition. First used as mere substitutes for naturally derived raw materials, Parquet saw a chance to use them as unique smells in their own right – alchemically poetic creations that sought not to mimic the natural world but to add to it – to improve on perfection. He was a fragrant revolutionary, and that revolution continues to this day.
So what did the traditional fougère consist of? Oak moss, geranium, bergamot, sometimes lavender and amber, and (most notably) synthetic coumarin form the main structure. But how many outside the industry would be able to describe coumarin's smell?
Found in natural sources such as the toasted almond-esque tonka beans, the essential oils derived from cinnamon bark and the spicy cassia plant; coumarin cannot really said to be a sum of those parts. So what does it smell like?
Complexly layered, imagine the scent of sweet hay drying in the sunshine with a slight waft of warm horse; a cold glass of fizz sipped on newly mown grass, a fine cigar fresh from the humidor, even an unadulterated cookie dunked in warm milk – all of these things and not one in particular, truly something 'other' – the scientist's hand working in harmony with the artful perfumer to amplify the magical realism in its synthetic form. The skill of the perfumer is to take these ingredients and transform them into something we think we already recognise – a swathe of leafy green ferns in a woodland setting, in this case – sparking scent memories and creating new ones to fill the gaps.
If you haven't yet explored this fragrance family, now is the perfect time to begin. This in-between time of seasons, when we crave some freshness but still require depth and interest to the scents we choose, is ideal for seeking out something new to try, and that traditional structure has some interesting notes added for contemporary interest.
Here's a selection of some more modern fougères – regardless of gender – to get your noses in touch with. Let your fragrant fougère journey begin…
Although classified as a leather (the clue's in the name) MEMO actually describe this as 'a frozen fougère', and I wholeheartedly agree. It's minus the oak moss (many moderns are) but features a whole host of frosted herbaceous greeness, with basil, rosemary, clary sage and mint amidst snow-covered drifts of ferns, pine needles, tonka bean and a deliciously dry, woody-leathered base.
Memo Paris Russian Leather £205 for 75ml eau de parfum
harveynichols.com
In this 100% natural perfume, Simone de Beauvoir's novel is brought to life; the lingering scent of a questioning glance that shakes your soul, warm as a cat curling bare legs, shivering as the fur tickles. A composition of contrasts, we have geranium, basil and lemon rubbing up against Indonesian clove and nutmeg; a sticky patchouli slinking into the cool dryness of vetiver, with a lick of amber rich labdanum nuzzling oak moss and cedar to finish
Timothy Han Edition Perfumes She Came to Stay £120 for 60ml eau de parfum
timothyhanedition.com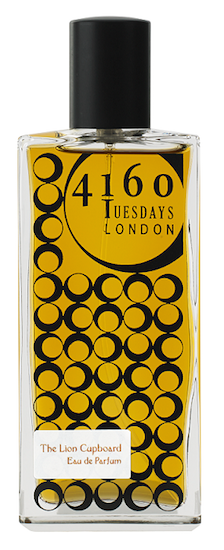 Reminiscent of rifling through a forgotten cove of personal treasures, leather-bound diaries reveal sketches of ferns and dried flowers pressed between the pages, bundles of love letters are tied in faded silk ribbons, a lipstick kiss on a foxed mirror, silk scarves with a mingled scent of powder and the faint tang of a gentleman's Cologne. Mint, lavender, juniper berries and black pepper are swathed in layers of rose and ylang ylang; curls of tobacco expiring into vanilla and cocoa.
4160 Tuesdays The Lion Cupboard from £50 for 30ml eau de parfum
4160tuesdays.com
Inspired by the river that runs through the heart of Keyneston Mill, where this UK house uniquely grow and distil many of the ingredients they use; this is a bare-foot meander through clover-strewn lawns, a budding freshness in the air signifying Spring. Squeezes of lemon and lime shot through with bergamot, mint and lemon-thyme are layered on herbaceously dry clary sage and soft orange flower, as an aromatically dreamy wisp of incense encircles oak moss in the langourous base.
Partere Run of the River £95 for 50ml eau de parfum
parterreatkeynestonmill.com
A bright young thing, in a gown too sheer to be decent, dances the night away at a discreetly riotous nightclub. Surrounded by velvet ropes, garlanded by blossoms, she sleeps until noon. Based on the traditional composition, it's far from historic smelling – the geranium, oak moss, coumarin and bergamot are naughtily nudged in the ribs by a rather wanton orange blossom, given a shot of luminescent freshness with neroli and snuggled in a bosomy amber.
Mugler Fougère Furieuse £140 for 80ml eau de parfum
harrods.com
By Suzy Nightingale