Game of Thrones Season 6 has finally begun, to the nail-biting, breath-holding anticipation of the series' legions of fans around the world. Having once been asked for our advice on scents to suit zombies by a certain TV programme's producers (yes, really.
We're on standby for pretty much any fragrant conundrum here at The Perfume Society HQ!) it got us pondering how we'd perfume some of the main players from another of our must-watch shows.
Interestingly, Game of Thrones had its very own scent for a time, with the website Think Geek selling a fragrance called 'Fire and Blood' – though this no longer seems to be available. Whether you're a die-hard enthusiast of the books or TV series, or simply have an interest in boldly characterful fragrances, we think these are worth exploring, instead…
Arya Stark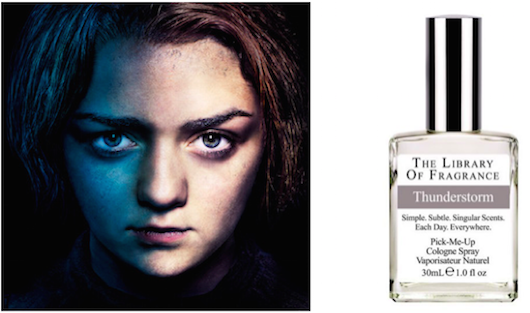 Unique and youthful, fresh, willful and difficult to define – this pocket-friendly Cologne is a tempestuous mixture of cold steel and sweetness, electricity and petrichor; that tingle in your senses of dark clouds obscuring a bright sky before the heavens open and the downpour begins.
Library of Fragrance Thunderstorm £15 for 30ml cologne spray
Buy it at Boots
Bran Stark
A mysterious harmony of dark forests and sunlight fighting its way through misty undergrowth, it's perfumer Bertrand Duchaufour's abstract portrait of a hazelnut tree. Freshly green buds unfurl to amber-hued leaves, creamy woods slowly drip rich, honeyed droplets to an earthily sweet forest floor as tendrils of smoke hearald a slow-burning dry-down that's alive with magic.
L'Artisan Parfumeur Méchant Loup £87 for 100ml eau de toilette
Buy it at House of Fraser
Sansa Stark

Wild flower meadows kissed with a cold sea breeze, a tangled bouquet of delicate flowers and juicy berries surrounded by thorny stems. Capturing the dramatic landscape where land meets ocean, within the refined flacon perfectly tied with a grossgrain ribbon lurks a scent of innocence blooming into something altogether more unpredictable in nature.
Penhaligon's Blasted Bloom £90 for 50ml eau de parfum
Buy it at Penhaligon's
Jon Snow

Frostily attractive with a minty herbaceousness that gives way to dryly brooding undertones, it's been splashed on since 1988 and although it may be passed over by those seeking more spirited adventure in their fragrance journey, it should never be overlooked. Simplicity is sometimes written off as dull, but this still has an icy masculinity that longs for a secret snuggle.
Davidoff Cool Water £41 for 75ml eau de toilette
Buy it at The Perfume Shop
Cersei Lannister

Staggeringly provocative with a vastness that can fill a room, this is full-on waxy tuberose seduction that could double as a weapon if you so wished. Razor-sharp white flowers whistle through the air like silver bullets, tempered only by a buxom bouquet of velvety roses and crown of orange blossom resting on a glamorously musky base.
Robert Piguet Fracas £95 for 50ml eau de parfum
Buy it at Selfridges
Jamie Lannister

Classically handsome and knows it, winsomely charming with a bracingly rugged edge, 50 years ago this was the first male fragrance by Dior and broke new ground. Described as 'absolutely wild and resolutely sensual', this is bergamot balanced with a mossy, floral heart for the 'new man' or 'metrosexual' – a forward-thinking guy who favours facials but still hankers after a spot of sword-fighting – before the term was coined.
Dior Eau Sauvage £49.50 for 50ml eau de toilette
Buy it at Debenhams
Tyrion Lannister

Soaked in boozy fruits, tenaciously strong yet crowd-pleasingly smooth at heart, bobbing in the perfumed punch bowl we find juicy pineapple, orange, plump raisins and dried plums soaking up the alcohol; while cocoa, tonka and coffee lead to vine blossom, peppered honey and spiced vanilla. Definitely one for those with a taste for the finer things in life.
Frapin 1270 £98 for 100ml eau de parfum
Buy it at Bloom
Melisandre

'Darker than night, stronger than desire, what is the line between passion and the urge to dominate?' A question posed by Blood Concept – a line inspired by blood types and their inherent proclivities – and answered thus: Milky pools of liquid cedarwood charged with black pepper, laden with glowering guaiac wood and resinous patchouli sinuously seeping into the flickering heat of amberwood and incense.
Blood Concept 0 Cruel Incense £108 for 50ml eau de parfum
Buy it at Avery Perfume Gallery
Daenerys Targaryen

Compellingly unusual with notes of cade oil, spikenard (praised for its curative, medicinal properties) spicily perfumed cardamom pods, clearwood and darkly glistening berries; the labdanum-rich smoky base is one to clamour for. One moment it's all refined sophistication with bone dry woods and the next, passionate, carnal, and mysterious.
Imaginary Authors A City On Fire £70 for 60ml eau de parfum
Buy it at Roullier White
Written by Suzy Nightingale