&nbsp
Fabulous new fragrant reads to get your nose stuck into
Make room on your shelves immediately – not for more bottles of fragrance, this time, but books about them. There's a perfumed plethora of fragrant reads out there that we'll be reviewing in the coming months, showing the ever increasing lust for more, more, more fragrance facts and behind the scenes peeps in to the perfume world.
Here are just a few of the favourites we've read already, but fear not – there are many more fragrant reads to stack up on your bedside table, and we shall attempt to cover as many as we can possibly get our noses stuck in to…

The Scent of You by Maggie Alderson (HarperCollins AU), 32.99 AUD
'I experience the world through smell – I always have.' So begins the latest novel by Maggie Alderson, and we couldn't agree more. Central character, Polly, is a perfume blogger who loses herself in the world of fragrance while her own world falls to pieces around her – something many of us can empathise with. We love the fact Maggie was inspired to name her after falling madly for Vilhelm's perfume, Dear Polly, and that she even created a blog and Instagram account for Polly to share her perfume reviews.
Having grown up surrounded by the beautiful perfume bottles of her ultra glam (ex-model) mother, and learning to explore the world by sniffing '…everything!' Polly now distracts herself with, among other things, 'Guy, the mysterious, infuriating and hugely talented perfumer.' We're rather wondering who this may have been based on, as that description doesn't sufficiently narrow it down…
Currently the book has been launched in Australia, but having been utterly gripped by the first chapter – which you can read for free, here – we're crossing everything that the book will be published in the UK and other territories, soon.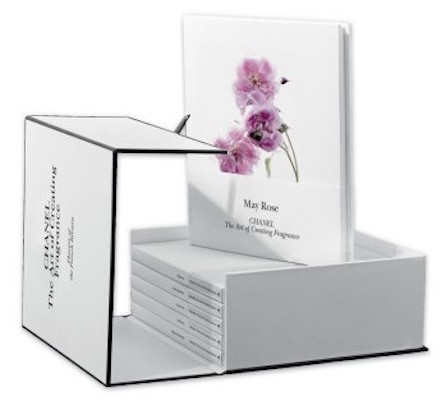 CHANEL – The Art of Creating Fragrance by Lionel Paillès (Abrams Books), £125
A breathtakingly beautiful – and lavishly presented – six-volume set of books that foucs on single ingredients, revealing the artisinal techniques used to create those famous Chanel fragrances. Following the journey of the five main flowers from which the majority of Chanel perfumes are made, we learn about the growing, harvesting and meticulous processing of May rose, Grasse iris, Grasse jasmine, rose geranium and tuberose.
Stunning photographs by Pierre Even ensure a feast for the eyes, with fascinating facts dotted throughout. Did you know, for example, that since the very first bottle was made in the 1921,  Chanel No. 5 has been made with flowers from the same picturesque patch of land between the Alps and the Mediterranean, known as the Pégomas Valley?
Gloriously celebratory, this visual tour of the French Rivierea by way of its fragrant flowers just makes us want to jump on a plane and run through the fields in a gauzy white gown and a straw hat, stat. Yes, it's far pricier than your average book but you are getting a set of six, and these are volumes you'll want to treasure forever – or give as a really special gift for that ultimate Chanel fan.
Flacons Guerlain: Collection de Sylvie Guerlain, by Bernard Gangler (Chêne), £42.24
Imagine being a member of the Guerlain family (oh, imagine…) and becoming obsessed by the bottles (easy enough even when you're no relation at all, we find!) and then setting about making an extensive collection of them by scouring the flea markets and antique shops of France to hunt down every last rare example you can find. The book is written in French, but really it's all about the lovingly documented flacons themselves – page after page of them – with greater emphasis on the visual joys than the writing itself, so even if your French is sub- Sixth Form, you'll get by just fine.
We think this is the perfect 'coffee table' book with which to flagrantly display your love of fragrance – hours of flicking through, gazing and sighing happily are pretty much guaranteed, we feel. It's so interesting to see how some of the bottles change through time – and those that barely change at all. Definitely one for your Christmas List if you can't quite swing for it yourself right now.
Written by Suzy Nightingale