Fragonard are one of the most beautiful fragrance houses in France, nestled in the heart of Grasse – itself the home of fine perfumery since the 17th Century. Proudly still in the same family, and currently being run by a trio of sisters who mark the fourth generation, Fragonard are something of a fragrant fixture, and well worth getting to know.
The perfumes themselves are simply divine, and the packaging always exquisite – yet we feel this lovely house can often be overlooked. No More! Here, we are thrilled to bring you not one but TWO boxes to indulge in. For yourself to explore, or as a perfect gift to give if you're not sure what type of fragrance they prefer? Either way, get ready to be blown away by their outstanding character, quality and affordability…
A trio of darling little miniature-sized perfume bottles, holding three of Fragonard's iconic fragrances, form the perfect way to wear and fall in love with their utterly charming scents. Wonderful for miniature collectors, travelling or keeping in your bag for on-the-go perfume top ups!
Etoile – inspired by the ladies of Provence, who wore broaches known as 'stars of Digne' which were regarded as lucky charms – the sparkling  bergamot, apple and ginger top notes blend to a heart filled with gardenia, lily of the valley and jasmine on a base of amber and cedar wood.
Emilie – a bewitching floral composition that blends sumptuous rose petals and jasmine with a more delicate violet note, then wraps them in sandalwood and amber. A fragrance to treasure, conjuring softly blushing shades of pink and mauve.
Diamant – dazzling mysterious, this leaves a luminous trail with mandarin, orange and pepper as top notes, rose, jasmine and plum in the luscious heart, balanced on a rich background of vanilla, patchouli, ethereal musk and caramel.
Fragonard Set of 3 Miniatures £25 for 2 x 5ml + 1 x 6ml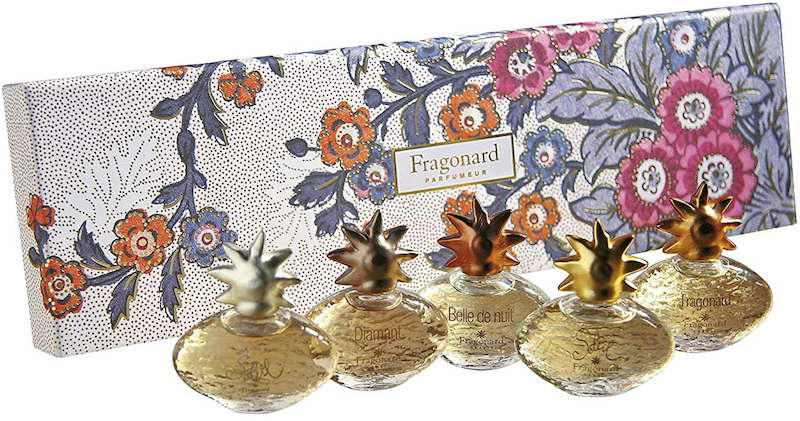 A stand-out collection of heavenly scents in just THE cutest miniature bottles, we invite you to immerse yourself in these joyful droplets of perfume pleasure, and understand for yourself exactly why this perfume house has become a legend.
Grain De Soleil – an alluring fragrance, delicate rose, subtle iris and intoxicating jasmine enhanced by cinnamon, mellow amber, rich vanilla and exotic incense, Grain de Soleil is a true Ambrée fragrance.
Soleil – a heady blend of flowers – jasmine and orange blossom, lily and rose, iris and wisteria – off-set by amber, sandalwood and musk. An intensely radiant fragrance that irresistibly evokes the noontide southern sun. This is THE great Fragonard classic.
Diamant – a sweet-Ambrée, with mandarin, orange and pepper as top notes, balanced by rose, jasmine and plum as middle notes, on a background of vanilla, patchouli, musk and caramel.
Fragonard – an elegant scent that unites suave white flowers, orange blossom with mellow amber, musk and wood.
Belle De Nuit – a true original, deep rich harmony of flowers and fruit on a warm velvety bottom note of musk. A precious fragrance, as magical as an Arabian night!
Fragonard Miniatures Collection £35 for 5 x 7ml eau de parfum
Written by Suzy Nightingale